Do you love baked goods but just kind of wish some of them were a little healthier? These vegan coconut scones are the answer to that.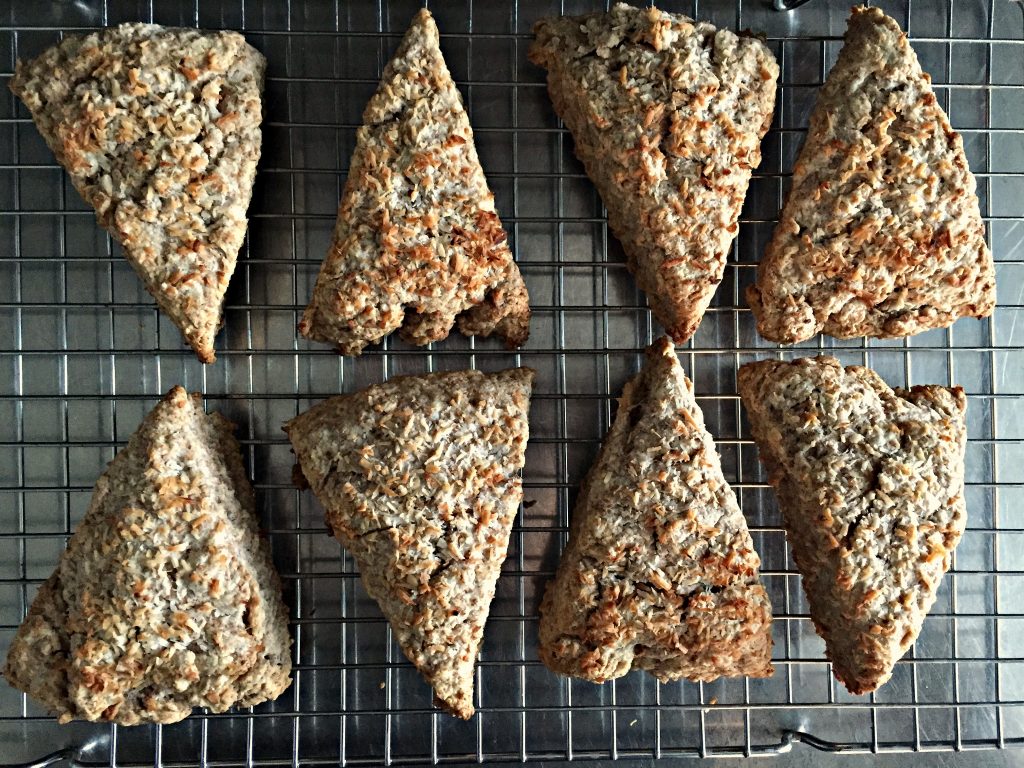 I have to admit: I love baking. I love the process of creating the product; love the smell of it baking in the oven; love the moment when the timer dings and I can pull that delicious thing out of the oven to barely cool before digging in. Don't you?
But nowadays I try to really limit white flour and sugars, many of my old baking favorites need to be reworked in order to fit into my new way of eating. It doesn't always work out well. Sometimes, using an alternative for the flours or a different kind of sugar or choosing to leave out eggs can make it really difficult to create a successful product. (As a full disclaimer: I do use eggs – often. They are a great source of protein, and a staple in my diet – I just didn't want to use them here.). The risk is the product won't hold together and instead, you'll have a crumbling mess instead of a cookie, muffin or cake. Or, you'll change out the sugar and you'll have a puffy product where you wanted a flat one or a chewy product when you'd been hoping for cakey. It's tricky sometimes, but so worth experimenting with to find out what works.
I was craving scones. I wanted something that could replace both a biscuit and the sweeter scones often served with coffee or tea, but also wanted to experiment with using coconut oil to replace butter and plant-based milk to replace cow's milk. I wanted something that was delicious all on it's own, but suitable with everything.
Could I make these vegan? Turns out, yes I could. And since coconut itself has a natural sweetness, I opted to take the (small) risk of leaving out the sugar as well.
The results are really delicious.
These simple, healthy, vegan coconut scones are super versatile: you can take them to the sweet side with a mixed berry chia jam (or any other jam of choice) or work them into a savory meal and serve them with one of your favorite soups.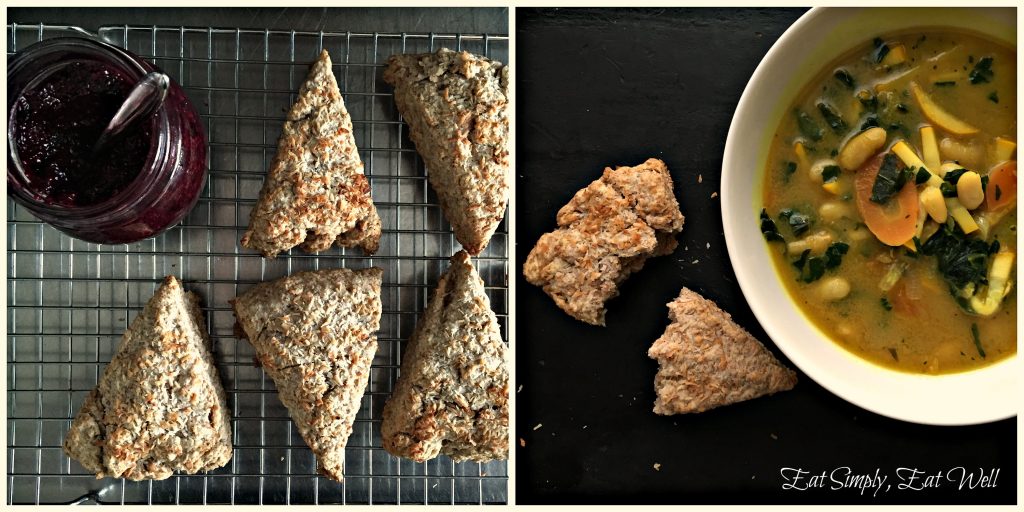 Packed with good fats, all the fiber and nutrients of whole grains, and no added sugar, eggs, or dairy, you'll find that these suit pretty much any occasion. If you or someone you'll be serving these to has a gluten sensitivity – no problem! Simply substitute your preferred gluten-free flour mix for the whole wheat flour. If you can, try to get a gluten-free mix that contains a lot of whole grains so that you'll be getting good nutrients and fiber from the flour. Unfortunately, a lot of commercial gluten-free flour mixes use refined flours, and while gluten-free, are really just another form of junk food.
Note: you'll be using a chilled can of coconut milk with this, so, pop one in the fridge in the morning of or the night before the day you want to make these. Sorry – but that small hassle is worth it!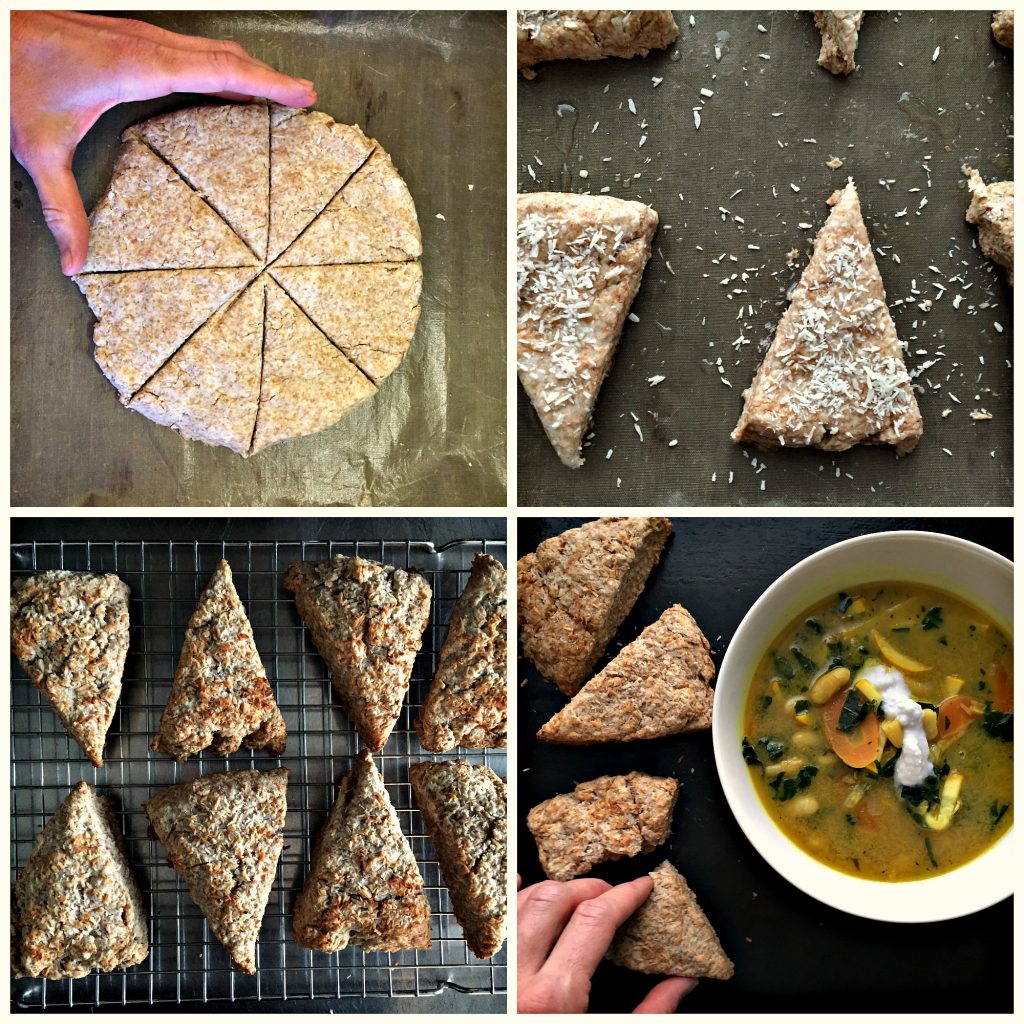 Vegan Coconut Scones
2 cups whole wheat flour 
1/4 cup desiccated coconut
1 tablespoon baking powder
3/4 teaspoon salt
1/4 cup cold coconut creme (from chilled can of coconut milk)
1/4 cup coconut oil
3/4 cup coconut water (from chilled can of coconut milk)
2 tablespoons melted coconut oil + 2 tablespoons desiccated coconut for the tops of the scones
Preheat oven to 400°F/200°C. Line a baking tray with parchment paper.
Combine the flour, coconut, baking powder and salt in a medium-sized baking bowl. Add the coconut creme and coconut oil, and use a pastry blender or fork to mix the fats into the flour until the mixture forms lumps about the size of peas. Pour in the coconut water and stir until it begins to clump.
Gather the mixture in your hands and gently press it into a ball. Transfer the ball of dough to the baking sheet and press it into a 1″/2.5 cm high round disk. Cut the disk into 8 even triangles. Separate the triangles and space them out evenly on your baking tray. Brush the top and sides of each scone with coconut oil and sprinkle desiccated coconut over the top of each one. Bake for 10-12 minutes until puffed and golden brown. Remove from oven and transfer to a cooling rack.
Makes 8 scones.
Did you like this recipe? I'd love to hear from you in the comments below!
Are you missing out on the ESEW newsletter? Scroll back up to the top of the page and sign up for our newsletter with recipe tips and tricks for busy, hungry, good-food-loving people. 
Eat Simply, Eat Well,
Ann