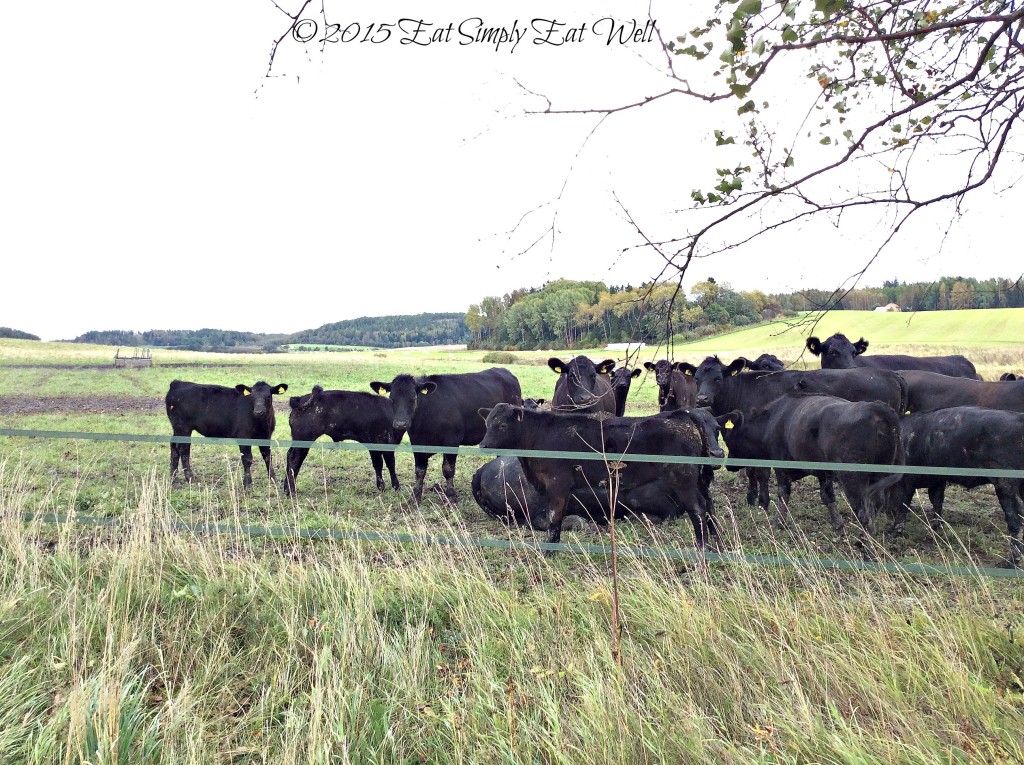 There's a beautiful place in western Finland, just 50 kilometers outside of Helsinki, that's well worth a visit. Drive past the dense Finnish forests and beyond the waving fields of oat, wheat, rye and barley, along a winding road and then you'll see it.
Gårdskulla Gård or Gardskulla Manor  is farm set deep in the hills of West-Uusimaa: 700 hectares of rolling green pastures (or arable land as owner Gustav Rehnberg calls them) where the the farm's main product: large herds of Black Angus Cattle, graze and wander nearly year-round. I visited the farm with five other bloggers during a food tour of the south coast of Finland on invitation from LUMO and Visit South Coast Finland a little over a week ago, on a drizzly, cloudy, and dramatic early Autumn day.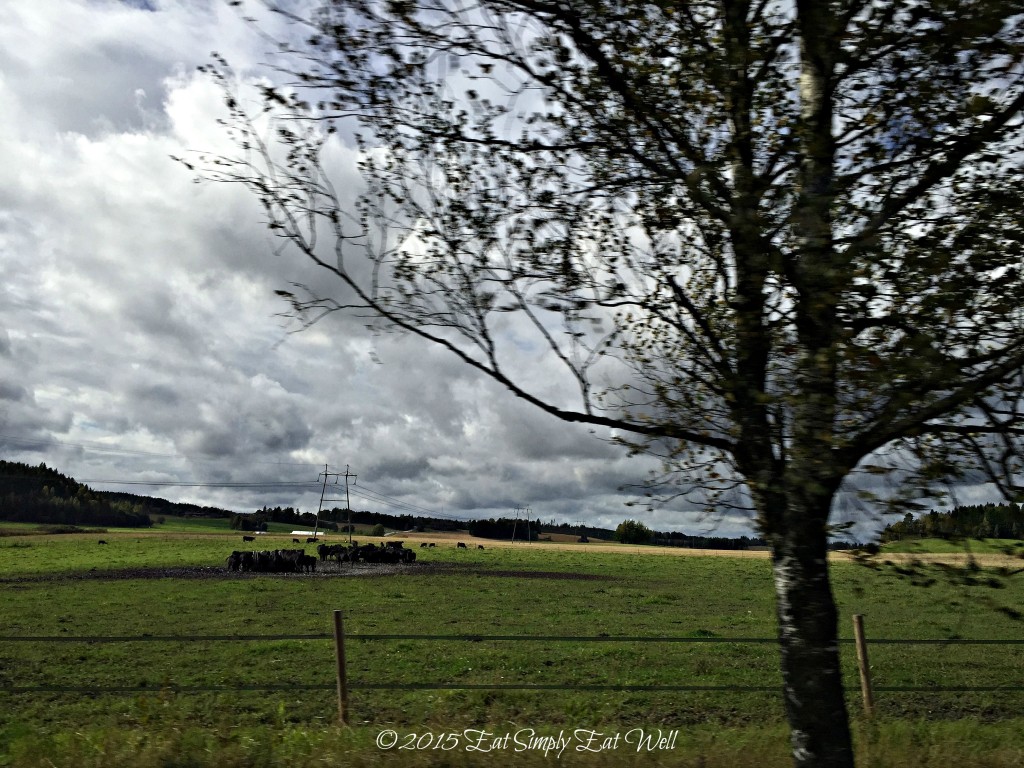 Gårdskulla Manor is one of the largest farms in Finland, and has been in the Rehnberg family since 1840 when Erik Johan Rehnberg purchased it. It is now being run by the fifth generation of Rehnbergs: Gustav Rehnberg, who was our guide for the day, and his brother. While they've grown strawberries and offer Christmas trees for sale each year, what keeps people coming back week after week is the high quality, organic Black Angus beef, which for the most part they sell directly to consumers every Friday afternoon between 3 PM and 6 PM.
The Rehnberg brothers made the decision to go organic because if they were going to produce beef, they wanted it to be the best quality beef available; they've been organic now for four years. As Gustav said "There's a lot of discussion around whether or not eating beef is good for you. Whatever it is you believe about that, if you're going to eat beef,  make it really good beef!" A sentiment I agree with wholeheartedly. I eat very little beef nowadays, but if I'm going to have beef on my plate, this is the kind I want to be eating.

Rather then selling to a beef conglomerates that place no premium on organic beef versus factory-farmed beef and pay a low price to farmers, the Rehnbergs realized they could better maintain the quality of the product reaching the customers, get the best prices and have the most control if they keep a close eye on the entire process. They brought the beef cuts back in-house, and created a farm-to-consumer market themselves. "Now you can buy any part of the animal you want", Gustav laughed, "from tongue to tail." While most of the meat is sold directly from the farm, their products are also sold in shops in the area, and occasionally through local CSA groups (REKO). Follow them on Facebook to get the latest updates on this.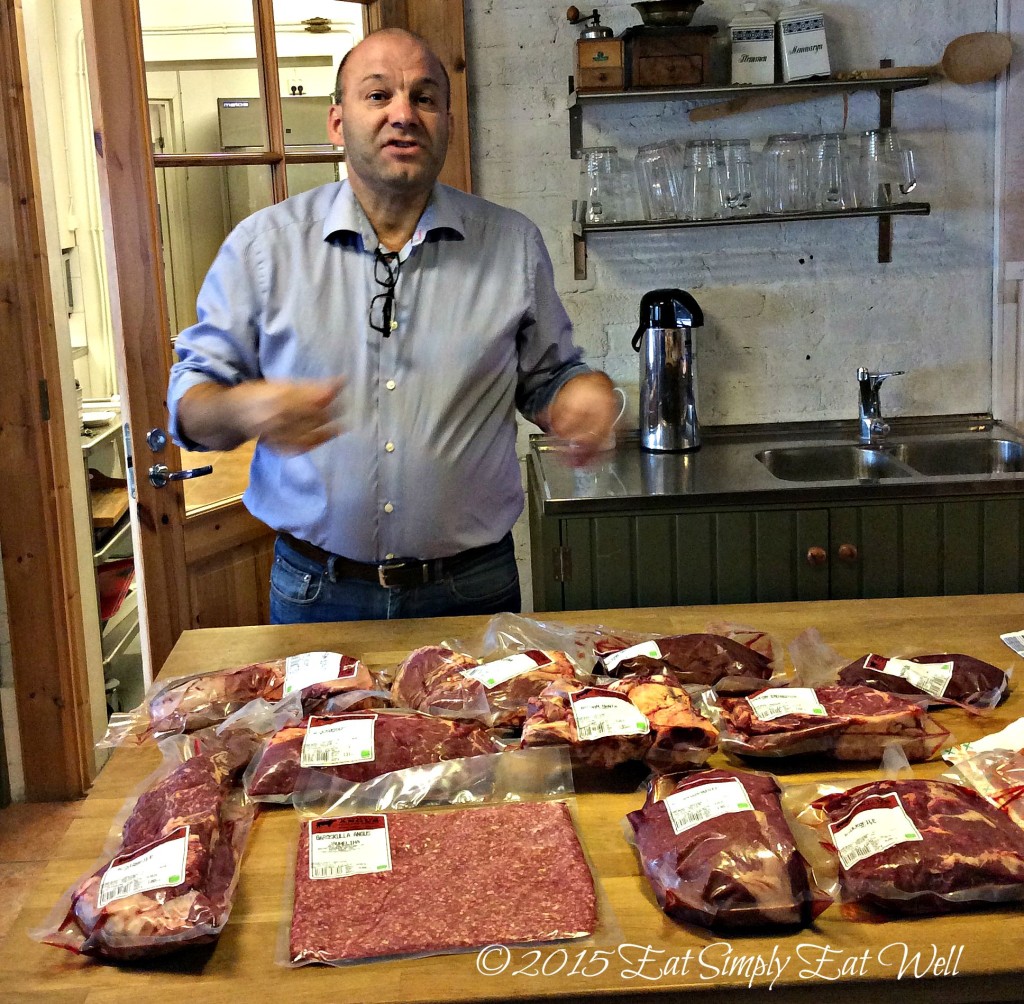 They slaughter two animals per week; 100 animals per year. Early in the week the animals are sent to one of Finland's two slaughterhouses in Orimattila to be slaughtered. The animals are then taken to Lihakonttori in Sörnäinen, a neighborhood in Helsinki, to be cut and packed into the portions and meat cuts requested by the farm. Since the meat is killed, cut and packed the same week it's sold, it doesn't dry hang. Instead, the Rehnbergs suggest that you keep the meat in it's sealed package in the refrigerator for a few days where "it just gets better with time," explained Gustav, "you can keep it for up to 6 weeks and it improves. When it turns blue – then it's very good."
Gustav warmed the grill and soon came back into the cafe with a steaming plate of house sausages and ground beef patties. The meat was delicious, tender and flavorful, just as you want good beef to be. And knowing that the cows were being well treated in the pastures below, free of hormones and the diseases that plague factory farms made each bite that much more enjoyable.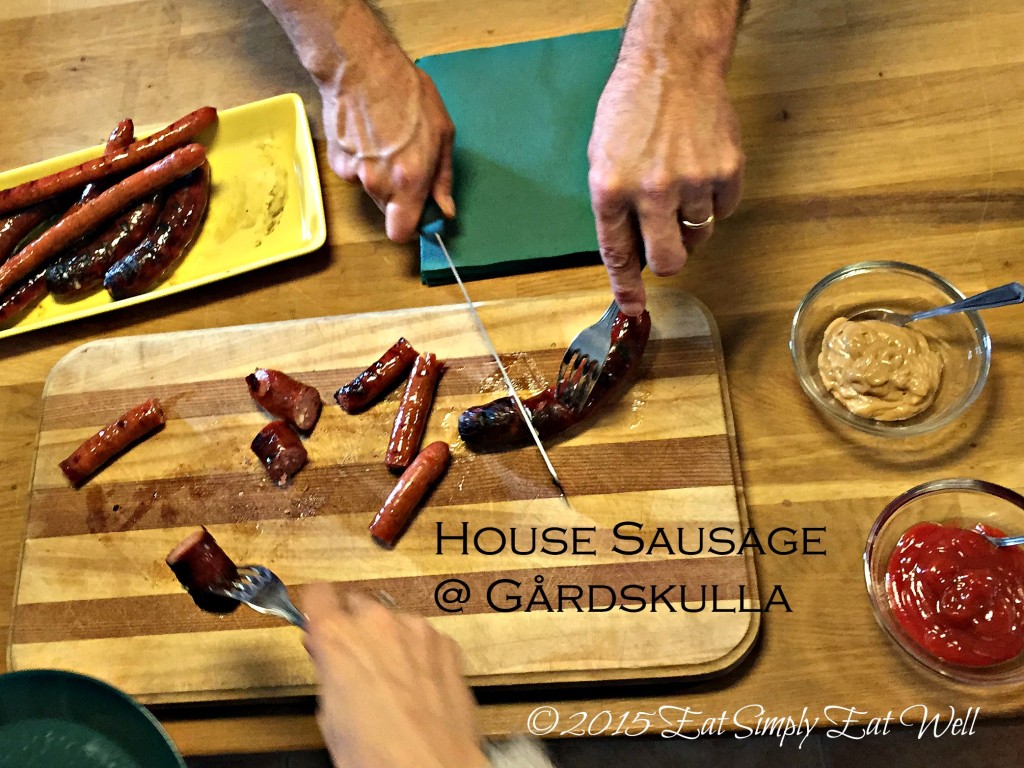 Gårdskulla Gård has a large facility for entertaining and can be booked in advance for special events and conferences. They have the Stallcafe area for up to 60 people; a Bilkabinett, connected to the cafe, for up to 50 people, and a sauna at Fårträsk available for rent that fits 10-15 people at a time.
But there's more. Behind the cafe in a gigantic barn, a surprise awaits. Following the green carpet across the lawn from the cafe, you would never guess that behind those tall red doors lies the most complete collection of farming history and paraphenalia I have ever seen: hundreds of tractors from all brands, in all colors, from all eras, glistening in the afternoon sun beaming in through the barn windows. Plows of various shapes and sizes. Grain harvesters from days gone by. Saws and farm tools and decorative tractor seats.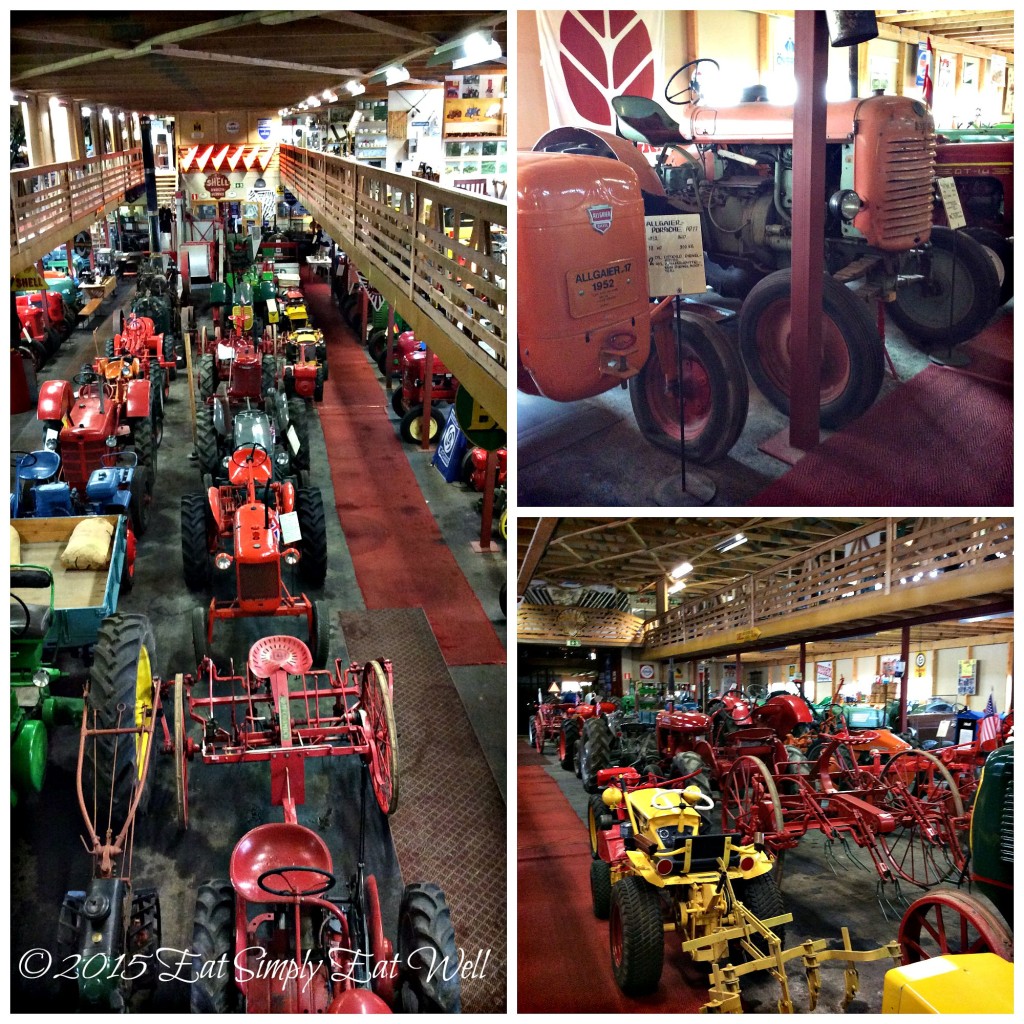 Upstairs, you get a sense of life in the main house on the large farm – with well-preserved kitchen and home tools on display – everything from the coffee and flour mills, to the kitchen knives and tools, to the butter urns and churns. At the top of the stairs, a well-curated collection of boxes, containers, bottles and advertisements are set up to represent the village store. Hartwall soda bottles, soda still inside and caps firmly secured sit jauntily on one cabinet. Towers of spices line the walls. The display case is filled with sweets and treats for the discerning housewife with extra pocket money, or the child lucky enough to have a few pence to spend on Salmiakki, Finland's salted licorice. Gustav's father was a collector of all things farm-related, and "got bitten by the collecting bug," explained Gustav. Now Gustav and his brother are the caretakers of this giant and impressive collection.
Go to the farm for the beef, but don't skip the Farm Museum. It's one of the things that makes this place really special.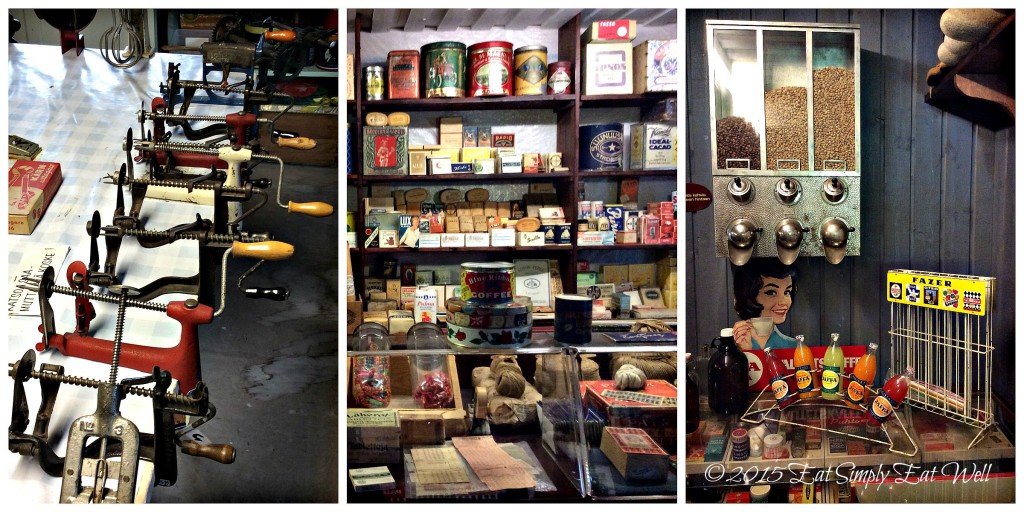 Oh, and stop along the long driveway up the house and get out say hello to those cows. They and you will love it.
Gårdskulla Gård, 02750 Sjundeå, Finland, www.gardskulla.fi, Facebook: https://www.facebook.com/Gardskulla
And since you'll be in the neighborhood, here's where you'll find more delicious, farm-fresh food:
Myllyniemi: Perched on the edge of the river, with the rushing water streaming between the gleaming oak trees, with a few friendly lambs, this is a old mill and sawhouse is place for rest and relaxation. Owner and host Tuula Sornainen, gave us a tour of the place including the original electric generator, old sawmill and guest rooms. If you'd like to visit, you'll need to call ahead an make reservations. It'd be perfect for a weekend getaway for two, a friends' retreat, or as a corporate off-site destination or a wedding. www.myllyniemi.fi
Apple Festival in Lohja. I love harvest festivals, and this one is well worth the visit. Each year, roughly 6000 visitors make their way to Lohja to taste the apples, visit the scarecrows on display for the scarecrow competition, taste a broad variety of Finnish apples, and eat and peruse their way through the 100+ market stalls. The atmosphere was friendly and celebratory, with traditional folk music playing in one section; old acquaintances catching up along the way, and for me, a lot of sampling of the goods on offer, starting with a delicious pulled pork sandwich from Saskatoon Restaurant washed down with a perfectly sweet-tart glass of saskatoon-lingonberry juice to kick off our wanderings through the market. Put it on your calendar for next year! It's the perfect way to spend an Autumn Saturday. www.lohja.fi
Ciderberg apple orchard – a beautiful, well-tended orchard with over 10,000 apple trees of 50 different varieties. The place was full of visitors who had stopped into enjoy the buffet lunch, purchase apple cider and apple wine, and enjoy the idyllic atmosphere of the restaurant, farm and surrounding fields. We were shown the room where the sort and package the apples, the apple press, and the giant storage coolers where the apples wait to be distributed all over Finland. www.ciderberg.fi
At Purnus, we stopped to sample the house-made Sjundby ice cream (the flavors of the day were strawberry and blackberry – delicious!), but Purnus' Seaction also offers 2 guest cabins and one larger cabin for conferences as well as canoe, snowshoe, skating and skiing trips. There is a Summer theatre near by and activity tracks all around, to suit every taste. Especially that ice cream! Stop in for a day or for the weekend. You won't be disappointed www.seaction.com
Four Seasons Fish sits in a nondescript building just off the highway looking more like an old gas station house or a biker's bar than the best place to buy fish in Southern Finland. Don't let the looks fool you: step inside. Run by Marja Blank-Haga , her husband Rainier Haga and son Joni Haga, this family operation has been in business since early 2000. There are more than 100 varieties of fish items on offer: fresh, smoked, pickled, grilled, baked, and all of them beautiful displayed, tempting the customer to fill her bag. We sampled the peppered smoked salmon, salmon chateaubriand, salmon rice pastries, fish roe, shrimp sauce in mayonnaise and a house-made dill sauce that went perfectly with cold smoked salmon. Also on offer were the dark brown, rich, sweet archipelago rye bread and local farm fresh eggs. If you're in the area, don't miss this. It's a hidden gem. www.fsfish.fi
Like it? Share it! And leave me a comment below.