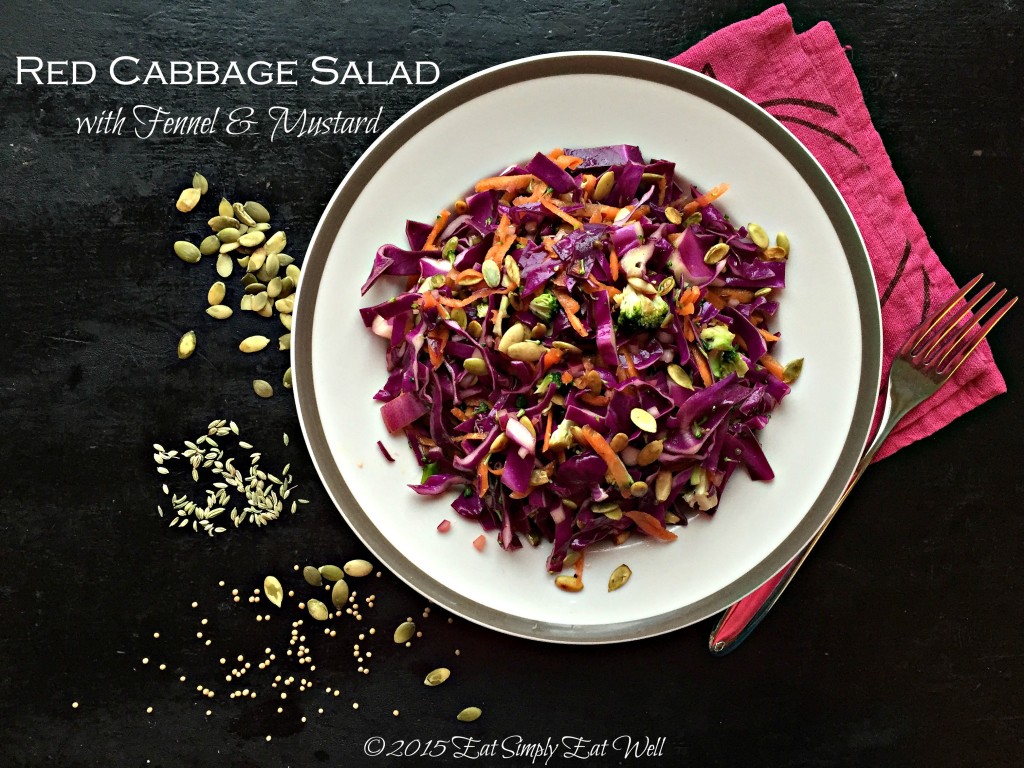 As the lettuce in our gardens fades away under the cooling temperatures and the onslaught of Autumn rains, the time for light, fresh, cooling Summer salads is behind us, and within the dense heads of colorful cabbage that fill the produce aisles and market stalls lie the heartier salads we get to enjoy all Winter long.
Cabbage is a mainstay of the Fall and Winter kitchens. Readily available starting in early Autumn and on through mid-Spring, this versatile vegetable can hold up against sturdy dressings that would easily wilt one of its lighter lettuce counterparts. I like to let a cabbage salad sit at room temperature and soak up its dressing for at least 10 minutes before serving, and find that salads like the one I'll share with you today simply get better the longer you leave them. Cabbage salad is really good the first day, exceptional the next day, and even 2 days later, maintains its satisfying crunch and vibrant color. A winner, to be sure.
The inspiration for this salad comes from the wonderful Wild Foods chef Sami Tallberg. I attended a workshop he gave this Spring, where he served wedges of red cabbage that had been rubbed with a fennel-mustard marinade and left to soak while he prepared a few other dishes. The beautiful purple and white wedges were then served simply on wooden trays, from which we consumed them, with great delight, with our fingers.
The flavor combination of mustard seed and fennel was so delicious I decided to create a dressing from it to make one of the first cabbage salads of this season.  The seeds are toasted in olive oil, and then added to a light dressing with lemon juice, red onion and maple syrup. The result is a hearty, crunchy, satisfying salad that goes really well alongside pilaf and roasted vegetables, but could easily accompany a pan-fried white fish filet or a slow-cooked roast. It's really versatile.
I've even eaten a huge bowl of this for lunch – add a few slices of good sourdough and it's all you'll need to carry you through your afternoon with high energy. 
Red Cabbage is a superfood, packed with all kinds of powerful components. It:
high levels of red pigment polyphenols (anthocyanin polyphenols) which contain both antioxidant nutrients and anti-inflammatory nutrients – 30 mg per half cup /1 dl.
helps prevent a variety of cancers including bladder cancer, breast cancer, colon cancer and prostate cancer
Helps lower cholesterol by binding with the bile acid (formed in liver after fatty foods are consumed) in the digestive tract, which causes the liver to draw on existing bile acids in your cholesterol thereby lowering it. Cool, hey?
Helps heal digestive tract, including stomach ulcers
Excellent source of vitamin K, vitamin B6 and vitamin C (all cabbages contain vitamin C, but red cabbage 6-8 times more vitamin C than red cabbage does)
very good source of manganese, fiber, potassium, vitamin B1, folate and copper
low calorie: 44 kcal per 1 cup/150 g
Source: whfoods.com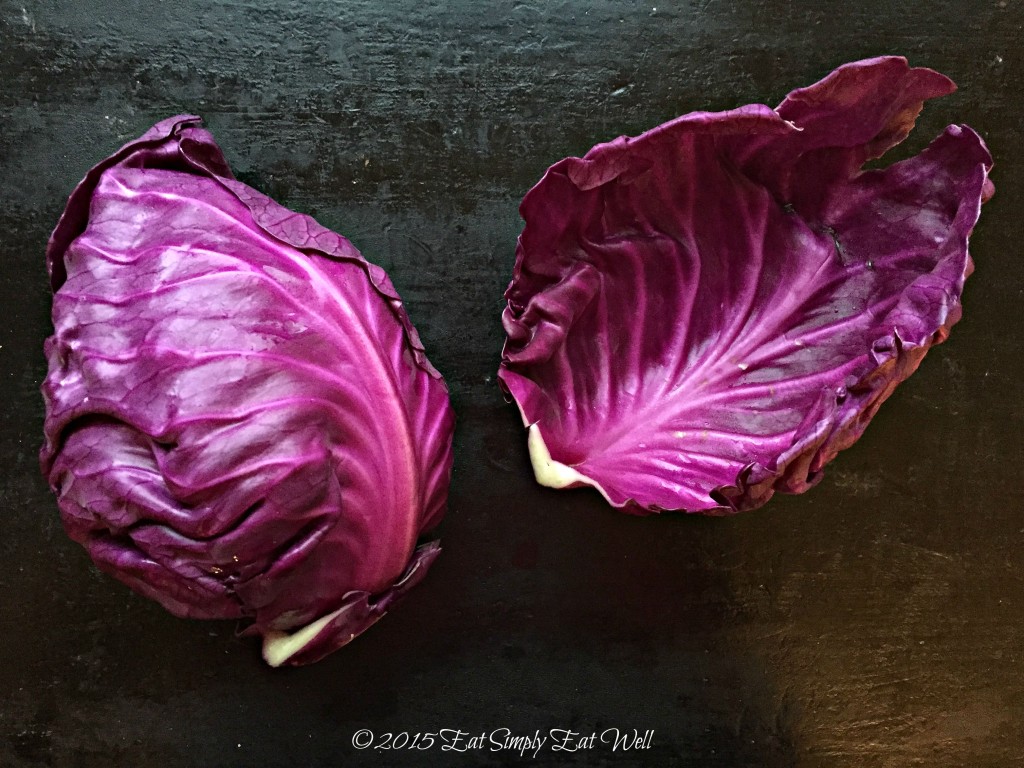 A few notes on selecting and storing cabbage:
Look for round, firm heads of cabbage that are not wilting or yellowing at the edges – these signs indicate an old or poorly stored cabbage and a loss of nutrients, especially vitamin C.
Do not buy cut or pre-shredded cabbage as it quickly loses vitamin C content once cut.
If you don't use an entire cabbage after you first cut into it, store it wrapped in a clean plastic bag in your refrigerator and use within a few days. Uncut cabbages last 1-2 weeks in the refrigerator.
There are different varieties of red cabbage available. For this recipe I used pointed cabbage (suippokaali) as I like that its leaves are light and crunchy all the way through with no hard center "rib". You can use any kind of red cabbage for this recipe (or even green if that's what you have – Savoy cabbage would be delicious here too). If the ribs are really tough, I recommend folding each leaf in half and cutting away the rib.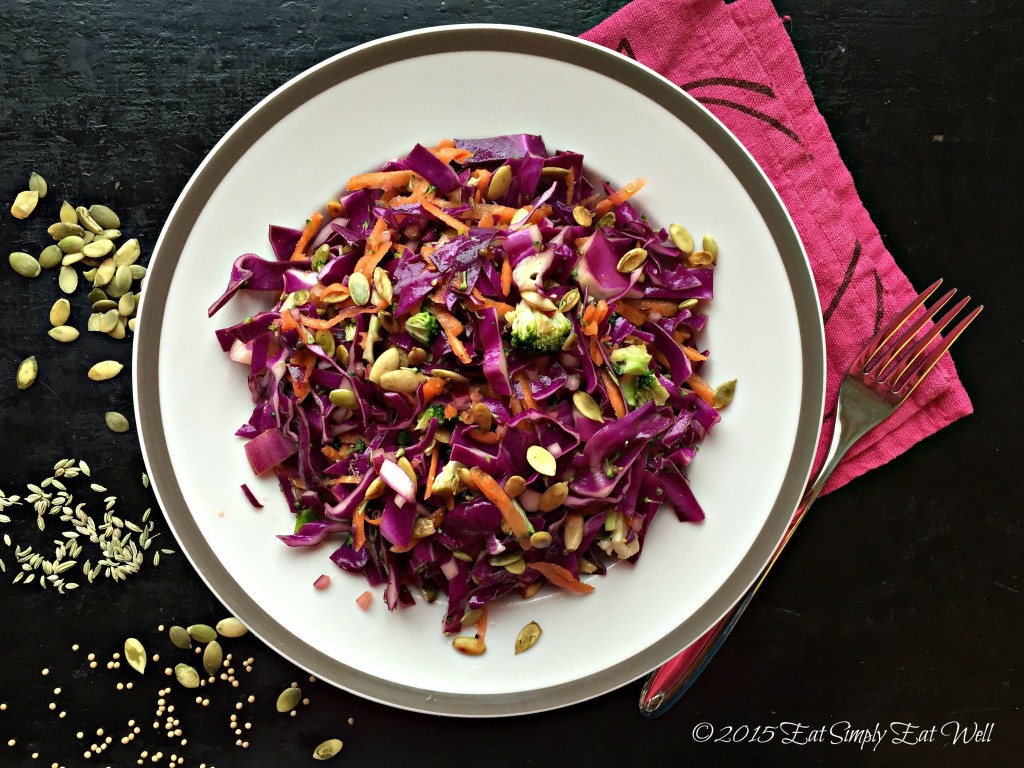 Red Cabbages with Fennel Mustard Dressing
1 red pointed cabbage or 1 small red cabbage, finely shredded
1 small head of broccoli, cut into small pieces
2 medium carrots, peeled and grated
1/2 red onion, minced
juice of one organic lemon
1 tablespoon maple syrup
4 tablespoons olive oil
2 teaspoons fennel seeds
2 teaspoons mustard seeds
1 teaspoon sea salt
1/2 teaspoon freshly ground black pepper
4 tablespoons pumpkin seeds, toasted
Step 1: 
Combine diced red onion and lemon juice in a small bowl.
Heat olive oil in a small pan over medium heat. Add fennel and mustard seeds, and cook until they turn golden brown and the mustard begins to pop. Remove from heat.
Step 2:
Combine cabbage, broccoli and carrots in a large mixing bowl and mix the vegetables together with your hands to combine well.
Pour the oil and seeds in to the bowl with the onion. Add salt, pepper and maple syrup and whisk with a fork to combine. Pour the oil mixture over the cabbage mixture and mix thoroughly,
Allow the salad to marinate in the dressing for at least 10 minutes (can be made up to one day ahead). Just before serving, add the toasted pumpkin seeds and whisk well to combine.
Serves 6-8.
Looking for other recipes like this one? Try these:
What are you making with cabbage this season? Did you like this recipe? Let us know in the comments below. And don't forget to subscribe to the newsletter to make sure you never miss a post!