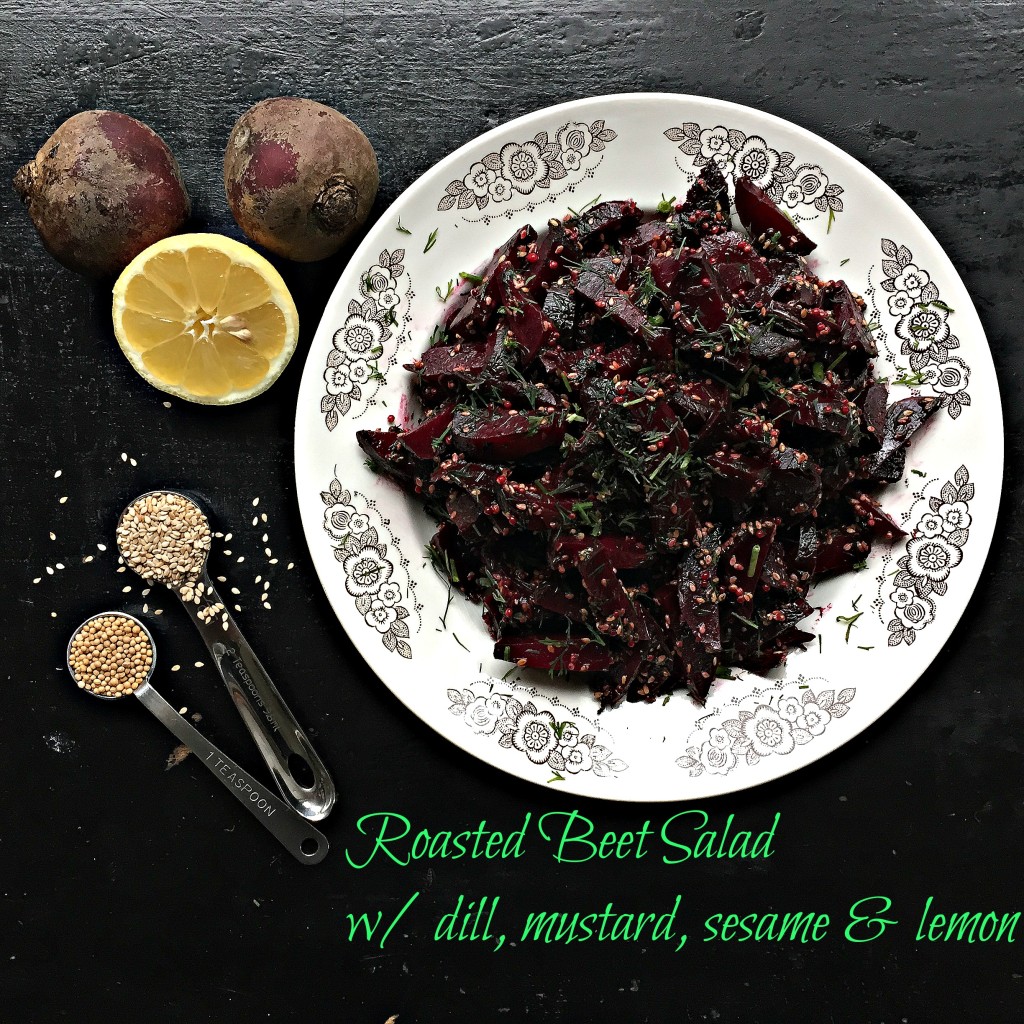 Why do we peel beets?
This is a question I asked myself yesterday while staring down at 400g of raw beets that were waiting to go into the oven.  I decided that I was going to end the madness then and there; here and now.  No more peeling these gorgeous, deep red roots.  So I scrubbed them and rinsed them to remove any excess dirt, cut away the parts that looked a little less edible, piled them into a casserole dish with the lid firmly in place, and shoved the whole thing into a 400°F/200°C oven to roast for 60 minutes.
Once out of the oven, I let them steam as the cooled, lid still in place, until they were room temperature and easy to handle.  At this point, I'd usually peel them.  Not this time.  This time, I cut off and discarded the bottoms of the beets and then sliced through the tender flesh, creating burgundy disks, and through again to create matchsticks – which I then transferred into a bowl where the salad dressing lay waiting.  A quick toss, a little extra dill, and this salad was ready to go.  Yes – the board was still dripping with bright pink beet juice, and the tips of my fingers were a bit stained too, but none of that crazy, senseless wrestling with the harmless skin of the beet.
So go ahead – save yourself the time, the energy, the mess – and leave them whole.
This is a salad that I could enjoy by the bowlful.  It's also a beautiful addition to a plateful of other roasted veggies and grains, or as a side dish.  We ate it with roasted cauliflower and smoked garlic; cooked chickpeas; cooked whole oat groats; and a bit of Moroccan sweet potato salad.  The only sad thing was that we ran out of this salad way too quickly.  But it's easy to make again – just let your oven do most of the work, and leave those peels where they belong: on the beet. You won't even notice.
You can make this and serve it immediately, or make it a day ahead. It's best at room temperature or slightly warmed.
Roasted Beet Salad w/ dill, mustard, sesame & lemon
400g/1 pound beets
3 tablespoons fresh or frozen dill, roughly chopped
zest of one lemon
juice of 1/2 lemon
2 tablespoons sesame oil or extra virgin olive oil
1 tablespoon pure maple syrup
1/2 teaspoon sea salt
1 tablespoon unhulled sesame seeds
1 tablespoons yellow mustard seeds
Preheat oven to 200°C/400°F.  Scrub and rinse the beets and cut away any visible blemishes.  Place them in a greased casserole dish with a fitted lid.  Place the casserole dish in a hot oven and roast the beets 60 minutes or until tender when pierced with a fork.  (may take slightly longer if your beets are large; you can also cut large beet in half to speed the cooking process).
While the beets roast, make your vinaigrette by combining the dill, lemon zest, lemon juice, oil, maple syrup, and salt in a medium-sized bowl.  Set aside to marinate.
Pour the sesame seeds and mustard seeds into a small pot and place over medium-high heat.  Shaking the pan slightly every 10-15 seconds, allow the seeds to toast until they begin to hop and pop and steam begins to rise.  Pour the immediately into the bowl with the marinade.
Once the beets are ready, remove from the oven and allow them to cool with lid firmly in place until you can easily handle them; at least 15 minutes. Remove the beets from the pan; cut off the bottom and discard it. Cut the beet into slim disks and then cut the disks into matchsticks. Transfer the beets to the bowl with the marinade and toss well to coat. Add extra dill for garnish, if desired.
Serve immediately, or make it up to one day in advance.  Best when served at room temperature.
Serves 4 as a side dish.