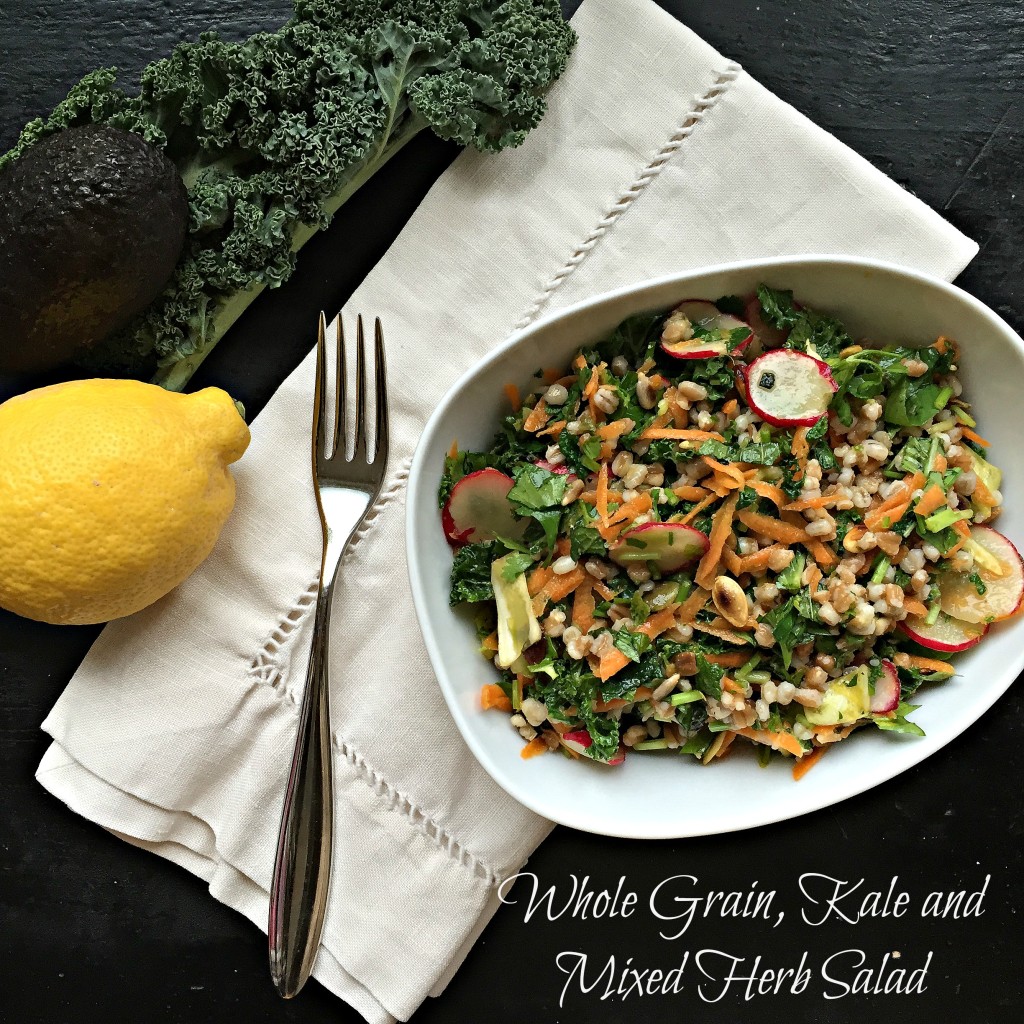 Oh Friday, am I glad to see you. This week has been packed and I'm ready to take a nice long walk in the fading sunlight, come back and kick my feet up, and breathe deeply for a moment.
But first Dinner.
If you been cooking meals all week long, it's possible that by the end of it you have bits and bobs of leftover portions lingering around on various shelves. Whole grains are one item that I tend to cook extra of at the beginning of the week 'just in case' as they take a bit longer to cook than other ingredients do – and having them on hand means that I can get a quick hearty meal on the table with the addition of raw or cooked vegetables and a few other key items. What the easiest thing do when you have a bowl of leftover whole grains? Making a salad is high on my list.
This salad makes the most of a variety of herbs for the fullness of flavor; try these:
Basil
Mint
Cilantro
Parsley
Dill
Fennel (fronds)
Tarragon
Feel free to use all four, or mix and match what you have. I happened to have two different types of basil growing on my windowsill, so I used both Genovese basil and lemon basil for this – and I have to say I smiled a bit every time I bit into the citrus-anise note of the lemon basil – a welcome surprised scattered at random throughout the salad. The main thing is to experiment and use what you have – it's hard to go wrong here, though I wouldn't recommend Thai basil in this salad.
You can use any whole grain you wish for this. Good examples are:
Barley
Oat Groats or steel-cut oats
Millet
Quinoa
Brown, Red or Black Rice
Spelt grains
Kamut/Farro grains
Wheat grains or Tabbouleh
Some of these, like Quinoa and Millet cook quickly so you can get them on the stove and then prepare the other ingredients while they cook. You'll want to make sure your grains are cool (they don't have to be cold; room temperature is fine) before you add them to the salad for best results.
 Now on to the vegetables: a variety of vegetables adds a broad array of colors, flavors and nutrients, so you can choose what you have on hand or your favorites. Try these:
Radish
Carrots
Kohlrabi
Cucumber
Zucchini
Snap peas
Green beans
Shelled edamame
I chose to add radish and carrots. Whatever you choose to put into the salad, make sure it's sliced, grated, or diced really small so that no part of the salad is overly crunchy nor requires too much work to chew. You want this to be an enjoyable experience, not a workout for the jaw muscles!
 And finally, toasted pumpkin seeds and the vinaigrette to pull everything together and all it needs is a quick toss and you can plate it up.
The thing I love about this salad is how flexible and versatile it is. You can use it to clean out the fridge at the end of the week, and then pack it along on a weekend picnic or to a potluck (if you increase the quantities, that is).  If you make it mid-week, it makes the perfect lunch for the office. We've also packed this along for car, train and plane rides – since travel food is notoriously abysmal and it's nice to have your own options along.
Hungry yet? Let's get chopping!
Whole Grain, Kale and Herb Salad
 1. In a large bowl combine:
1 cup cooked whole grains, your choice (see above)
3 cups raw kale, chopped and massaged with hands to soften
2 carrots, shredded
6 radishes, thinly sliced
1 avocado, peeled, pitted and diced
2 tablespoons of pumpkin seeds, toasted
1/4 cup fresh cilantro, stems and leaves chopped
1/4 cup fresh mint leaves, chopped
1/4 cup fresh parsley, bottom stems removed and the rest chopped
1/4 cup basil leaves, chopped
2. Whisk the following ingredients together to make a vinaigrette:
Juice and Zest of one organic lemon (zest it first)
1/2 teaspoon salt
1 teaspoon mustard (I like honey mustard for this, but any kind will do)
1 teaspoon real maple syrup
2 tablespoons olive oil
Pour the vinaigrette over the salad and toss well to coat. Serve immediately or store in an air-tight container for up to 24 hours.
Serves 2 as a main course.
 You may also like:
Did you like this recipe? Let me know in the comments below and please share with your friends!