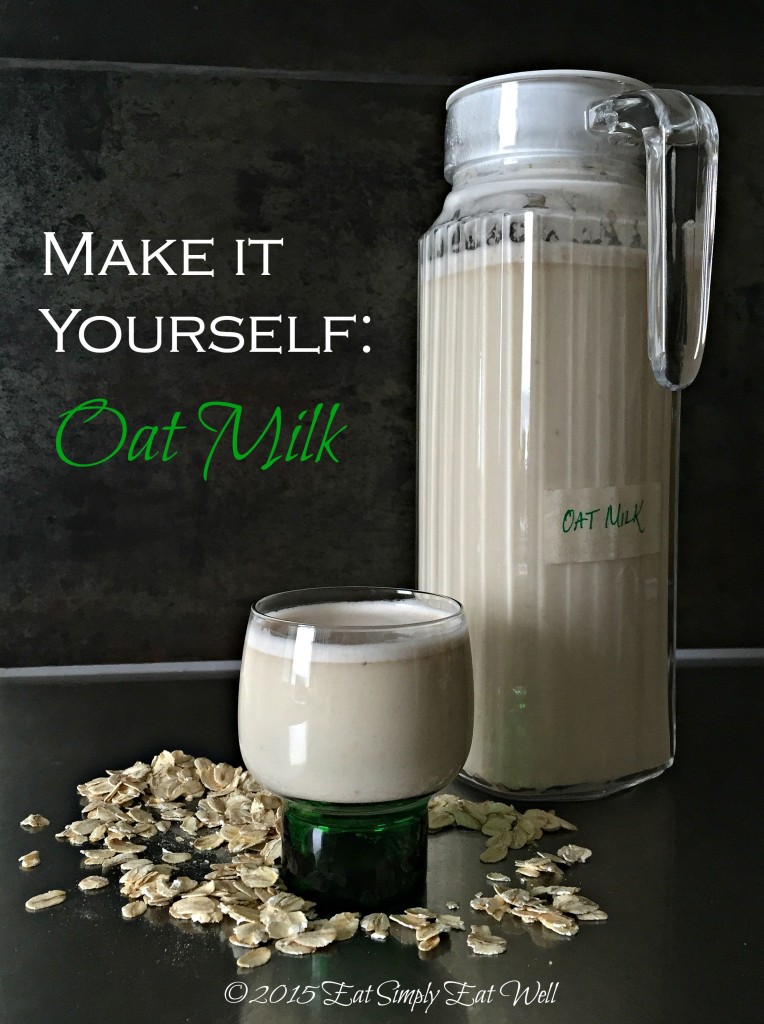 There are certain recipes that I make nearly every week. I make them so often that I hardly even think about it anymore: the whole process goes on auto-pilot to the point where these staple items become something that just fit into everything else I have going on, and are as normal to include in my day as brushing my teeth and exercising. These include Granola, sourdough bread, and various kinds of non-dairy milk, including Oat Milk.
Oat Milk is definitely a staple item. Some of you may have recently given up dairy and are looking for ways to make your own version of the non-dairy milk you can buy in stores, while some of you may still consume dairy milk and are looking for ways to consume a little less, have a non-dairy alternative for a friend or family member, or simply interested in trying something new. Whatever the case, oat milk is a great non-dairy milk to begin with.
There are so many benefits to making your own:
Low cost. Unlike nut and seed milks which can be slightly more expensive, oat milk, because its main ingredient is oats, costs literally pennies to make.
You know exactly what's in it. The vast majority of store-bought milks contain additives and stabilizers in order to extend the shelf life and to maintain the consistency of the milk. Many of these, such as carrageenan, have been under scrutiny for their links to cancer and inflammation in the body (see this link for more information). When you make your own, you can have as few as two ingredients: oats and water. I usually add a date or two for sweetness and a pinch of sea salt for added mineral content, but that's up to you and not essential.
It's simple. All you need to do is soak oats in water, preferably overnight, rinse, blend, strain, drink.
It's fast. If you are in a hurry and need oat milk for a recipe right now – you can literally make it in 20 minutes starting with boiling water, letting it soak 20 minutes, and then following the instructions on rinsing and straining before proceeding. I like to drink the milk "raw" so I soak them at least 4 hours but again, if you need oat milk immediately, the boiling water method is still a good option.
Note: Some of you may remember that I've posted on Oat Milk once before. After making it over and over again, decided to post this updated version because it's evolved and improved along the way. I hope you enjoy!
Oat Milk
1 cup / 2.5 dl oatmeal, preferably large flakes or whole oat groats
2 cups water to soak
4 cups cool water for blending (preferably bottled or Spring water, especially if your tap water contains chlorine)
1-2 fresh dates, pits removed, optional
pinch of sea salt, optional
Pour the oats into a large bowl or container. Pour 2 cups of cold water over the top, cover, and allow to soak at least 4 hours or overnight.
When you are ready to make the oat milk, pour the soaked oats through a fine mesh strainer to drain away the soaking water. Rinse the oats with cold water in order to remove any "slime" that has developed. Transfer the strained oats to a blender. Pour 4 cups / 1 liter of cool water over the top. Add the dates and salt. Blend on high for 1 minute.
Pour the oat mixture through a fine mesh sieve into a bowl. Use immediately, or store in the refrigerator for up to 3 days. Stir well before pouring as it tends to settle.
Makes approximately 4 cups / 1 liter.
Did you like this post? Do you make your own oat milk or other milks? How are you using them? We'd love to hear from you in the comments below.