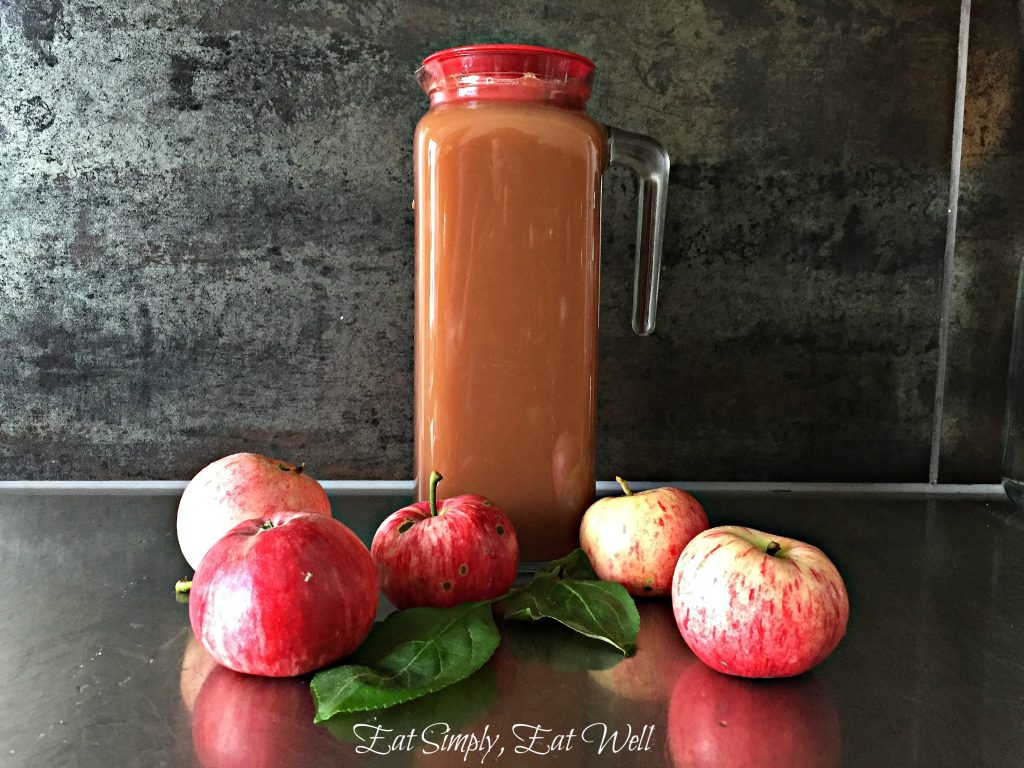 Ladies and gentlemen, apple season is upon us. With the warm spring, the apple blossoms were more abundant than they've been in 10 years in Finland. The pollinators got busy, and with sunny days and no rain during this glorious Spring it appears they've done their job well. We are now looking at apple trees loaded with apples, everywhere we go. There's no better time to make fresh apple juice. 
But if you don't own a juicer or a juice press, how in the world are you gonna make apple juice? Turns out – there's an easy way to get the job done.
We don't own any apple trees ourselves, but we do own "apple shares" in an organic apple farm, from which we get boxes full of beautiful, delicious Amarosa apples every October. No worries, though: my father-in-law has 2 apple trees in his yard that are ripe and loaded, and he's more than happy to share.
He sent me home with a big pail of apples. There could have been more, but I declined, because I reasoned: "what are two people going to do with more than 5 kg of apples". But these apples. They were clearly apples meant to be pressed into juice. Heavy for their size, and so juicy you couldn't bite into one without juice running down the apple, onto your hand and dripping on the floor, there would have been no point in trying to turn these into sauce or pie. But I had a load of them, and no juicer.
So I decided to hack a juicer – with my blender + a linen bag. I washed the apples, removed the cores, left the skin on, and chopped them into thumb-sized chunks. I filled my trusty blender to the brim, and sent the blades spinning. After tamping the apples a few times, the blender made short work of the apples, and I was left with apple puree. I poured this through into a linen bag (a nut milk bag or old, clean t-shirt would work as well) twisted the top, and "milked" the juice out of the bag.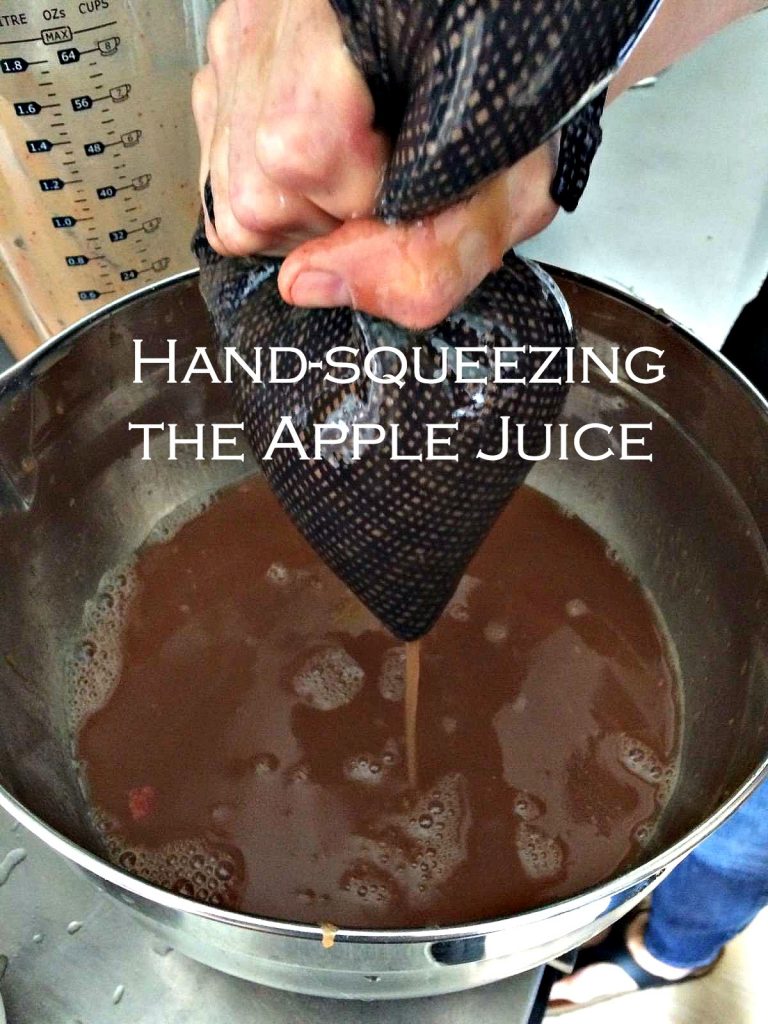 My oh my. I wish I'd accepted more apples. We may need to go back for another visit tomorrow. This is seriously some of the best apple juice I've ever tasted. Fresh, clean, sweet, crisp, with just the right balance of tartness, I can't say I've had better apple juice anywhere.
And, well, it does give a whole new meaning to the concept of "hand-pressed juice".
So now, I'm on the lookout for more free apples (anyone?!?). I'm confident (er, strongly hoping) that apples will be available  any day now – the neighbors down the road have the same challenge my father-in-law did does – more apples than they can eat off of trees producing record quantities.
But now, that's more a pleasure than a problem: forget making lemons into lemonade – it's apple juice we're talking about, and it's way, way better. 
I used some of this fresh apple juice to create a new recipe for granola, and turned out the crispiest, chunkiest granola on record. Recipe to follow.
But for now, apple juice. Unless of course you own a juicer; then use that.  Though you'll miss out on all the fun that's about to follow, so you may want to try this anyway.
And then, when you get sick of juice, well, there are other options, too. Try these:
The fun is just beginning! What are you going to do with all this your bounty?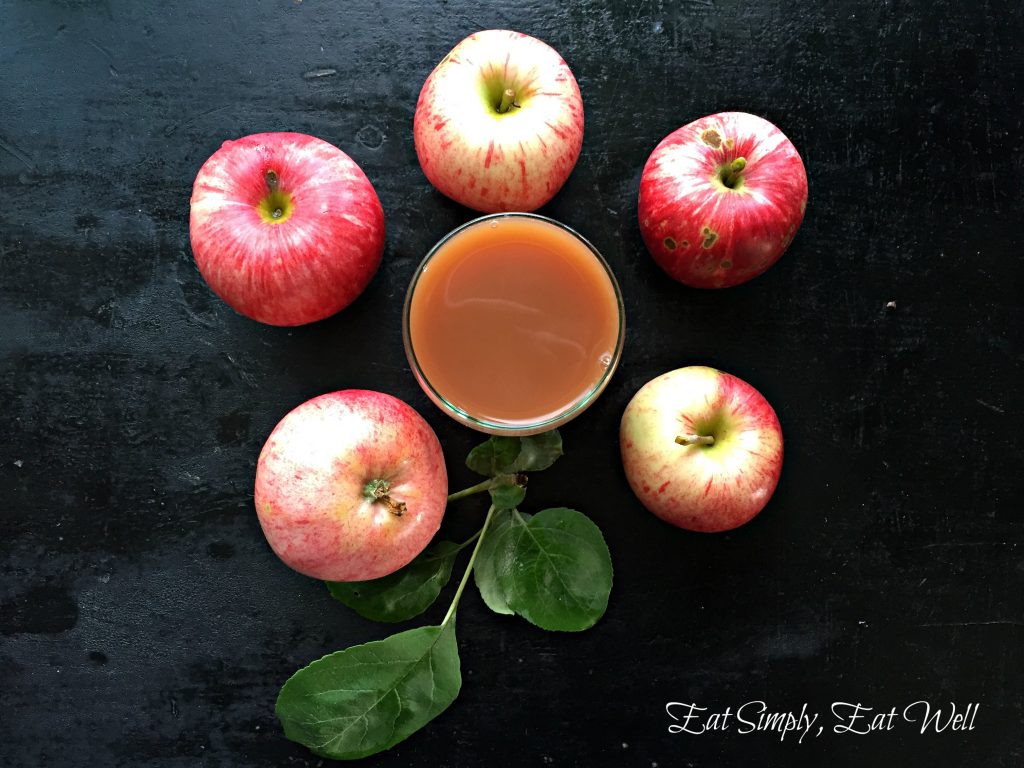 Hand-pressed Apple Juice
You'll need:
5 kg/8 liters fresh juicing apples
knife + cutting board + apple core remover (not essential, but faster. I use this one).
blender
linen bag, nut milk bag, or old, clean cotton t-shirt
Large bowl to catch the juice
Wash the apples to remove all excess dirt or grit. Remove the cores. Cut the apples into thumb-sized pieces (larger pieces are hard for the blender to deal with and get stuck on the blade if you fill the blender – which you will). Fill the blender container to the top and secure the lid. Turn the blender on to medium low heat, and blend the apples until they become a uniform puree. You may need to stop the blender a few times to stir the mixture if the apples get stuck.
Pour the apple puree into your linen bag or milk bag. Twist the top of the bag several times, and hold the twist in your non-dominant hand. Hold the (now dripping) bag over a large bowl to catch the juices, and with your dominant hand (the one you write with), squeeze the mass of apple puree to "milk" the juice out. Continue pressing and squeezing the bag until the mass left in the bag is really small and very little juice is being extracted. You should get around 1.5 liters of juice from around 5 kg of apples, depending on how juicy your apples are.
Serve immediately; store in the refrigerator for up to 5 days; or freeze for later use.
Makes approximately 1.5 liters/6 cups of juice.
Did you enjoy this recipe? Do you have other tricks up your sleeve for using a bounty of fresh apples this season? Please share them below – I'd love to know! 
Have you signed up for the ESEW newsletter yet? Scroll back up to the top and fill out the form at the top, right-hand side of the page to get free tips and recipes I share there. 
Eat Simply, Eat Well,
Ann