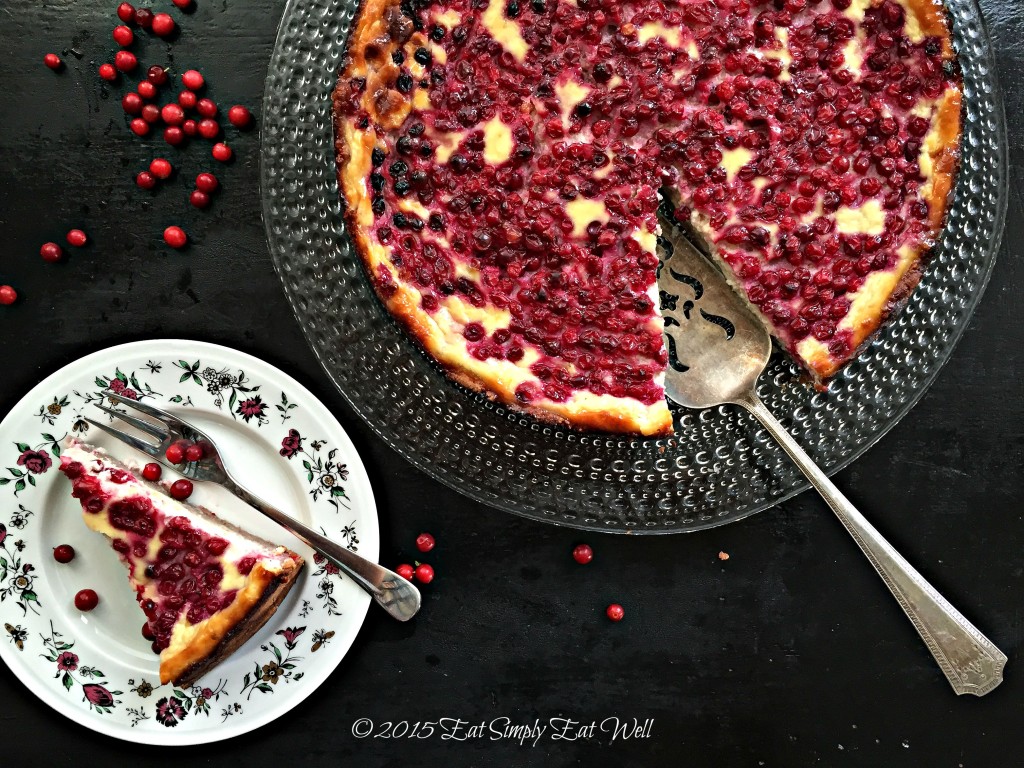 Would you believe that this beautiful tart is actually something so good for you, that you could actually eat it for breakfast, without guilt?
What?!? Pie for breakfast? I'm definitely in.
Here's the thing: most pies can't really be considered health food, (though one could argue that some pies are so good they are comfort food, and there's something to be said for that). But this is a case of being able to have your pie and eat it too:
no refined sugars – maple syrup provides the sweetness
no refined oils – coconut oil adds a lovely flavor profile
gluten-free, whole grain flour – buckwheat
plain yogurt – no funny stuff added
a superfood: lingonberries
good quality protein, Omega 3 and vitamins D & B12 – organic eggs
Pretty good, right? This is definitely a dessert you can feel good about. So if you want to enjoy a slice with your morning coffee and call it a well-rounded option, well, let's just say it may have been done before. Possibly.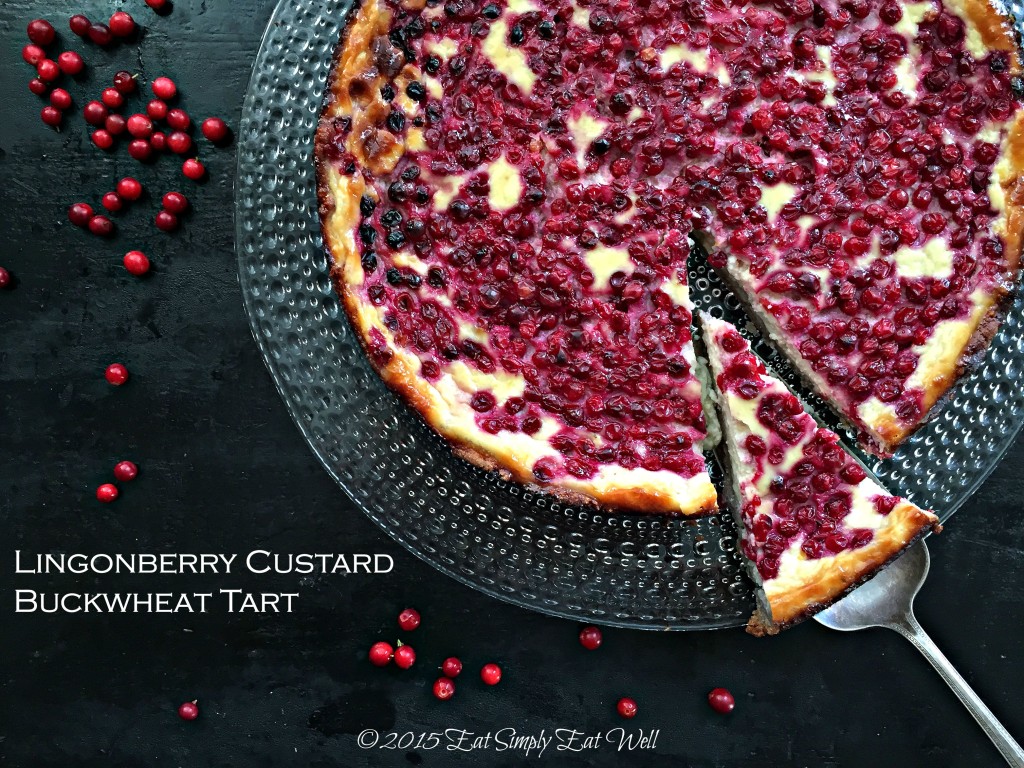 Lingonberries are in season right now here in Finland. All across the forests you can see these bright red berries contrasting beautifully with the dark green leaves of their low-lying bushes. I picked the ones for this pie, but if you are living in a place where Lingonberries grow and don't have the time or don't want to pick them yourself, you can probably visit your local Farmer's market right now and get a 5 kilogram box for €25 or so, without every crossing through a spider web or picking your way through the pine trees – though you will miss the mighty stillness and beauty of the Autumn forest.
However it is that you get access to your Lingonberries, know that you're doing your body a favor. This is one powerful, nutrient-filled berry. They :
can lower inflammatory molecules
block oxidants from destroying tissue
help the body replace important antioxidants
have been used to treat people suffering from diabetes and cardiovascular illness
are an excellent source of vitamin A
are a good source of vitamin C and Calcium and fiber
Sources: Dr. John Anderson, doctoroz.com, National Food Institute at Denmark Technical University
Note: if you can't find Lingonberries, Cranberries, Bilberries and Blueberries, all cousins and part of the vaccinium family of berries, are a fine substitutes here. Fresh and frozen berries both work well; do not use dried berries for this recipe.
Yup. Pie for breakfast. I really like the sound of that.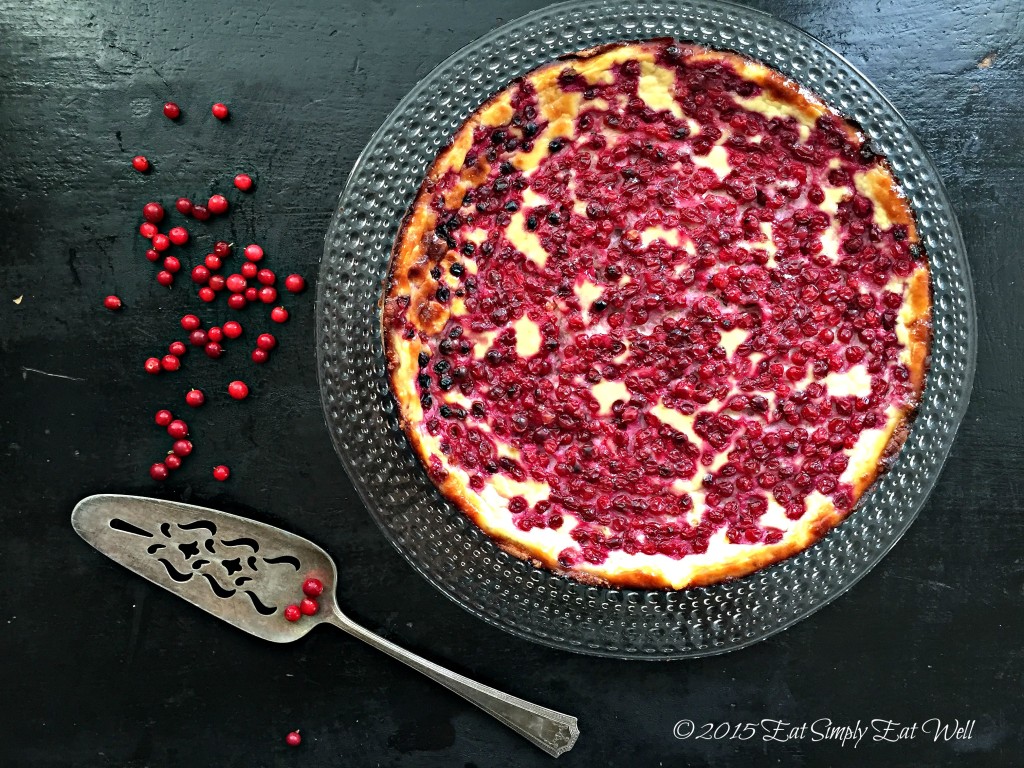 Lingonberry Custard Buckwheat Tart (gluten-free)
Preheat oven to 200°C/400°F. Line the removable bottom of a springform pan with parchment paper, attach the top securely, and cut away the excess parchment paper.
Make the crust:
1 cup/2.5 dl/200g buckwheat flour
4 tablespoons/40g coconut oil
1/4 cup / 1/2 dl pure maple syrup
1/4 teaspoon sea salt
1/4 teaspoon ground cinnamon
Combine all ingredients together in a small bowl until smooth and uniform. Press the crust mixture into the bottom and up the sides of the spring form pan. Use your fingers to smooth and press the dough: you want it to come up about 1″ / 2.5cm. Bake in the preheated oven for 10 minutes.
Make the filling:
2 cups / 500 g plain yogurt (use Greek yogurt for best results)
1/2 cup / 1 dl pure maple syrup
zest of one organic lemon
2 organic eggs, beaten
1 teaspoon vanilla extract
1 teaspoon salt
1 cup / 250 g fresh or frozen lingonberries (do not use dried berries)
Combine all the filling ingredients except for the lingonberries. Once the crust is ready, remove it from the oven and pour the yogurt mixture into the hot crust. Sprinkle the lingonberries evenly over the filling. Place the pan back into the hot oven and bake until it has puffed slightly, is golden around the edges, and jiggles slightly in the middle when you gently shake the pan; about 35 minutes.
Remove the pan from the oven and allow the tart to cool completely. Run a thin sharp knife between the edge of the pie and the pan. Release the springform and lift the top away. Gently lift the pie away from the springform bottom, grab the parchment paper and hold it firmly as you slide the tart onto a serving tray. Enjoy!
Serves 8-12.