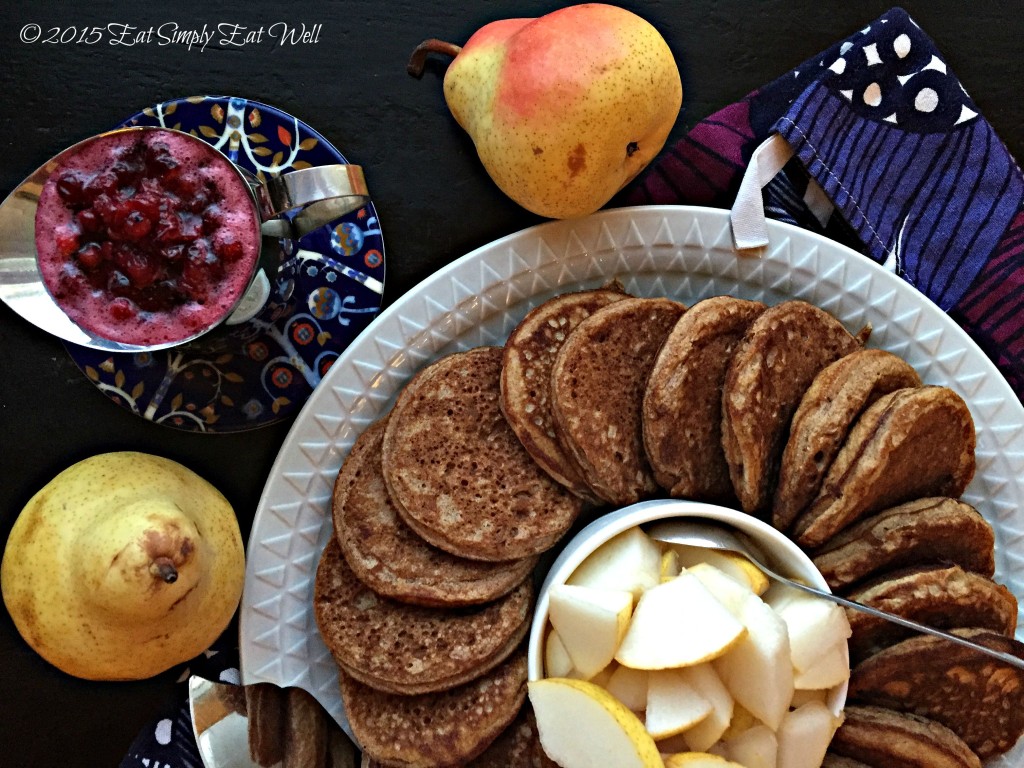 Here is something we know to be true: rainy weekend mornings and a big pile of pancakes go very well together. You wake up a bit past your normal weekday hour, roll out of bed, check out the window and see endless, dripping gray skies, feeling thankful that it's Saturday (or Sunday) and maybe, just maybe, you don't actually need to go anywhere…
The pancakes of my childhood were made with either a pancake mix or white flour mixture, cooked up on a long hot griddle set over the stove top, and served with whatever kind of maple syrup we had on hand: occasionally genuine maple syrup and more often Aunt Jemima's imitation maple syrup or it's equivalent. Sometimes there would be fried eggs along side, and bacon…a classic American breakfast that will be familiar to many of you who grew up there, and those of you who have visited.
These pancakes offer up a healthier option to the great American breakfast. First, no bacon (sorry! but you won't miss it.) No fried eggs either – those are in the pancakes rather than alongside them, so you'll still get the protein and Omega 3s. What makes these pancakes special are the buckwheat flour and kefir used to make them. (Note: if you don't have kefir, use a plain yogurt instead; see notes below for more details). The combination makes for a sweet, but tangy, slightly nutty flavor that pairs beautifully with the Lingonberry Maple Syrup in the recipe below, but I also used the leftover pancakes a couple of days later, reheated them in the oven, and went the savory route by topping them with hummus (this or that)and serving sautéed zucchini and kale on the side, and that was delicious too. Let your imagination go crazy here!
The amazing buckwheat is a must-try. It is:
gluten-free! Despite the wheat in it's name, buckwheat is actually a seed and contains no gluten at all.
rich in flavonoids, a phytonutrient that protects against disease
increases blood sugar control and lowers risk of diabetes
good for your cardiovascular health, particularly in preventing heart disease in post-menopausal women
high in fiber (4.5 g per cup of buckwheat), which helps prevent gallstones and protects against breast cancer
very good source of manganese
good source of copper, dietary fiber, magnesium and phosphorus
full of high quality protein containing all eight of the essential amino acids including lysine
Source: whfoods.com
The best part about these pancakes is that they are actually really quick to make. So much so, that even though they are perfect for  the weekend, why not make a big pile on a weekday morning as well? Get your bowl, pan and whisk out, and make these beauties first chance you get, no matter what day of the week it is. You'll be smiling until noon.
Notes:
No lingonberries? No problem. Sub in cranberries, blueberries, blackberries, raspberries – any of these would make a find substitute.
If you don't have kefir, use either plain yogurt or buttermilk – it'll work like a charm
If you don't have buckwheat flour and gluten isn't a concern, you could use whole wheat flour or whole spelt flour instead. If you'd prefer to keep these gluten free, oat flour would work as a substitute also. You'll still be getting whole grains, so many of the health benefits listed above still apply.
These reheat really well in the toaster (for a few) or the oven (for a lot) – so you can always make them in advance if you want to serve a crowd. Same goes for the syrup.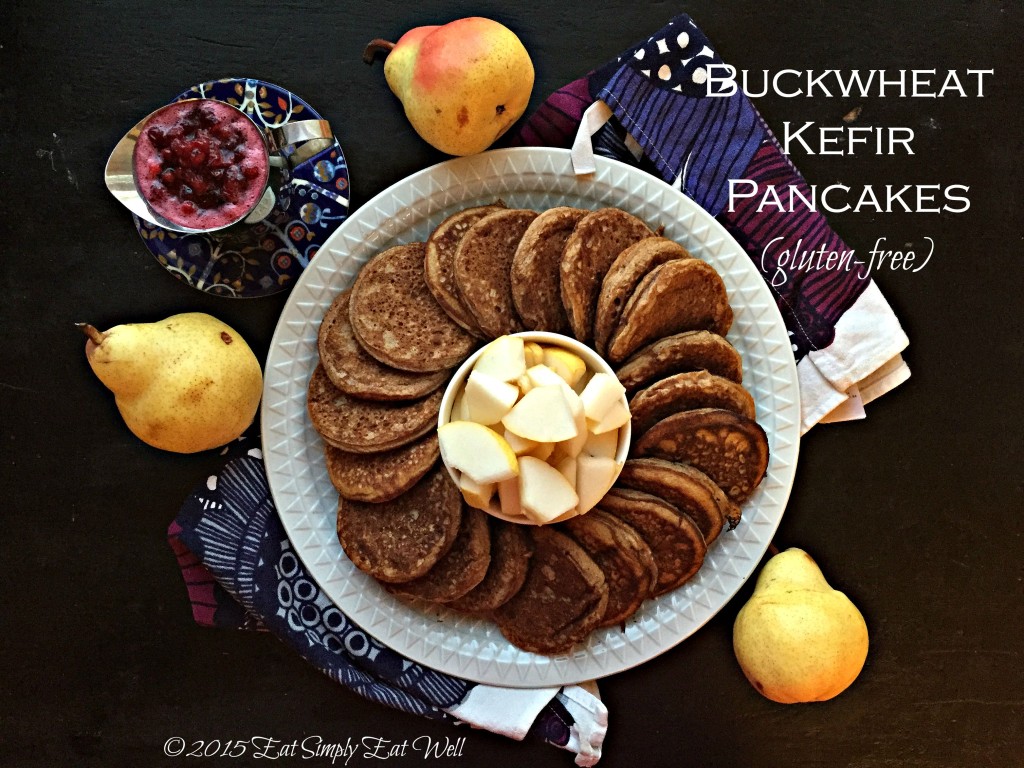 Buckwheat Kefir Pancakes with Lingonberry Maple Syrup & Pears
2 eggs
3/4 cup / 2 dl kefir
1 cup/ 2.5 dl /140 g buckwheat flour
2 tablespoons pure Maple syrup
1/2 teaspoon vanilla extract
1/4 teaspoon sea salt
1 teaspoon baking soda + 2 teaspoons lukewarm water combined in a small bowl
2- 3 tablespoons butter, ghee or coconut oil for frying
Preheat the oven to 50°C/125°F and place a tray or large plate inside.
In a medium-sized mixing bowl, beat the eggs and then whisk in the kefir, buckwheat flour, maple syrup, vanilla extract and salt until smooth. Add the baking soda – water mixture all at once, and whisk quickly to mix it into the batter. Allow the batter to bubble and rise for 5 minutes.
Set a large frying pan (I prefer cast iron) or griddle over medium heat. Let it sit for a few minutes to get hot, and then lightly brush the surface of the pan with butter, ghee or coconut oil. Pour the batter, 2 tablespoons at a time, onto the pan. Cook until the edges are slightly firm and small bubbles form then pop on the top of the pancake. Flip; fry briefly to brown the bottoms, and then transfer to the warm oven. Repeat until all the batter is used up.
Makes roughly 25 small pancakes.
Lingonberry Maple Syrup
1 cup/2.5 dl/250g fresh or frozen lingonberries (or other berries; see notes, above)
1/4 cup pure maple syrup
Combine the lingonberries and maple syrup in a small pot over medium-heat. Bring the mixture to a boil; reduce heat, and simmer for 5 minutes. Remove from heat and serve.
To serve:
Buckwheat Pancakes
Lingonberry Maple Syrup
Plain yogurt or Greek yogurt
2 Pears, cored & diced
Serves 4-6.