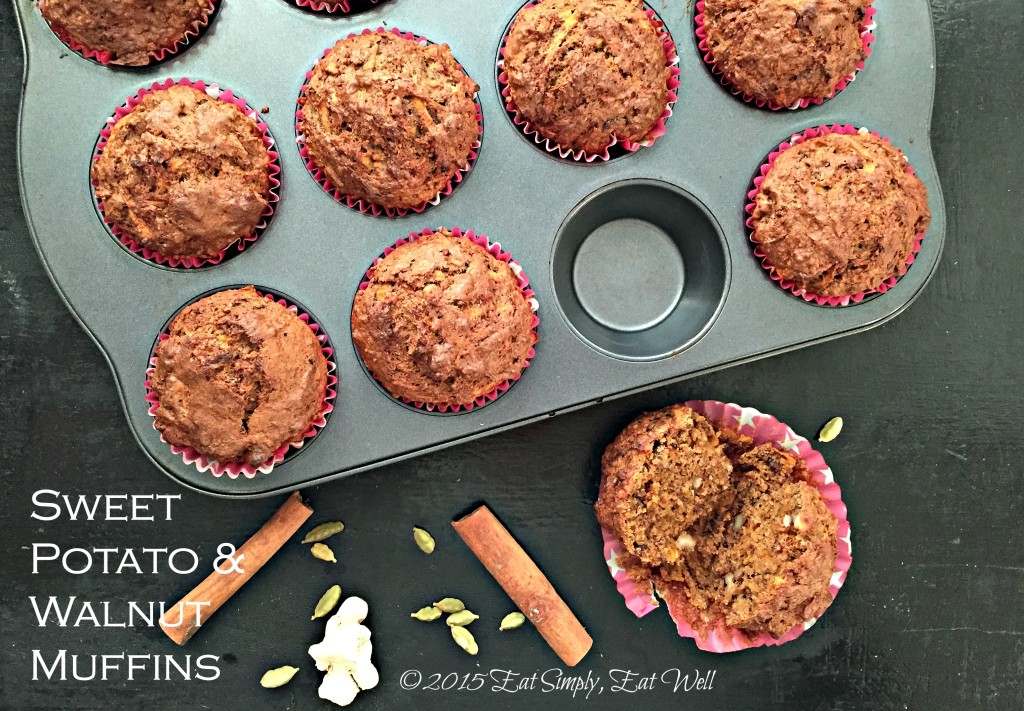 Move over, pumpkin, there is a new veggie in town, ready to land in all things sweet and savory: the Sweet Potato.
Deep orange in color, velvety soft when roasted and naturally sweet, this root vegetable pairs nicely in your quick breads and muffins to add a nutritious dose to your afternoon snack or take-away breakfast. I've paired the sweet potato here with applesauce, Indian sugar, whole wheat flour and walnuts for a satisfying and healthy snack that you can take with you anywhere, serve to hungry kids as an afternoon snack, or offer up to company along with a cup of coffee or tea. Fragrant with warm spices: cinnamon, cardamom, ginger and clove, this is a muffin that lets you know Fall is firmly and clearly here, right in front of you.
Pack a few of these in your bag, along with a thermos filled with your hot beverage of choice, and head outside to capture the last rays of sunshine as they beam through the colorful autumn leaves overhead, and onto the piles of fallen color crunching beneath your feet on the trails below. This is a magical time of year, right now, when the colors are at their peak and time seems suspended for just a brief, fleeting moment. Go on – make these muffins and get outside!
Sweet Potatoes are a wonder of the root vegetable world – colorful and nutritious. They have:
high doses of beta-carotene, which converts to vitamin A in your body – excellent source
very good source of vitamin C, manganese, pantothenic acid and vitamin B6
good source of phosphorus, potassium, vitamins B1, B2 and B3, biotin
good source of fiber
Eating sweet potatoes with good quality oil helps your body to absorb the vitamin A, so don't be afraid of the olive oil in this recipe, or of good fats in general. High quality fats do the body good!
Sweet Potato and Walnut Muffins
2 eggs, beaten
2/3 cup/ 130 g Indian sugar or coconut sugar
1/2 cup / 1 dl + 2 tablespoons extra virgin olive oil or other high quality, mild, vegetable oil
1/3 cup / 3/4 dl unsweetened applesauce
1/4 cup / 60 ml water
1 teaspoon vanilla extract
1 1/2 cups / 4 dl packed grated raw sweet potato (about half of one large sweet potato
2 cups / 240 g whole wheat flour (sub in all-purpose gluten-free flour if you can't eat gluten)
1 teaspoon baking soda
1/2 teaspoon baking powder
1/2 teaspoon salt
1 1/2 teaspoons cinnamon
1/2 teaspoon ground ginger
1/4 teaspoon ground cardamom
1 cup walnuts, chopped
Preheat oven to 175°C/350°F.
In a medium mixing bowl, combine the eggs, sugar, oil, applesauce, water and vanilla. Whisk to combine. Add the grated sweet potato and stir to combine.
In a separate, large mixing bowl, combine the flour, baking soda, baking powder, salt and spices. Whisk to combine. Add the wet ingredients and stir until the flour is mixed in. Add the walnuts and stir to combine.
Divide the mixture evenly between 12 lined muffin cups. Bake 25-30 minutes, or until puffed, golden brown, and a toothpick or thin knife inserted into the center comes out clean.
Makes 12 muffins.