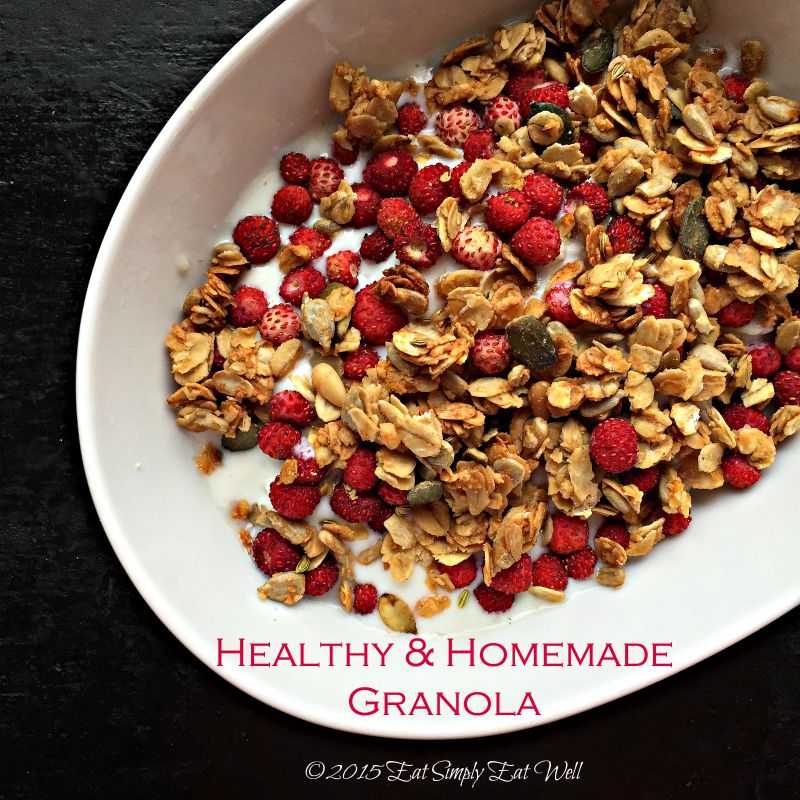 Granola!!!
I almost can't believe I haven't posted this recipe for granola before. It's absolutely a staple in this house: I make it every single week. If I'm going to be visiting someone overnight, I often make a big batch and bring it as a hostess gift. If we go to the cabin, we have big container of this along for the ride. If we head out on a road trip, we bring it too – then all we need is a container of yogurt and maybe some fresh fruit in order to make a healthy snack – nice to have when the only thing along the way are gas stations and fast food restaurants with their waistline-expanding, toxic-filled, horrible tasting options.
I first posted a granola recipe 5 years!!! ago when I had this recipe published in the Helsingin Sanomat, Finland's main newspaper. This granola has evolved a lot a long the way: simplified, made healthier, and, in my opinion, much, much better.
Oatmeal is great for heart health for adding fiber to the diet, while the seeds add much-welcomed vitamins, minerals and wonderful flavor. Maple syrup is a nice alternative to refined sugar, while olive oil adds healthy fats. Win-win all around!
Mix the ingredients while the oven heats up and then it's 30 minutes before you'll be pulling a beautifully golden, fragrant, delicious granola from your oven.
A few notes:
oats are naturally gluten-free, but if you or someone you will be sharing this has issues with gluten, be sure to seek out a certified gluten-free oatmeal
Always, if possible, use the large, old-fashioned oatmeal flakes. It really makes a difference here
Honey can be substituted for the maple syrup. Just know that it can darken more quickly, so keep an eye on it starting around the 20-minute mark.
I like my granola with seeds, usually, but feel free to swap in or add in any kind of nuts.
If you want to add dried fruit, wait until you remove the pan from the oven and then add the fruit to the top of the hot granola, allowing it to sit and plump up as the granola cools for best results.
and without further ado: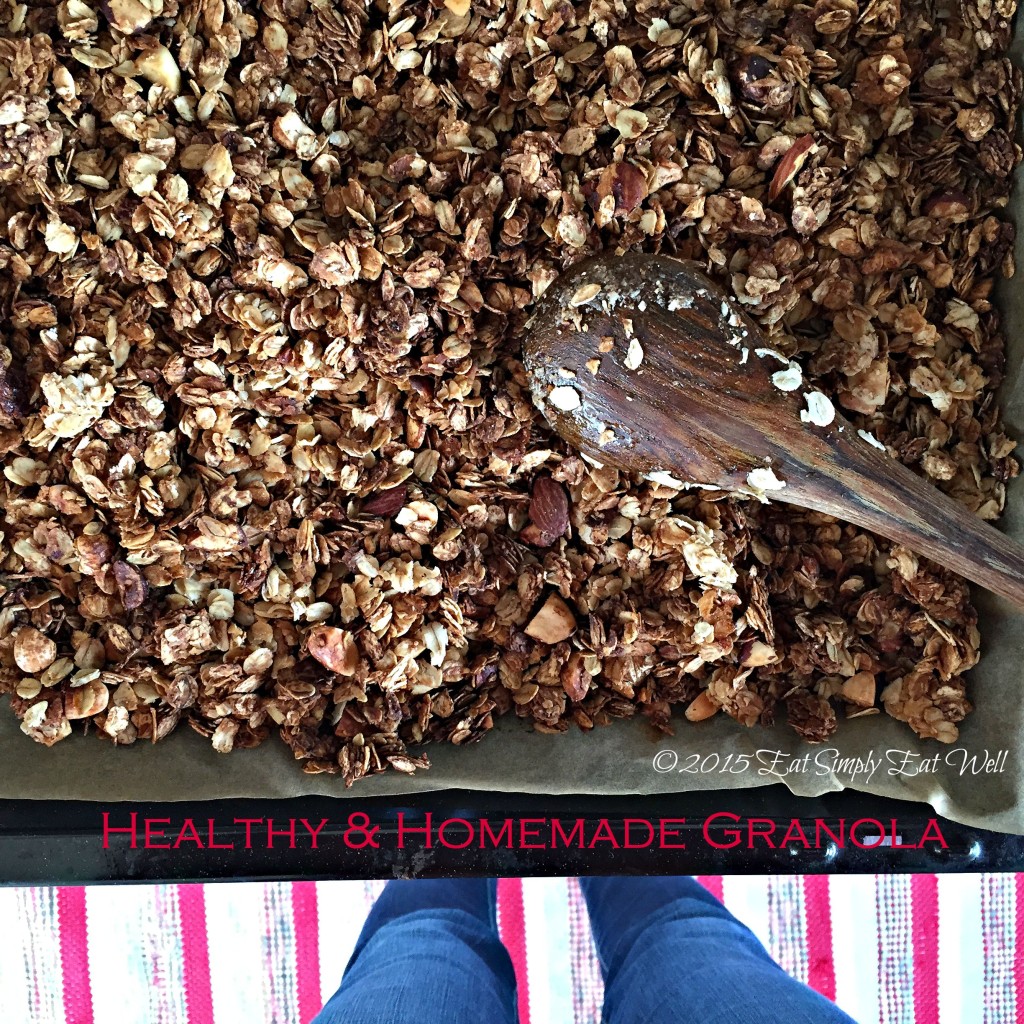 Healthy, Homemade Granola
6 cups/1.5 liters old fashioned, large-flake raw oatmeal
1.5 cups/4 dl mixed seeds (sunflower, pumpkin, sesame)
1/2 teaspoon salt
1/2 cup/1.25 dl genuine Maple syrup
4 tablespoons extra virgin olive oil
2 teaspoons vanilla extract
Preheat oven to 150°C/300°F.
Combine the dry ingredients in a large mixing bowl. Stir the syrup, oil and vanilla together and pour over the dry mixture. Mix really well to make sure the oats are all well-coated in the wet mixture. Pour onto a parchment-lined oven tray.
Bake for 30 minutes, or until it turns a nice golden brown color. Remove from the oven and allow the mixture to cool completely in the pan. Store in an airtight container for up to 3 weeks.
Makes 7 cups/ 18 dl
Love Oatmeal? Try these options too:
Love this recipe? Like it, Share It, and let me know how you've used it in the comments below!
Follow us on Instragram and Twitter for more great food recipes and ideas.