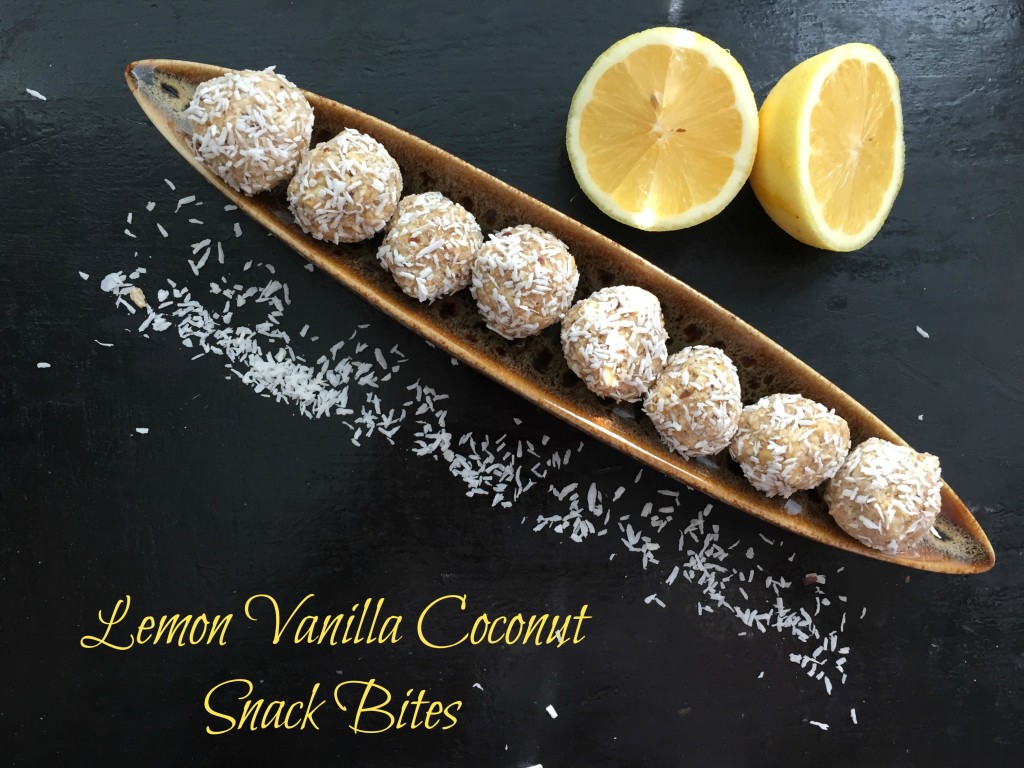 I know I'm going to have a busy week ahead, so I prepared for any potential energy slump by making a batch of these energy bites and stashing them in the fridge.  They are packed with cashews, oatmeal and coconut, and flavored with sweet dates, tangy lemon and smooth vanilla for a little piece of joy and energy anytime you need it.
All you need to make these is a food processor: just toss everything in, whizz it up into a clumpy mass, then divide into small pieces that you roll into balls, then into coconut. Easy & awesome. In fact, I may not need lemon bars anymore. There are no refined ingredients in these beauties: just real food that is good for your heart, your cardiovascular system, your health…
…and quite possibly your attitude.
Because how could you possibly be grumpy after snacking on one of these gems?
Lemon Vanilla Coconut Snack Bites
1 cup raw cashews
1/2 cup oatmeal
1/2 cup coconut flakes (desiccated coconut) + 1/4 coconut for rolling
zest of one lemon
juice of 1/2 lemon
1 teaspoon vanilla
6 fresh dates, pitted
1/4 teaspoon salt
Place all ingredients except for 1/4 coconut flakes into the bowl of a food processor.  Process until the mixture begins to clump together; 3-5 minutes.  Using a small ice cream scoop, scoop the mixture out and roll in your hand to form tight rounds.  Roll the rounds in the remaining 1/4 cup coconut flakes.
Serve immediately or store in the refrigerator for up to one week.
Makes 18-20 energy bites
Did you like these?  Please let me know in the comments below and share with your friends!