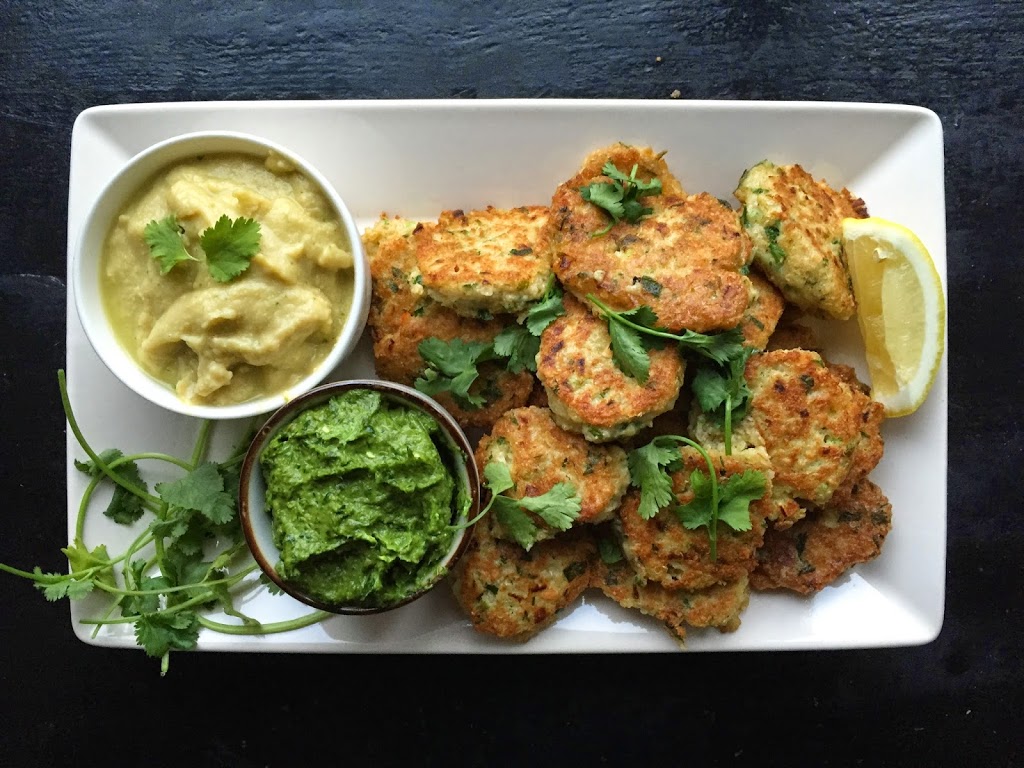 Savory Quinoa Patties
I promised a recipe for those Quinoa Patties I mentioned in my Chickpea, Lemon & Ginger Dip post, and a recipe you shall have.
I couldn't get the idea for quinoa patties out of my head for days.  I saw a recipe in Ottolenghi's Plenty More.  The Iron You had a recipe posted.  Heidi posted one at 101 Cookbooks (which was an inspiration for the first two, and I was inspired by all of them, so we should all thank Heidi, really!).
Quinoa is a super grain – high in protein, essential amino acids, phytonutrients, and an excellent source of manganese, phosphorus, copper, mangnesium, fiber, folate and zinc.  This is one to get into your diet for sure.
Before you begin mixing and stirring I want to let you know that this recipe makes a big, ol' pile of quinoa patties.  You'll have a LOT of these savory little morsels.  Which isn't really a problem, because you may find your hand drifting toward the platter of them just when you thought you were done.  Or you can invite a crowd over and make everyone happy.
They make great leftovers too, so you can either freeze them for way later, or package them up for lunch the next day with a little yogurt and lemon zest; a little left over dip if there is any; a few oven-roasted tomatoes, or on the top of dressed salad greens.  In fact, that's what I'm going to do for lunch today as I had a few hanging out in the freezer.
But back to the recipe…
You can make the batter for these the night before and fry them up the next day/evening if you wish. You don't have to let them sit, but the flavors do develop nicely with an hour or so of rest time in the fridge.  If you want them right away, don't worry:  measure, mix, stir, fry, consume immediately and it's all good.
A few notes:
If you want to make these gluten-free, use a gluten-free flour – that's what I did and it worked perfectly.  You can also use all-purpose flour.
Since both the soy sauce and fish sauce have salt, you won't need to add any extra salt
Add the flour last.  Depending on how wet your quinoa is once you've drained it, you may need slightly less.
My oh my – these are GOOD! You won't be sad you made the effort.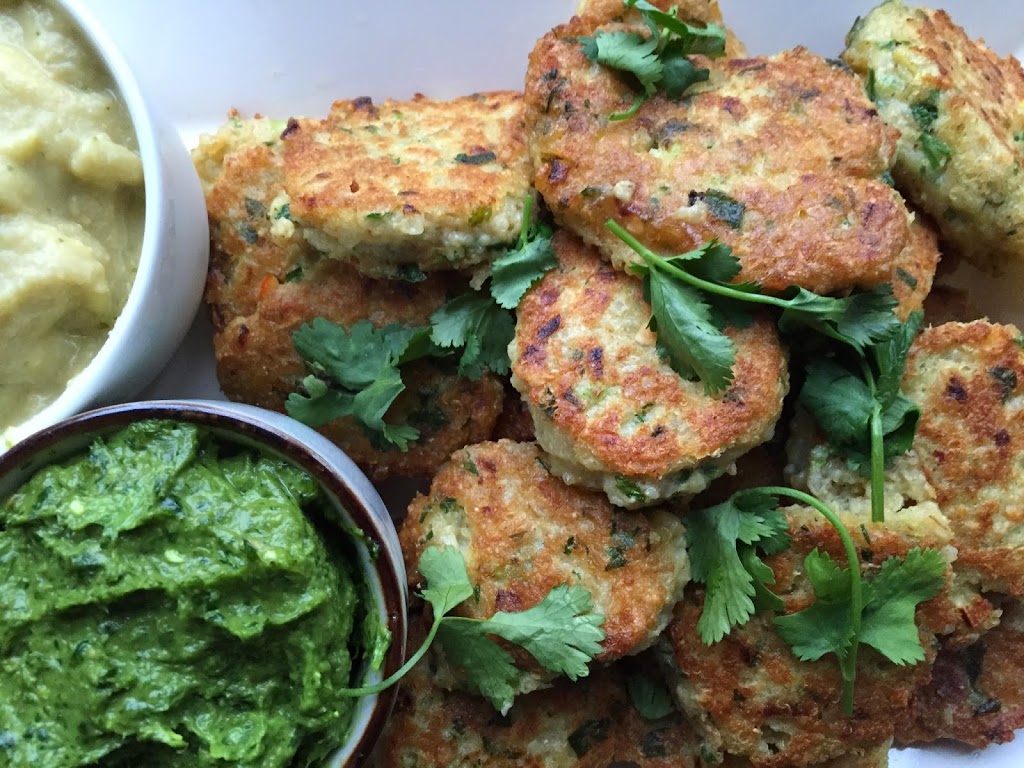 Savory Quinoa Patties with Chickpea, Lemon & Ginger Dip and Cilantro-Parsley-Avocado Dip
Savory Quinoa Patties 
First, cook your quinoa
3 cups water
1 cup raw quinoa
1/2 teaspoon salt
Combine all ingredients in a small pot; bring to a boil; reduce to a simmer; cover; cook 10 minutes or until tender.  Drain through a fine-mesh colander/sieve and rinse with cold water to cool it down. Shake the colander a bit to remove as much excess water as possible.  Proceed with recipe.
Prepare the quinoa patty mixture
Cooked quinoa from above (should measure roughly 2 cups)
1 cup oatmeal flakes
1 onion, minced
1/4 cup minced parsley
1/4 cup minced cilantro
1 garlic clove, minced
1 tablespoon Tamari or other soy sacue
1 teaspoon Fish sauce
zest of one lemon
1 teaspoon minced, hot chili pepper
1/4 cup flour, gluten-free or all-purpose
4 eggs, lightly beaten
Combine all ingredients into a large mixing bowl.  Mix really well to blend all flavors completely. For ideal results, allow the mixture to rest for 20 minutes before frying, or you can make the recipe a day ahead and refrigerate.
To fry
Heat a non-stick pan or a seasoned cast-iron pan over medium-high heat.  Add 1 tablespoon of sunflower oil, sesame or coconut oil to the pan, and rotate the pan so the bottom is evenly coated.   Scoop 2 tablespoon-sized rounds of the quinoa mixture into the pan and press them down lightly with the back of a spatula.  Fry until the bottom is golden brown; flip the patties, and fry until both sides are golden brown.
Makes about 50 patties
Serve with 1 cup lemon + 2 teaspoons lemon juice for a quick sauce or make the Chickpea, Lemon & Ginger Dip for a real treat.