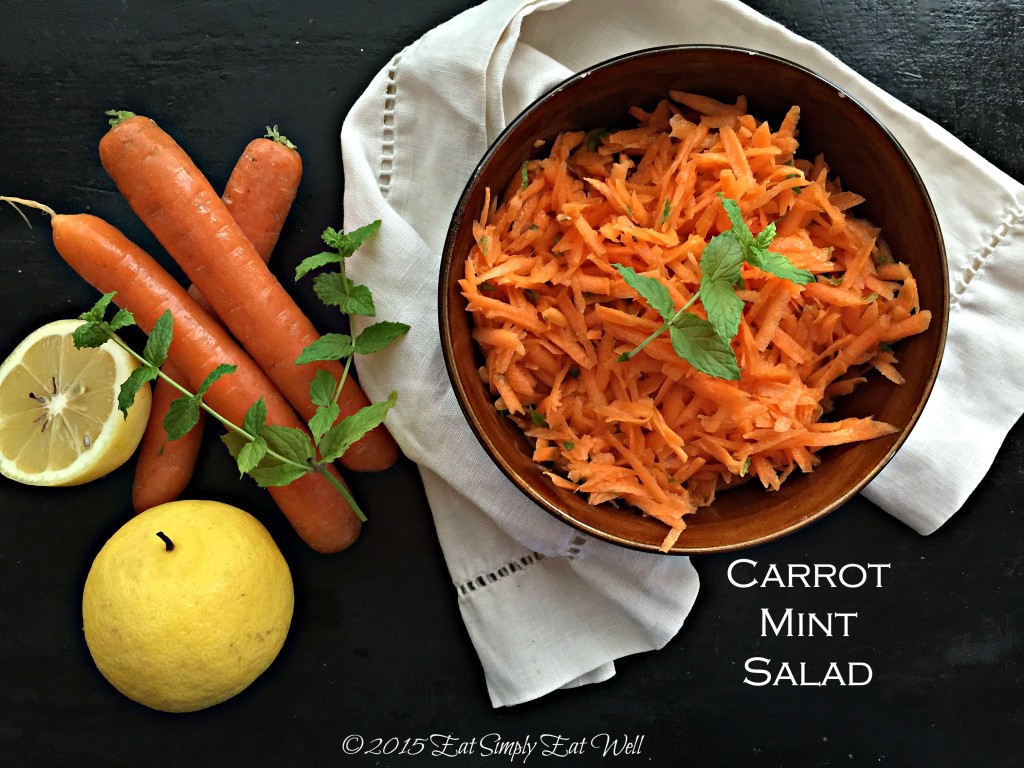 Sometimes the best foods are the simplest of all.
Carrot Mint Salad? Seriously? Oh, yes.
Besides the fact that this is one of the most delicious salads you can imagine, chances are good you probably have the six ingredients you need to make it in your house right now. The first time I made this, it was because the ingredients in it were pretty much all I had available – a serious case of empty fridge and cupboards. Now, I make it because it's so delicious.
Over the weekend, because it's harvest time, I suddenly found myself in possession of multiple kilos of carrots. This is a good problem to have: an abundance of any one food means you have a lot to play with, and this salad is a good place to begin.
It's possible you've seen and maybe even tasted those grated carrot salads served up in salad bars all over the world. You know the ones I mean: they usually have canned pineapple chunks in them, and sometimes bits of cottage cheese mixed throughout. Maybe you even like them – if they are fresh, they aren't too bad – at least you're getting your fruits and veggies on your plate if the offer for those food groups is otherwise limited.
But let's take that idea and elevate it just a little.
This salad takes carrots – freshly harvested if you can get them, but if it's Winter, use whatever carrots are available. Add fresh lemon juice and fresh mint, a little bit of maple syrup, olive oil, and salt, let the whole thing sit for 10 minutes or so, and you have a light, refreshing, simple salad that is the perfect counterpoint to whatever savory dish you have on the menu. Recently, I've served it with Roasted Tomato, Goat Cheese and Caramelized Onion Tart and with Hasselback Potatoes. It settles in nicely alongside of casserole, roasted celeriac, or even as a precursor to risotto. It refrigerates well and travels well too – so it's a prime candidate for picnics, hikes, work lunch, kid's lunch – wherever and whenever you'd like to get in one more serving of delicious vegetable.
Carrots are easily available and so good for you. They:
are packed full of beta carotene
help with vision: day & especially night
are the #1 vegetable for reducing the risk of cardiovascular disease (10-year Netherlands study)
are an excellent source of vitamin A, which promotes growth, the immune system, reproduction and vision
are a very good source of biotin, vitamin K, fiber, molybdenum, potassium, vitamin B6 and vitamin C
Source: whfoods.com
Let's eat up! This colorful vegetable can be found in nearly all colors of the rainbow, including purple, red, white, yellow and the Dutch-bred orange, so you can make your salad in a variety of beautiful shades, if you wish. But, the ubiquitous orange carrot is what I had on hand, it's bright color added a ray of sunshine to an otherwise gray and rainy evening.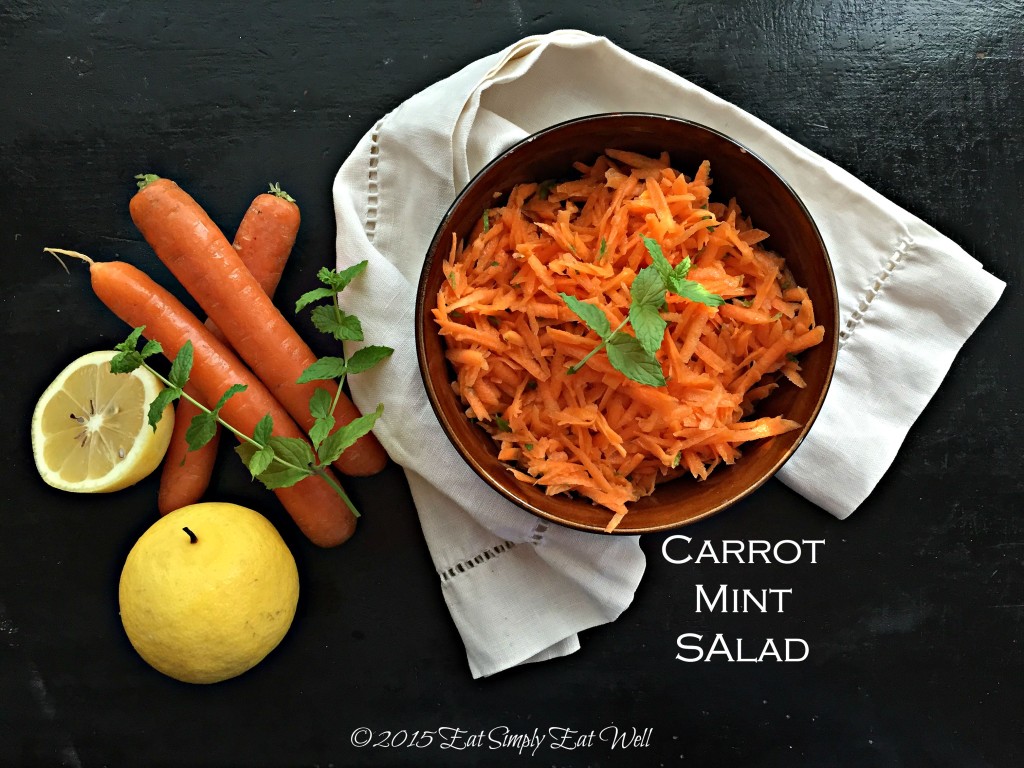 Carrot Mint Salad
6 medium carrots, peeled and grated
fresh lemon juice from 1/2 organic lemon
2-3 tablespoons finely chopped fresh mint leaves
2 teaspoons extra virgin olive oil
1 teaspoon pure maple syrup
pinch salt (1/8 teaspoon)
Place the grated carrots in a medium-sized mixing bowl, squeeze the lemon juice, and stir well to coat the carrot pieces well with lemon juice. add the remaining ingredients and stir well to combine. All the mixture to sit 10 minutes to all the flavors to combine before serving. Stir well; serve.
Serves 4-6 as a side dish.
Like it? I'd love to hear from you in the comments below? What else are you making with your carrots?