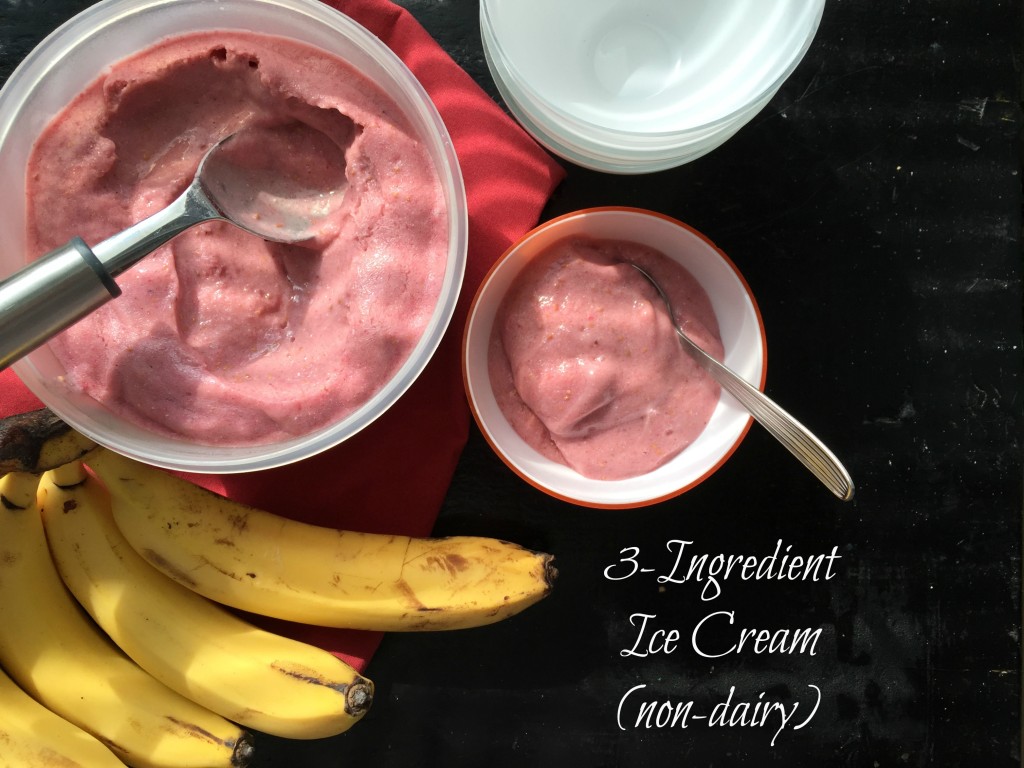 Can you feel the summer coming on in?  Can you? Oh yes. The weather is heating up, even way up here in the cold, dark north, where it isn't really so dark anymore at all.  Nowadays the sun rises just before I do, 5:37, and sets just before 9:00 PM.  There are a lot of productive daylight hours available, plus a few extra for the slacking (ahem) research I do on social media.  And the temperatures are rising, too: a balmy 11°C today!  Things are definitely improving.
I was working from my living room today, with the sun beaming in through the windows making it feel like a summer day in July. I happily went to change into something lightweight with short sleeves. I realized that now is the perfect time to share with you the simplest frozen treat you'll ever be happy get your spoon into:  3-ingredient, non-dairy ice cream.
A couple of years ago, frozen banana ice cream hit the blogosphere and food story headlines as the best thing since, well, ice cream itself.  It's comprised of one ingredient: frozen bananas.  The bananas are blended up directly from their frozen state into a unbelievably sweet, creamy and delicious snack. You won't believe there's no added sugar, dairy, or anything dodgy.
This 3-ingredient ice cream takes that concept one step further by allowing you to create different flavors using banana as your base.  Feel free to play with this, but do get those bananas in your freezer right away so you can start by tonight, at least.
I suggest slicing the bananas before you freeze them as it makes blending them much easier.  In fact, if you have room in your freezer, spreading the slices out on a pan or plate not only makes them freeze faster, it also makes it faster to grab a handful, pop them in the blender, and get on with making this fabulous anytime treat.
Did I mention that this is a healthy indulgence?  You'll get only natural sugars and good quality coconut fat as you consume one spoonful after the other, along with a good dose of potassium from the bananas and antioxidants and fiber from the berries (or other fruit you choose).  Sounds like the perfect post-workout snack to me!
3-Ingredient Non-dairy Ice Cream
2 frozen bananas (sliced before freezing)
2 cups of your favorite frozen berry or fruit (I used raspberry)
1 can organic coconut milk, 400 ml
Place all of the ingredients into a blender.  This works best if you have a powerful blender that can easily process frozen ingredients, but if you don't, just stop the blender several times through the blending process, use a spatula to loosen and frozen chunks stuck near the blade, and blend again, until thick and smooth.
Now if you're desperate for a cold treat, feel free to serve immediately and dig in.  It will be super soft but hard-to-resist-delicious. If you can stand to wait, though, you'll get something even better, verging on sorbet.  It's well worth the 3 or so hours it will take in your freezer to get there.
Serves 4.
Did you like this recipe? Let me know in the comments below and share with your friends!