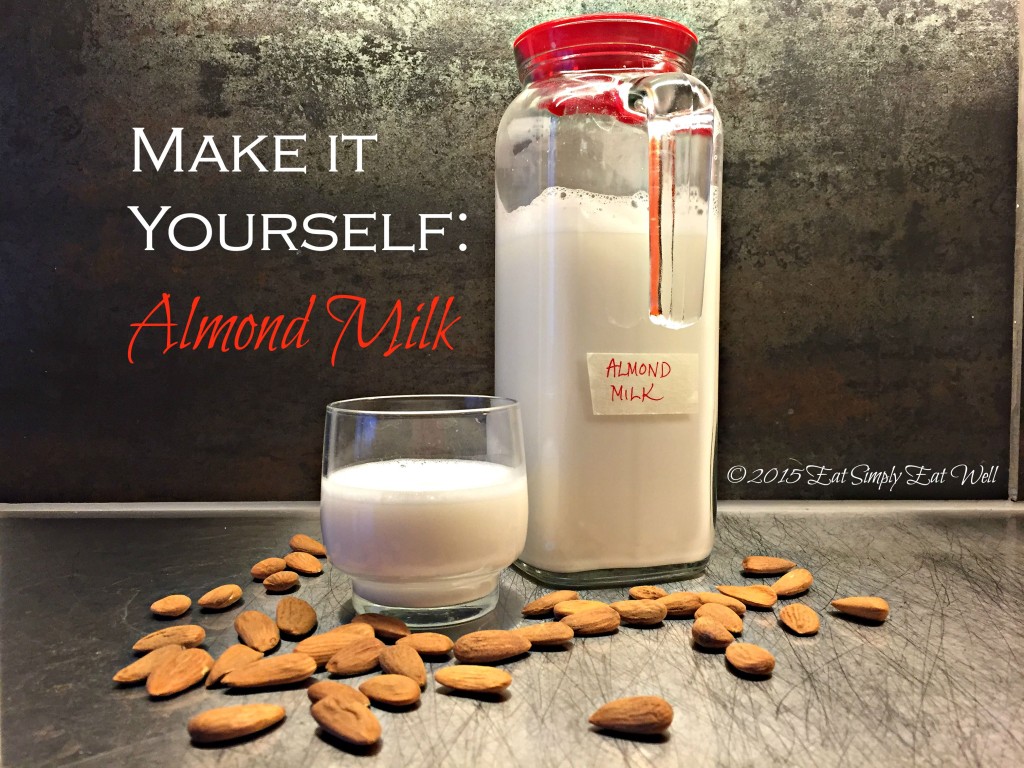 If you are trying to avoid dairy, or if you are on a plant-based diet, one of the main ingredients in a lot of the recipes you'll find is nut milk – in particular, almond milk.
Nut milk has the creamy white color we associate with dairy milk: cow or goat products, and much of the same creaminess. It is mild in flavor and works well in nearly any recipe that calls for dairy milk. For savory baked dishes such as quiches, tarts, pies and casseroles that call for some kind of milk, I prefer to use oat milk. I like the way it thickens a little when heated and the texture resembles that of cow's milk – particularly in the béchamel I use in my lasagna. However, if you prefer, nut milk works here, too.
But when it comes to sweet baked goods, smoothies, or warm drinks made with milk like cocoa or chai tea, I prefer to use nut milk, and it's nearly always almond milk.
You can purchase your own almond milk in the non-dairy refrigerated section of your grocery store next to soy and rice milks. The only challenge here is avoiding the thickeners and fillers these milks often contain in order to make them shelf stable (more on this here).
Almond milk is fairly expensive to buy: at my local store it runs around €3.90 per liter and isn't organic, so making it yourself is a good way to get a great product. Organic almonds is around €25 per kilogram (around €11.50 per pound) in Finland (prices may be better elsewhere), so this means you can make my own organic almond milk for roughly the same price as you can buy the preservative-loaded commercial almond milk, and even less if you don't buy organic almonds. Many people prefer organic almonds, but the choice is up to you.
All you really need in order to make almond milk are almonds and clean, pure water. I sometimes add a pinch of sea salt to add minerals into the milk, but this is optional. For those of you who are used to the sweetness of cow's milk or commercial almond milk, you can achieve the same flavor by adding a date or two.
Almond milk is a healthy alternative for those avoiding dairy and soy.
One cup unsweetened almond milk contains:
30-40 calories
1 g fiber
1 g protein
2.5 g fat
good source of manganese (for strong teeth and bones), selenium (supports immune system) and vitamin E (helps fight free radicals), vitamin B2 (helps produce red blood cells)
free of cholesterol and saturated fats
Sources: fitday.com and livescience.com.
While I highlight almonds in this recipe, nearly any nut or seed can be made into milk using the same method. You can always add salt and sweetener to your taste (I prefer dates, but pure maple syrup is also good). The flavor is milk and sweet with a nice, light almond flavor – delicious!
Almond milk
1 cup / 2.5 dl / 130g raw almonds + 2 cups cold, pure water
1 quart / 4 cups / 1 liter pure, cold water
pinch of sea salt, optional
1-2 fresh dates, optional
Soak the almonds in 2 cups of water for at least 4 hours, preferably overnight. Drain and rinse the almonds and pour them into a blender. Add the fresh water, and salt and dates if using. Process on high speed for one minute. Strain through a nut milk bag (preferred for the smoothest texture), an old, clean t-shirt (seriously a very good option), or a fine mesh strainer (what I usually do).
If using a milk bag or t-shirt, you'll need to squeeze it really well, almost like you are milking it, in order to extract all of the almond milk.
If you are using a fine-mesh strainer, you can press on the solids with the back of a spoon or rubber spatula. If you do this, you will get some almond meat particles in your milk. My suggestion is to rinse the strainer, then strain the milk one more time.
Store in a glass jar in the refrigerator. Almond milk should be used in 2-3 days as it is a very fresh product.
Makes 1 quart/4 cups/1 liter.
Have you made your own almond milk or other non-dairy milks? What is your experience? We'd love to hear more from you in the comments below.