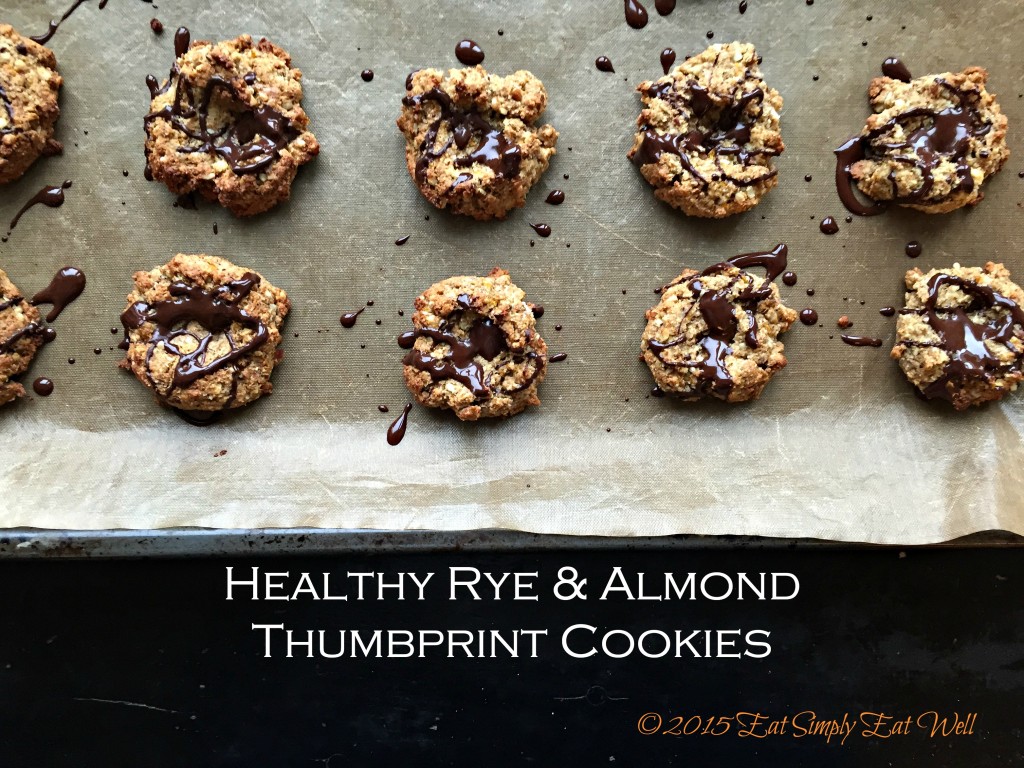 It's a bit of a sad truth, but I've been avoiding cookies lately. When my sweet tooth strikes, I've been reaching for dark chocolate, or Lemon Vanilla Coconut Bites or Raw Cacao Nib & Almond Energy Bites, or whipping up a quick smoothie. But there are moments when I just really want to sink my teeth into a nice cookie – do you know what I'm saying, here?
What I'm not a big fan of anymore is all the empty calories most cookies contain, in particular sugar and white flour (which is basically sugar since that's how you body processes this fiber-deficient powder). I'm long over any interest in milk chocolate – too much sugar and not enough chocolate. Dark chocolate, on the other hand? Sign me up. I'm in. I have a small (usually) piece nearly every single day. Imagine how thrilled I am when one health report after the other lauds the benefits of dark chocolate – in moderation, of course. It's a beautiful thing to be able to pat yourself on the back when the experts makes a virtue out of a vice.
So let's get back to those cookies, shall we? My dear husband has a sweet tooth even worse than mine. Since we're pretty active, the hunger strikes that hit between the dinner and lunch hours create the risk of having us binge on snacks without sustenance…so these cookies are designed to sweetly fill that gap, especially when one more carrot stick just isn't going to satisfy anybody.
Loaded with nutrition dense rye flour and heart-healthy almonds, sweetened with a little honey with an olive oil, egg, and milk (feel free to use non-dairy milk here) for tenderness, these cookies are just mildly sweet with a nice little crunchiness too them and the wonderful essence of orange and vanilla that may make it difficult to eat just one.
But then, at just 60 calories a piece, we won't need to feel guilty about that at all. Don't expect a super sweet cookie, here, though: these little morsels are lightly sweetened to keep them on the healthy side and to let the other awesome flavors shine through.
And that healthy dark chocolate? Definitely present here…in moderation.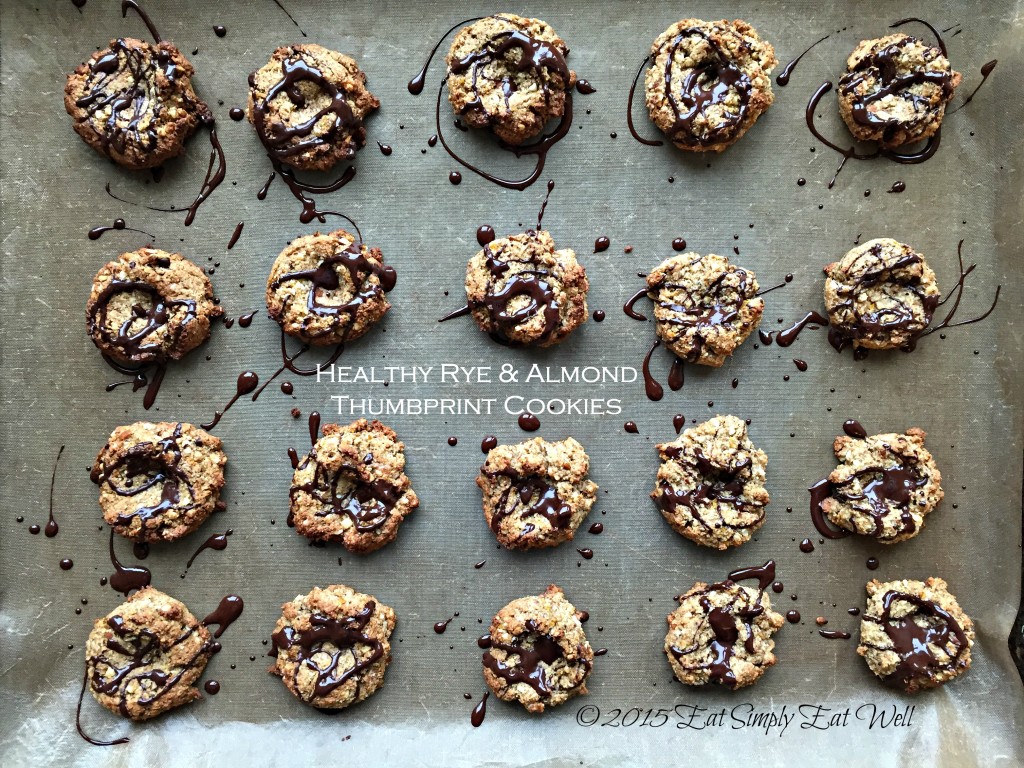 Healthy Rye and Almond Thumbprint Cookies
200g / 2 cups rye flour
115 g /3/4 cup almonds, finely chopped
85 g / 2/3 cup almond flour
1/2 teaspoon cinnamon
1/2 teaspoon baking soda
1/2 teaspoon salt
zest of one organic orange
1 egg
1/3 cup liquid honey
1/3 cup olive oil
1/4 cup dairy or non-dairy milk
1 teaspoon vanilla extract
30 g / 1 oz dark chocolate; more if you want more drizzle on the cookies
1 teaspoon coconut oil
Preheat oven to 190°C/375°F.
In a large bowl, combine the rye flour, almonds, almond flour, cinnamon, baking soda and salt. Whisk until well combined.
In a small bowl, combine the egg, honey, olive oil, milk and vanilla. Whisk until smooth.  Create a well in the center of the dry ingredients and pour the wet mixture into it. Using a wooden spoon or spatula, stir the mixture until all of the dry ingredients are moistened and the mixture clumps together.
Using 2 spoons or a small ice cream scoop, spoon the mixture out into 1 tablespoon sized portions and roll each into a ball. Set these on parchment-lined baking trays, and using your thumb, gently press down in the center to form a small well or "thumbprint".
Bake for 10 minutes or until golden brown.
While the cookies bake, melt the chocolate and coconut oil, either in a microwave safe bowl in the microwave (stirring after every 10 seconds – should take about a minute) or over a double boiler. Whisk until smooth. Remove the cookies from the oven. Dip a fork into the chocolate mixture and drizzle a swirl of chocolate over each cookie.
Makes 45-50 cookies.
Nutrition info per serving: 60 calories, 8g carbohydrates, 4g fat, 2g protein, 27mg sodium, 4g sugar.
Did you like this recipe? We'd love to hear from you. Leave a note in the comments below!