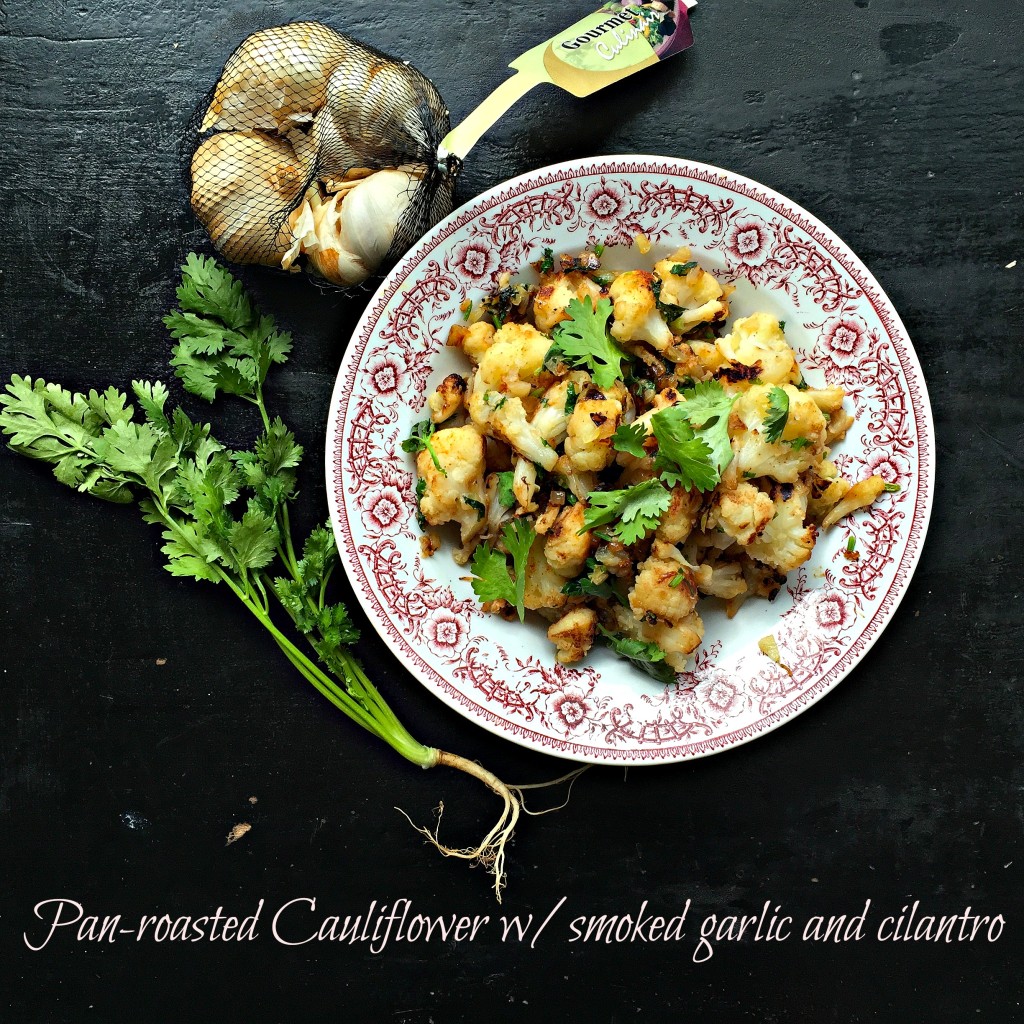 Here is a dish loaded with flavor that can be made ahead and refrigerated or served immediately. This pan-roasted cauliflower can be made as easily with frozen cauliflower as it can with fresh, with no compromise in flavor whatsoever. Serve it hot, straight from the pan, or cold; or reheat it as suits you. It makes a great side dish for any meat dish or alongside flavorful lentils or beans; it pairs well with a meat burger or a veggie burger; and really shines on a plate full of a variety of vegetables and salads – so make a huge pan and bring it to your next potluck.
If you don't have smoked garlic, no stress. Just use fresh garlic as noted in the recipe, but less of it, and serve this dish up with pride. Or if you're like me, you'll dip your fork in again over and over until suddenly there is none to share but you are feeling inexplicably satiated and happy, and considering how soon you can make it again.
Pan-roasted Cauliflower with Smoked Garlic and Cilantro
1/2 head fresh cauliflower cut into florets or 500g frozen cauliflower
1 yellow onion, diced
1 head smoked garlic, roasted (see note) or 6 cloves fresh garlic, minced
1/4 cup fresh cilantro, leaves and stems chopped
1/2 teaspoon salt
1/4 teaspoon freshly ground black pepper
1/8 teaspoon ground Cayenne pepper
2 teaspoons lemon juice
Heat 1 teaspoon of oil in a pan over medium-high heat.  Add the onions and cook until the onions are soft and translucent. Add the cauliflower.  If using fresh cauliflower, add 2 tablespoons of water.  If using frozen cauliflower, no water is needed. Cover the pan with a lid and cook for 5 minutes. Remove lid and allow the cauliflower to continue to cook and the liquid to evaporate.  Use a spatula to flip the cauliflower occasionally as it begins to brown and crisp.
Once the cauliflower is nice and crisp, 5-7 minutes, remove from heat and stir in salt, roasted, smoked garlic and cilantro. Sprinkle with lemon juice and serve.
Serves 2-4 as a side dish.
Note: To roast the garlic, preheat oven to 200°C/400°F. Wrap an entire head of smoked garlic (or use normal garlic if you can't find smoked) in aluminum foil. Place in the oven and bake for 40 minutes. Remove; allow to cool; then squeeze each of the garlic cloves out of their paper shell onto a plate. Roughly chop the garlic. If you are in a rush, you can simply chop the garlic and add it to the pan once most of the liquid has evaporated from the cauliflower. You won't get the same depth of flavor, but it will be delicious nevertheless. You can also use regular garlic if you can't find the smoked version for a slightly different flavor profile.