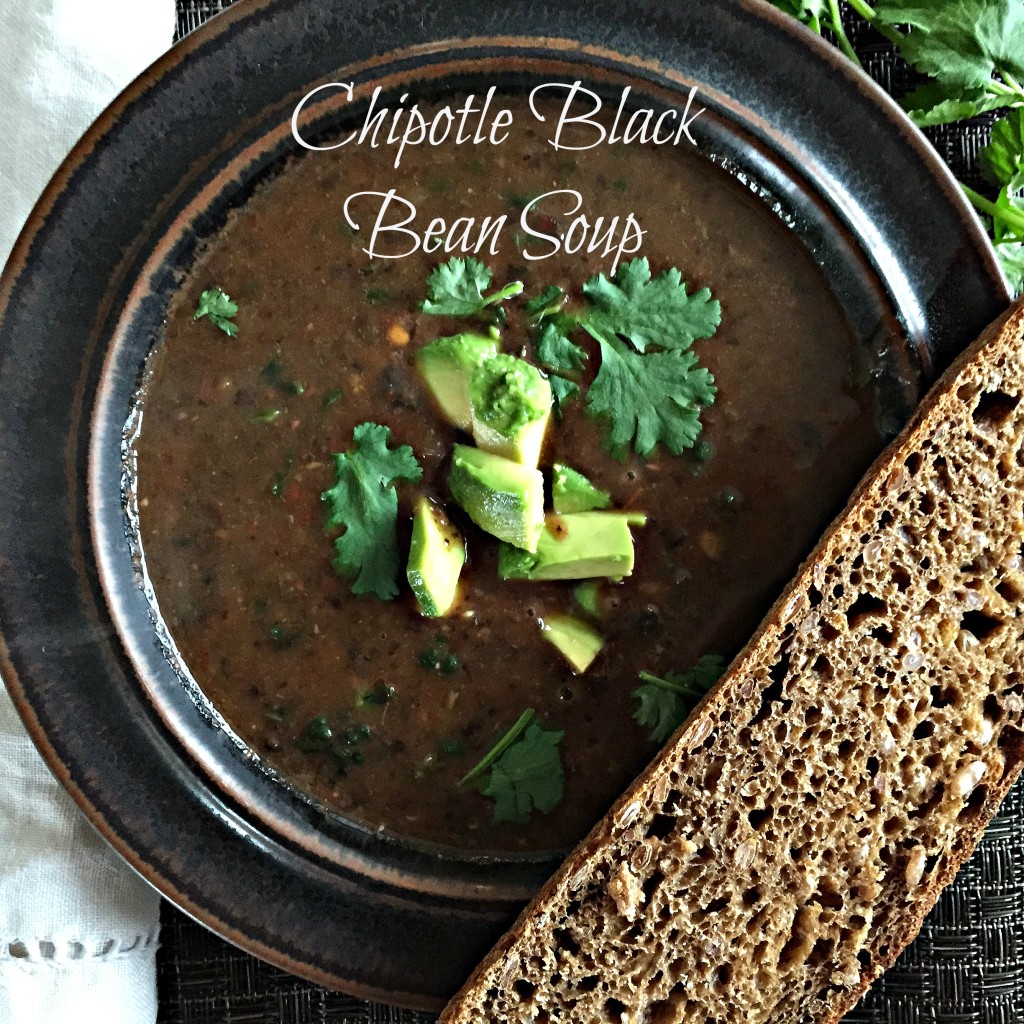 Happy Friday! It's been a long, busy, fun-filled week – it's time for a quick, easy and satisfying meal.
This soup is one of the reasons I like to keep black beans around the house – they are easy to turn into something delicious.
Last Saturday, amidst various projects, enjoying time with guests and preparing for Easter lunch, there was all of sudden nearly no time left for dinner before we had to head out the door again.  I'm sure you've been there: your stomach begins to growl…maybe you begin to growl a little yourself…and you start to wonder if whatever it is you've got packed into the fridge from grocery shopping a few days ago could possible be turned into anything you'd like to eat – but quickly.
Get out one pot.  Grab your cutting board, a knife, and those black beans that have been waiting for this day.  Pop some nice bread in the toaster ready to toast, and in 15 minutes, you'll be sitting yourself down for a nice bowl of soup.
Seriously. This is easy. In fact, it'd work great on a Friday night (today, maybe?) when you are exhausted after a long week and really just want to kick back with your feet up. This will have you raring to go in no time. Or at least save you from ordering in pizza – this is definitely faster and way better for you. Enjoy!
Chipotle Black Bean Soup
1 tablespoon vegetable oil
1 yellow onion, diced
1 carrot, peeled & diced
1 celery stalk, diced
1 roasted red pepper, cut into chunks (I buy them in a big jar – you can use a fresh one too)
2 cups cooked black beans
4 cups / 1 liter vegetable or chicken broth
1/4 cup chopped, fresh cilantro (or 1/2 teaspoon ground coriander)
1 dried chipotle pepper or 1/2 – 3/4 teaspoon ground chipotle
optional: if you like it spicy, add 1/4 teaspoon cayenne pepper
1/2 teaspoon salt + more to taste (this depends on how salty your broth and beans are to begin with)
pepper to taste
1 avocado, diced
In a medium-sized pot over medium heat, heat the oil.  Add the onion, carrot and celery stalk and cook until the onion is soft and translucent, about 5 minutes.  Add the red pepper, beans, chicken broth, cilantro and chipotle.  Bring the mixture to a boil; lower to a simmer, and simmer for 10 minutes.  Remove soup from heat.  Remove the chipotle pepper from the soup and discard. Using an immersion blender, (or pour into the heat-proof bowl of a regular blender) puree the soup until it has just a few chunks left.  Add the salt and pepper; taste; add more salt and pepper if needed.
Divide soup into bowls and top with chunks of fresh avocado.  Serve with freshly toasted bread.
Serves 2 for a main course and 4 as a side dish.