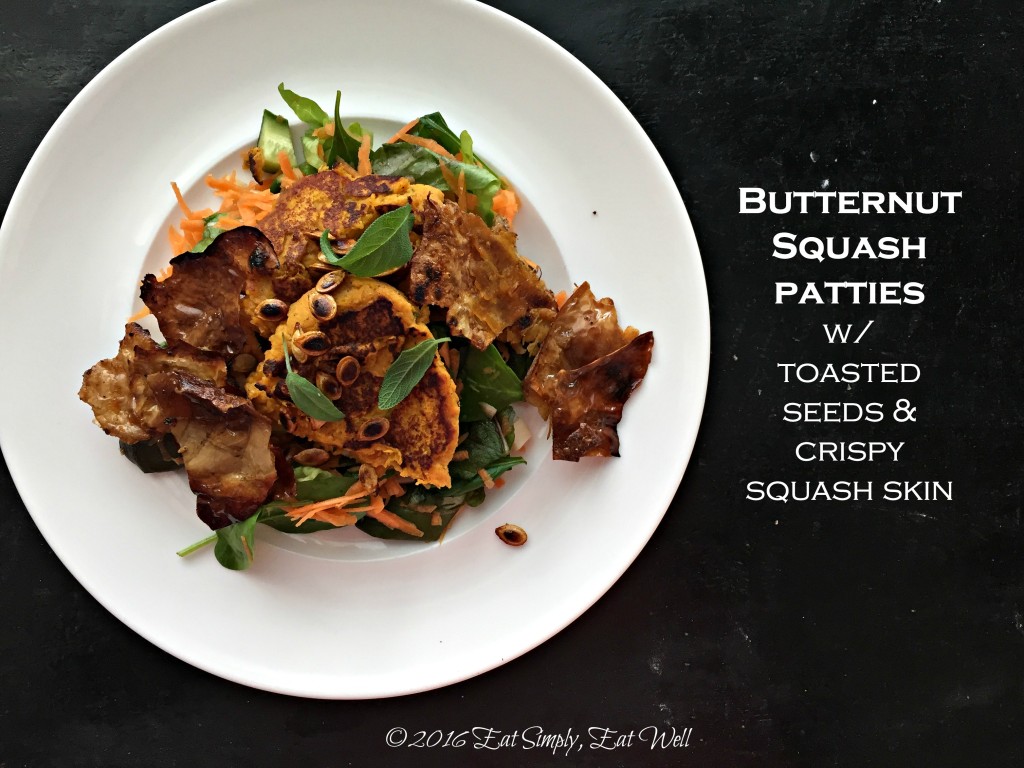 We're at that point in the year where the last of the Winter vegetables are bumping up against the first of the Spring vegetables. At least – that's true here in Helsinki, where the last pieces of ice hug the edge of the shore near the sea, slowly melting away, and where the migrant birds have finally returned to begin nesting in local waters.
There is one Winter vegetable that landed on my table in early Fall, and is still something I pick up pretty much every week, because the flavor is just so good: Butternut Squash. This lovely squash, with its shapely curves and bold orange interior is not only beautiful to look at, it's easy to cook and has flavor that needs very little tampering with in order to create a healthy and delicious meal.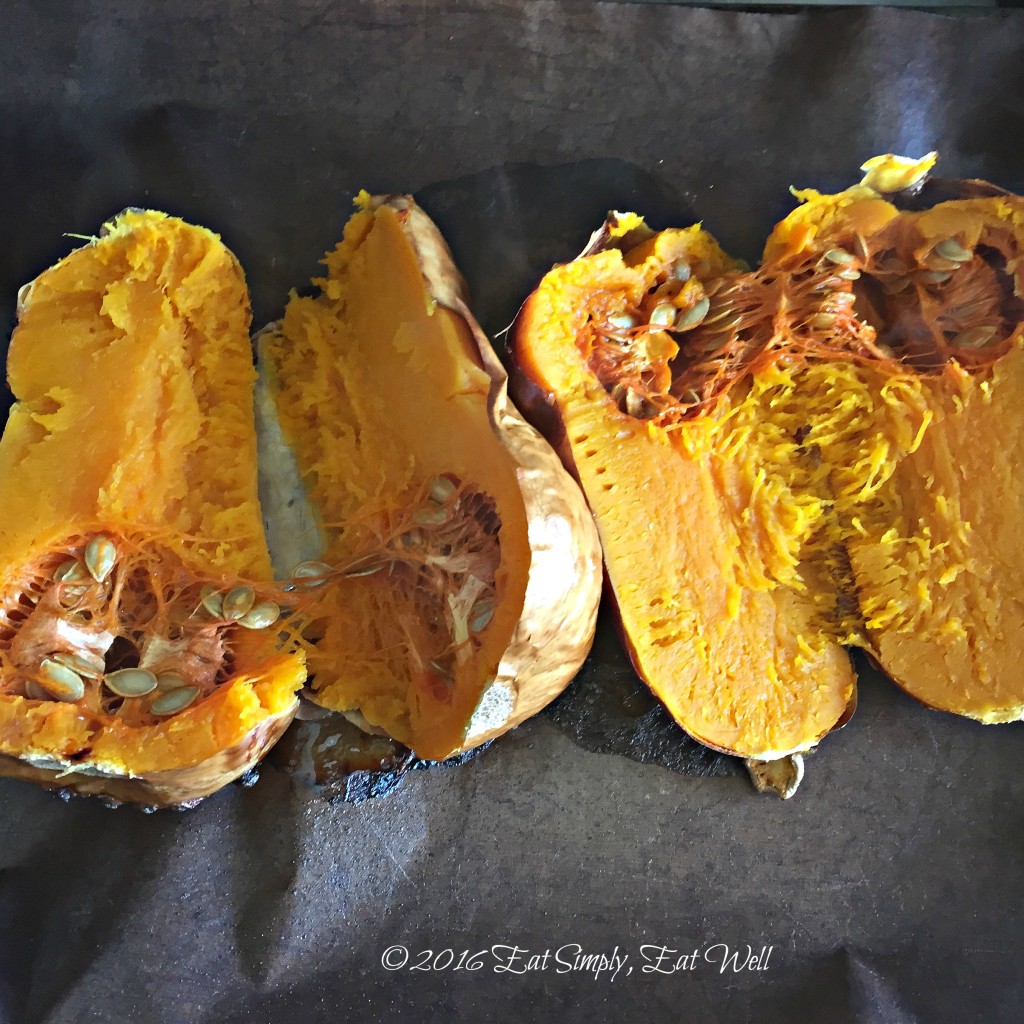 Butternut Squash is good for you:
contains high doses of antioxidants, and is in fact, a primary source of alpha-carotene and beta-carotene in our diets
the form of starch found in butternut squash comes from polysaccharides found in the cell walls – which have been found through research to have anti-inflammatory, anti-oxidant, anti-diabetic and insulin-regulating properties
1 cup/2 dl of of the squash provides 1/3 of the daily recommended amount of Vitamin C!
it's a surprising source of Omega 3 fatty acids: 1 cup of the squash provides 340mg of Omega3; although the squash itself is only about 15% fat. No wonder it tastes so silky smooth.
contains good amounts of five B vitamins: B1, B3, B6, pantothenic acid and folate. These are important for blood sugar regulation
in addition to the nutrients already mentioned, it is a very good source of fiber, manganese and copper and a good source of potassium, vitamin K,  magnesium, and niacin.
Naturally sweet, you can add this squash to any meal to combat sugar cravings, and boost your health in the process. A win-win!
source: whfoods.com
This recipe calls for roasting the squash whole, and then using nearly the entire thing. Consider this a nearly zero-waste food, because with the exception of the stem attached to the squash, literally every other bit and piece of this wonderful vegetable can provide gastronomic joy for you.
To use this "tip to tail" method for butternut squash, make note of these tips:
The whole squash can be baked the day before and refrigerated overnight before proceeding with the recipe.
The seeds are delicious toasted: remove the flesh from the seeds and toast in a lightly oiled pan over medium heat until they just begin to blacken. Remove from heat and cool slightly.
Don't throw the skin away! Tear it into chip-sized pieces, sprinkle lightly with salt, and fry, in small batches, in a very thin layer of oil in a frying pan until crispy and brown on both side. Woohoo – delicious! You'll be wondering why you've been chucking that skin away your whole life!
To keep the first batch of butternut squash patties warm while you cook the rest, place a plate into the oven and turn the oven onto its lowest setting. Place the patties into the oven until you are ready to serve.
While this meal can be prepared all at once, I highly recommended roasting the squash one day and storing it in the refrigerator to use on a subsequent day. Nowadays, I usually roast two at a time as it takes an hour either way, and I can always find a use for it! (salads, smoothies, made into a dip, or…)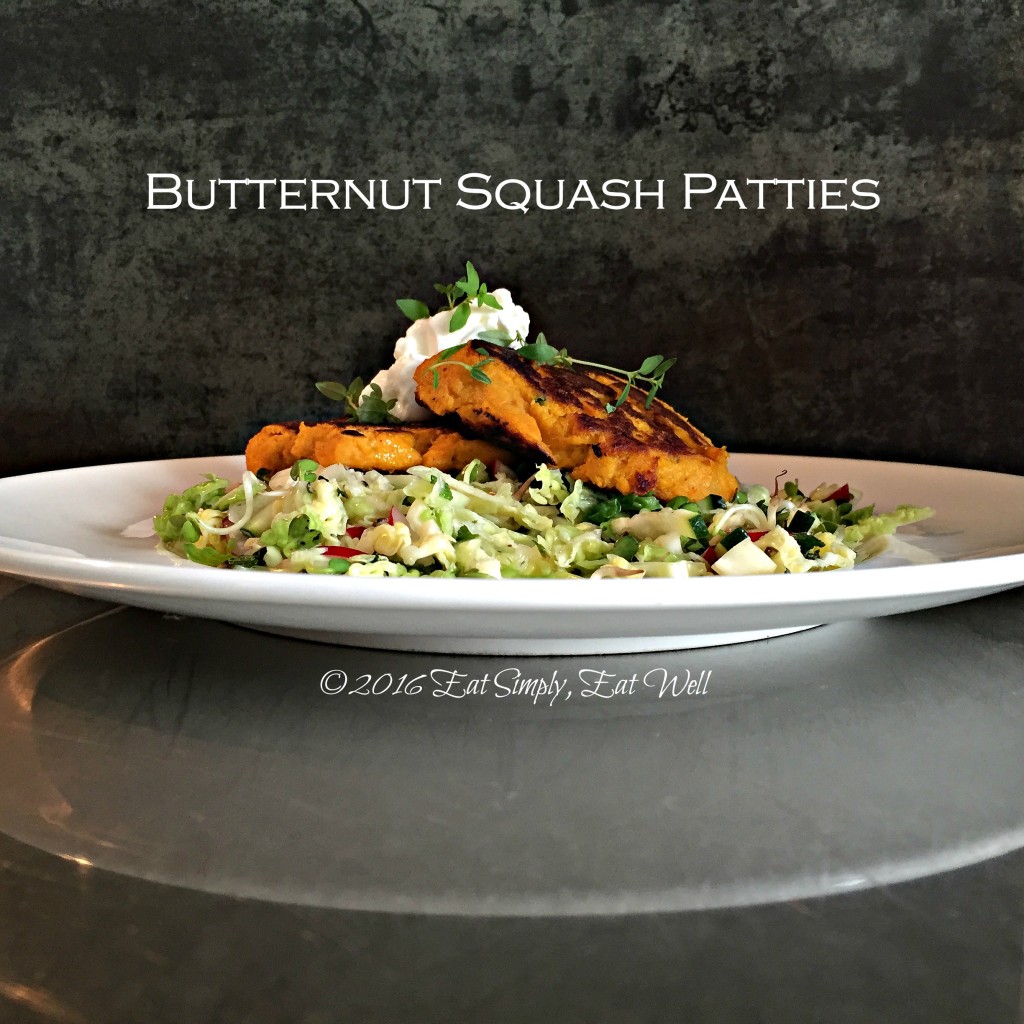 Butternut Squash Patties
1 Butternut squash
1/4 teaspoon freshly ground nutmeg
1/8 teaspoon cayenne pepper
1/2 teaspoon salt
1/4 teaspoon black pepper
7 sage leaves, finely chopped
2 teaspoons fresh thyme leaves, finely chopped
1 egg
1/3 cup chickpea flour
1/2 cup greek yogurt
12 small sage leaves or thyme sprigs for serving, optional
Preheat oven to 200°C/400°F. Wash the squash to remove any dirt or residue. Lay a whole butternut squash onto a parchment lined baking pan, pierce the top several times with a fork, and place the pan in the oven. Bake for 50 – 60 minutes, or until squash begins to collapse and is very soft when pierced with a fork.  Remove the squash from the oven, cut in half lengthwise, leave on the pan and allow to cool to room temperature.
Once the squash has cooled, remove the seeds with a spoon and set aside. Scoop the flesh away from the skin, reserving the skin for later use (they make seriously good chips when fried in a little oil in a pan, then salted). Place the squash in a bowl and add the nutmeg, cayenne pepper, salt, pepper, thyme and sage. Using a fork or potato masher, mash until smooth. Taste the squash and adjust seasonings to your liking. Add the egg and the chickpea flour and mix until completely smooth.
Heat a heavy-bottomed frying pan over medium-high heat. Add 1 tablespoon of olive oil to coat the bottom of the pan. Allow the oil to heat up briefly, then spoon 2-tablespoon sized scoopfuls of the squash mix into the pan and flatten them down into patties. Fry 3-4 minutes per side, allowing each side to cook until golden brown and crispy.
Makes 8 patties.
To serve:
Make a simple green salad:
6 cups of dark greens of choice – I really like either Savoy cabbage or Lollo Rosso with this
1 cucumber, chopped into cubes
1/2 cup alfalfa sprouts (other sprouts work well too)
6 radishes, thinly sliced
pinch of salt
6-8 grinds of fresh black pepper
1 tablespoon balsamic vinegar
1 tablespoon extra virgin olive oil
Combine all ingredients in a large bowl, and using your hands, mix well to coat the vegetables evenly with the dressing.
Divide the salad between 4 plates. Arrange the patties on top of the salad, overlapping slightly. Add a spoonful of yogurt to the top, and sprinkle a few sage leaves or thyme sprigs over the top.
Serves 4.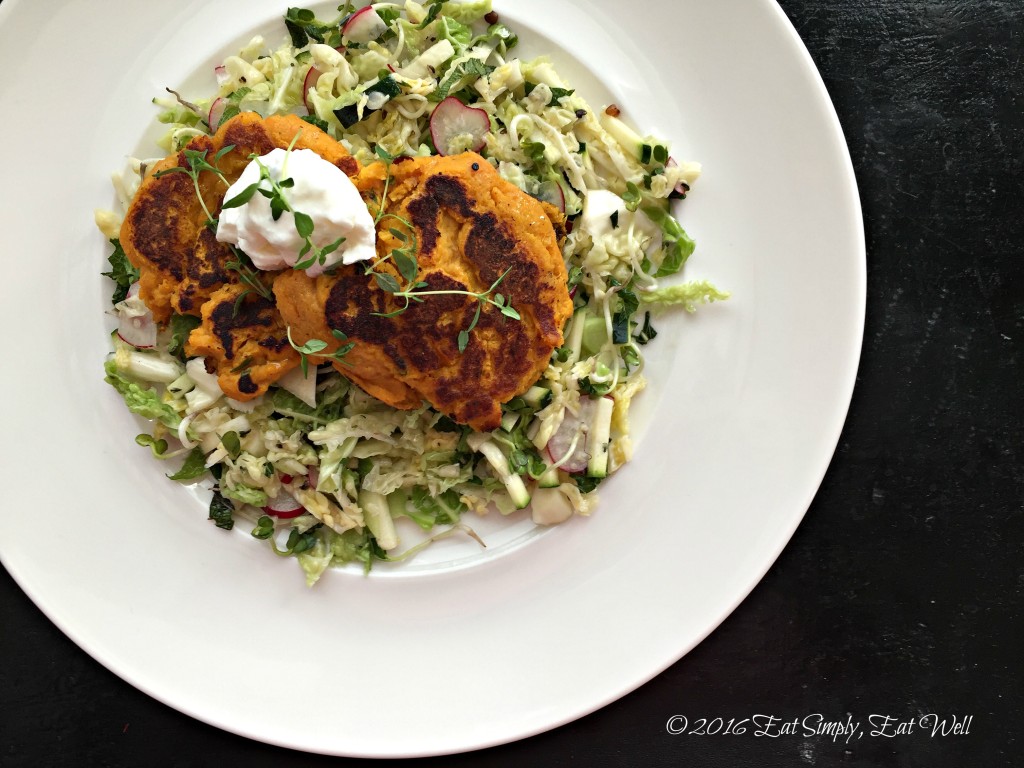 Did you like this recipe post? Let me know in the comments below, and please share it with your friends. 
Eat simply, eat well!
Ann