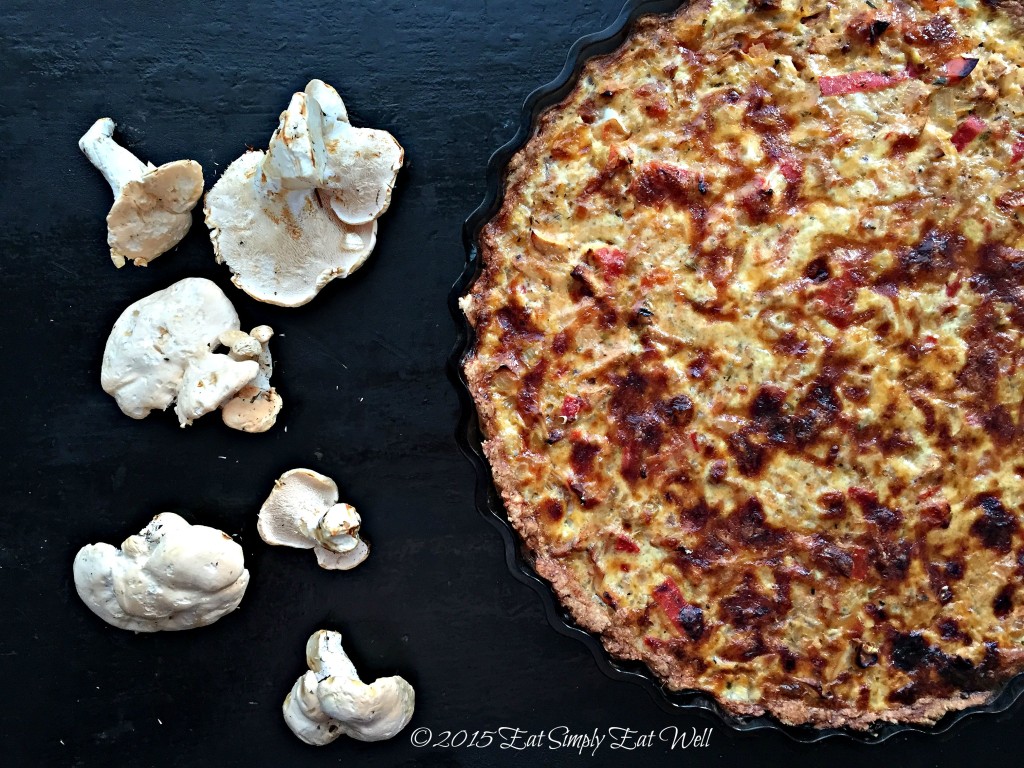 Looking through pictures from exactly a year ago, I am still amazed at what a good mushroom season it was. The woods were full of porcini, and we filled multiple baskets, day after day, that we subsequently dried, froze and preserved. Beautiful, perfect, delicious porcini.
But years are as different as the seasons within them, and so far, this is not a porcini year. Not to worry. There are still mushrooms in abundance, and with rain falling nearly every day, they have the watering they need to fuel their growth. Chanterelles (Cantharellus cibarius)are having a boom year, and it's one of the most recognizable mushrooms – it's golden peachy color beaming out against the background of mossy green, and sometimes hidden among the fallen birch trees of nearly the same color. The dark Black Trumpet mushrooms (Craterellus cornucopioidus) are showing up all over the country too – and once you've seen these, remember where they were. Easy to identify once you find them; they are not easy to see against the background and shadows of the forest, but the good news is they come back again and again every single year – so if you keep your new spot secret, chances are good you'll find some every year..
One of my favorite mushrooms, even more so then my gateway mushroom the Chanterelle, are Hedgehog Mushrooms (Hydnum repandum). A pale peachy cream in color, it's readily apparent where they get their name once you cut through the thick stem even with the forest floor and turn them upside down: the undersides are covered with tiny, soft, little teeth that match the color of the rest of the mushroom. You'll be certain of exactly what you are looking at. Typically they grow in large groups underneath fir trees or in mixed forests in my part of the world, they have a sturdy, meaty texture and a wonderful flavor. Clean them well – in the forest if possible. As you can see from the picture below, those little teeth on the underside like to hang on to things, but if you clean as you pick, you'll be giving your future self a gift. If snails have reached the tops of the mushroom first, simply use your mushroom knife to carefully cut away the affected pieces. Check the bottom of the stem: if there are little holes, cut the mushroom in half to make sure it's not filled with worms. Sometimes you can save it; sometimes you can't. But a minute in the forest saves ten minutes in the kitchen, so it's worth taking a few moments to check and clean.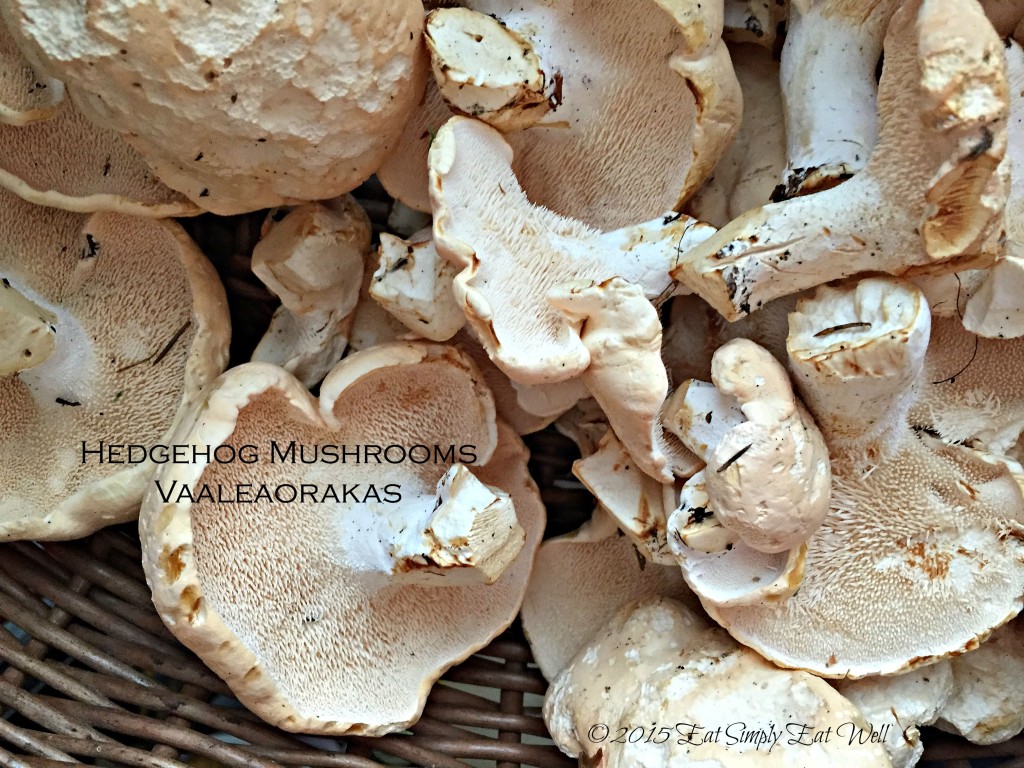 Occasionally I toss the hedgehogs into a roasting pan with chicken, onions and thyme – the flavors meld together to create a perfect harmony of flavors, especially when served over brown rice. But today, they are being served up without meat, shining in a dish along with onion, tomato and Italian spices, reminiscent of a deep dish pizza. I found the inspiration for this recipe in a now out-of-print Finnish-language mushroom cookbook Hulluna Sieniin (Crazy for Mushrooms). It runs over 845 pages and has the most extensive collection of mushroom recipes I have ever seen. Having been lucky enough to walk out of the woods with a basketful of hedgehogs and chanterelles, and despite the fact that I was covered with forest debris, pine needles in my hair, and needing a nice, hot, shower, I browsed through the book and the recipe for "Orakas Pizza" or "Hedgehog Pizza caught my eye. And indeed it was delicious. But I wanted it to be a little bit better – a little bit healthier.
So I made it again.
This time, I used a whole wheat crust, and olive oil instead of butter. I left out the cream and added a bit of egg and milk. This time, it wouldn't even pretend to be a pizza: it's absolutely a pizza pie: a pie that tastes like a pizza would, but with the crunchy crust, a lot more filling and a little egg to keep the filling from sliding all over the place. Low fat, full of whole grains, mushrooms, onions and tomatoes, seasoned with garlic, salt, pepper and Italian seasoning, this is healthy comfort food.
If you can't find hedgehogs, Chanterelles make a fine substitute. If there is another mushroom you have on-hand or really love – use that instead. It's all good. But keep those hedgehogs in mind, and snap them up when you can – they are a real treat.
Meanwhile, I'll be back in the woods again, loading up my basket with whatever I find, and secretly dreaming of porcini.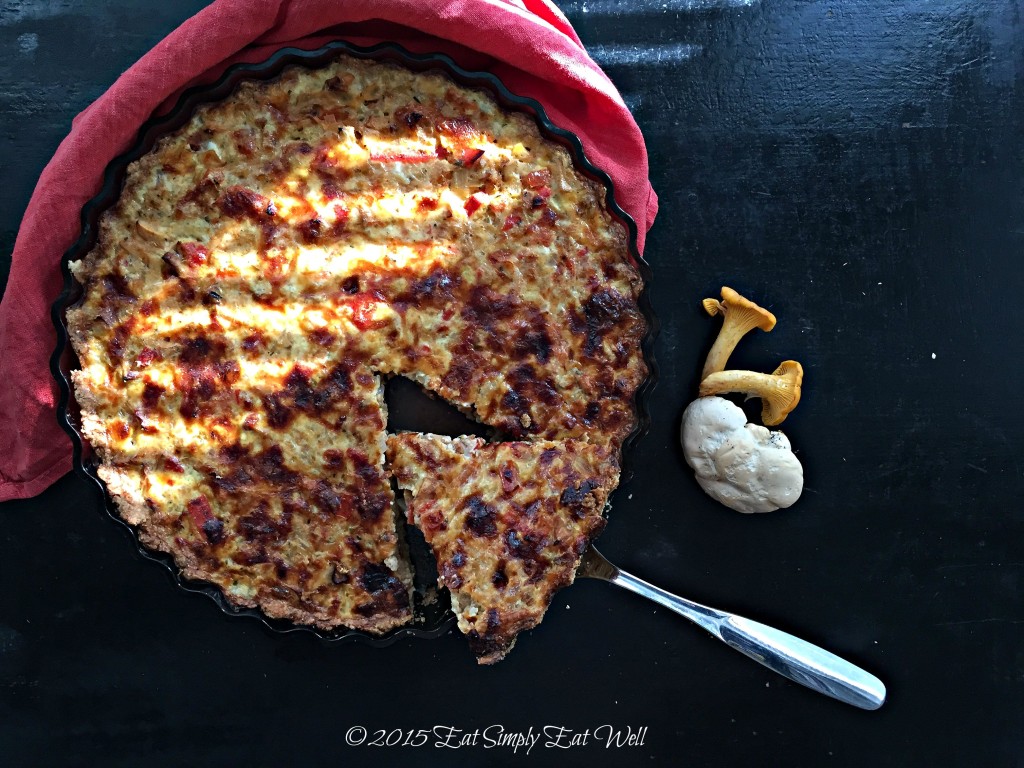 Wild Mushroom Pizza Pie
Preheat oven to 200°C/400°F
Step 1 – Make the Crust:
1 1/4 cup/ 3 dl / 140g whole wheat flour
1 teaspoon baking powder
1/4 teaspoon salt
2 tablespoons olive oil
3 tablespoons cold water
Pour all of the ingredients into a medium-sized mixing bowl and stir until it comes together. Knead the ball of dough with your hands until it's smooth. Press the dough into the bottom and up the sides of a 10″/ 27 cm tart pan.
Step 2 – Make the Filling:
2 tablespoons olive oil, butter or ghee (do not use coconut oil – the flavor doesn't suit this dish)
1 liter/quart/4 cups fresh hedgehogs or chanterelle mushrooms, roughly chopped
2 yellow onions, peeled and diced
3 medium tomatoes, roughly chopped
1 garlic clove, minced
2 teaspoons Italian seasoning (Pizzamauste)
1 teaspoon salt
1/4 teaspoon freshly ground black pepper
1 egg, beaten
1/3 cup milk of choice (cow, oat, rice)
1/4 cup grated cheese
In a large frying pan over medium heat, cook the mushrooms and onions until they both soften and the mushrooms have released most of their juices, about 5 minutes. Add the tomatoes, garlic, and spices and continue to cook, stirring occasionally, until nearly all of the juices have evaporated. Turn off the heat and let the mixture cool for 5 minutes.
Step 3 – Assemble & Bake:
Transfer the mushroom mixture to the crust-lined tart pan and spread it out evenly. Combine the egg and milk into a small bowl, and pour it evenly over the top. Sprinkle the grated cheese evenly over the entire tart. Bake for 25-30 minutes or until the top is golden brown.
Serves 4-6.
Looking for other recipes to open up the Fall season? Try these:
Did you like this post? What are you making with your mushrooms? I'd love to hear from you in the comments below!