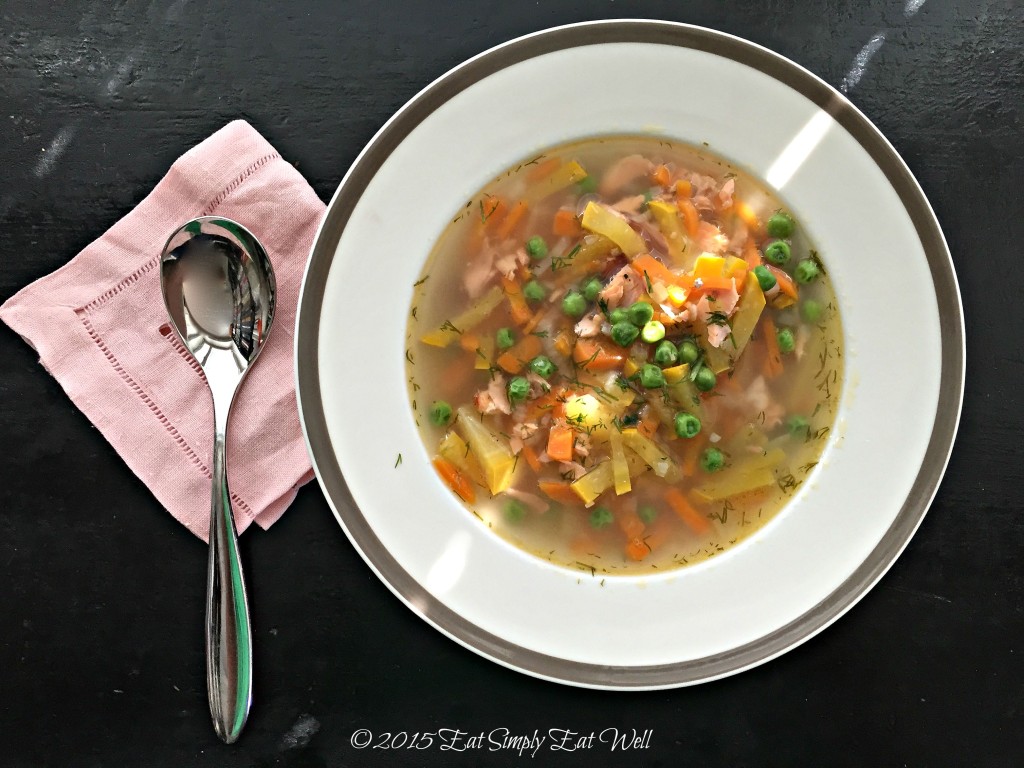 If you like fish soup, you're going to love this recipe. Unlike many of the fish soups I've enjoyed in here in the Nordics, there are no potatoes in this one, and no cream or milk. Just a lovely, clean, light salmon stock perfumed with a bit of dill and filled with bright, colorful summer vegetables.
If you have fish stock on hand, either your own home-made version or store-bought, this soup is literally 15 minutes away from serving time. It's fast, it's easy, and it's really, really good.
Packed into this soup are a myriad of colorful veggies: carrot, zucchini and peas.
Peas are still being sold in the markets around here, but if you can't find fresh, frozen peas work really well here. The peas you find in your grocery market's freezers go from field to freezer in about 2 hours when processed commercially, making frozen peas a healthy and delicious alternative to fresh.
We've already talked about the wonderful abundance of zucchini this time of year – so adding it to the soup seemed like a nice way to use up some more. It adds great texture and color here, and of course a few more nutrients. If it's Winter and you want to make this soup, but there is no zucchini to be found, frozen corn would be a nice add-in here, as well.
Instead of using raw salmon, which is traditional in most salmon soups, this recipe calls for smoked salmon. The mild smoky flavor of the smoked salmon complements the vegetables so well! Smoked salmon is cured with salt, so don't add salt until after you've added the salmon and tasted it – you can always adjust the seasonings at the very end if you feel it needs a little more.
This light, refreshing soup is perfect served absolutely on its own, or with a few slices of fresh bread. It also freezes well since there is no potato or cream, so you can double the batch and freeze some for a later date. Either way, you may find this a soup you want to make over and over again.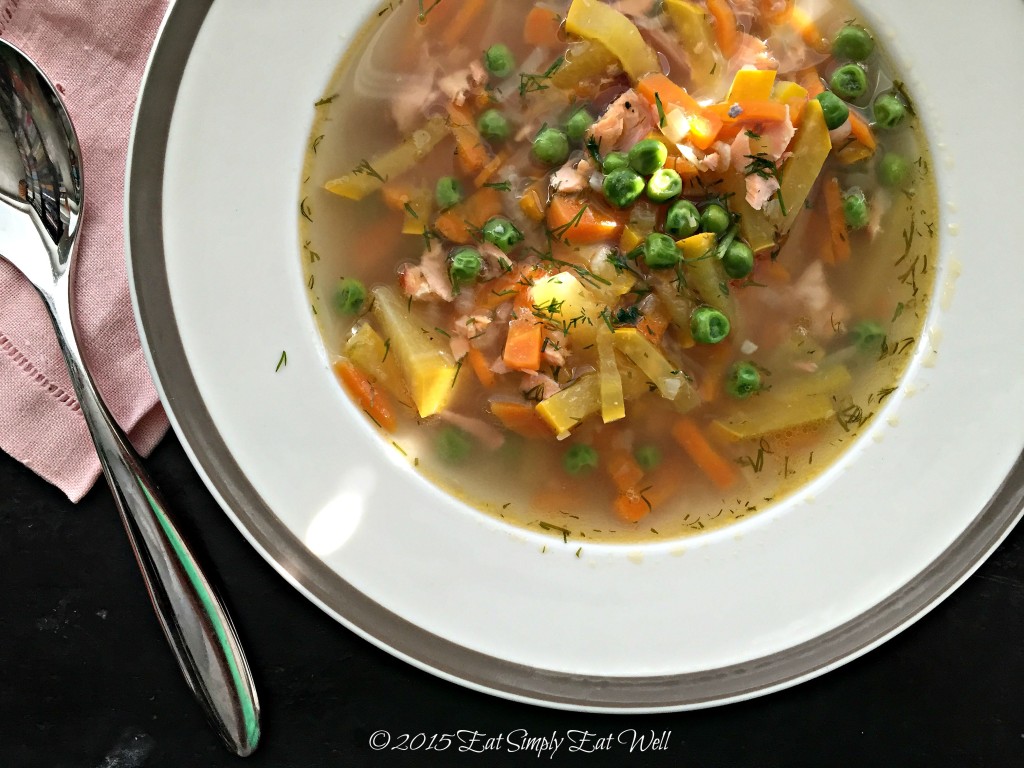 Smoked Salmon Soup with Summer Vegetables (gluten-free, dairy-free)
1 tablespoon olive oil
1 yellow onion, diced
1 medium carrots, peeled and cut into small sticks
1 cup zucchini, cut into small sticks
1 small clove garlic, minced
4 cups / 1 liter salmon stock or other fish stock
150-200 g smoked salmon, separated into flakes, bones and skin removed
1 cup fresh or frozen peas
salt and pepper if needed
Heat the olive oil in a 3-quart/liter heavy-bottomed pot over medium heat. Add the onions and carrots, and cook until the onions are soft and translucent, about 5 minutes. Add the zucchini and garlic and sauté an additional two minutes.
Add the salmon stock and bring to a boil. Reduce to a simmer and cook until the carrots are tender; about 8 minutes.
Add the peas, smoked salmon, and dill to the pot. Bring the mixture to a boil, and then immediately turn off the stove. Taste the soup and add salt and pepper if needed.
Serves 4.
Are you looking for other salmon recipes? Try these:
Did you like this recipe? Do you have favorite ways to use smoked salmon? I'd love to hear from you in the comments below!