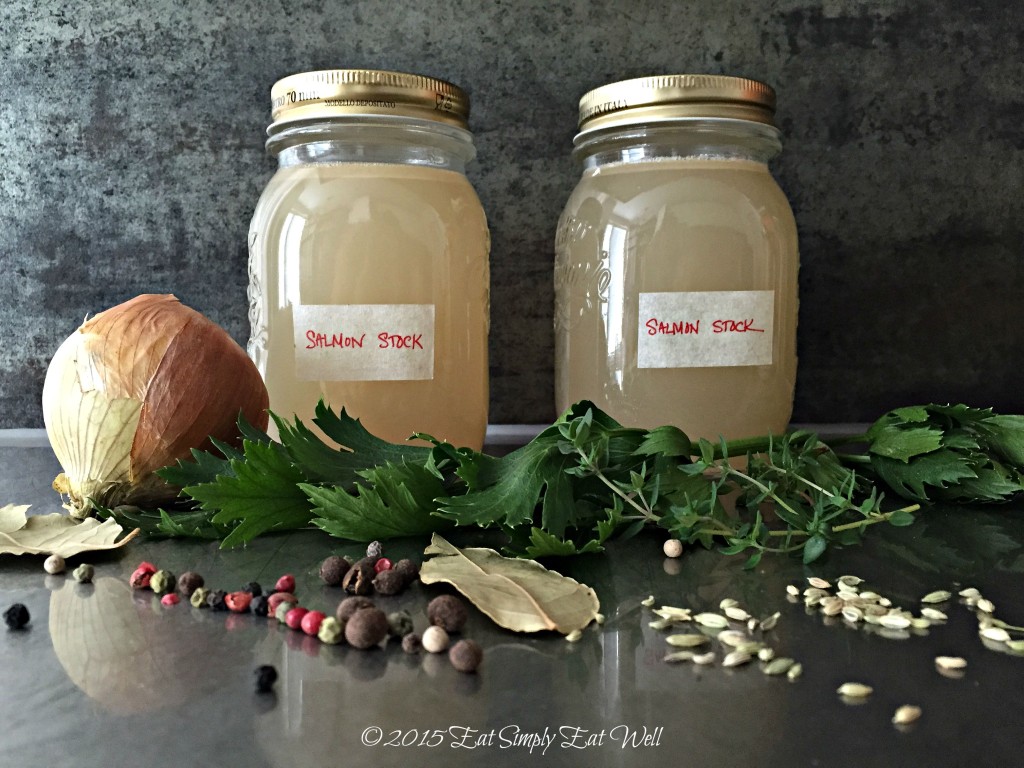 Have you ever wondered if there is anything you can do with leftover salmon or other fish carcasses? Have you been buying store-made fish stock and wondered how you could make great fish stock yourself?
Today I want to share with you how to make an easy salmon (or other fish) stock in less than an hour.
I remember going to pick up salmon from the fish counter of my local grocery store many years ago when I was still living in Seattle. They had run out of the pre-cut filets, so the gentleman at the fish counter kindly filleted the whole salmon I'd purchased, for me. As he wrapped up the fish, he asked "do you want the fish head and bones, as well?" I replied, "No thanks – what in the world would I do with them?" I didn't have a clue.
Nowadays, the answer to that question is always, "Yes, of course!", because I know a secret that I didn't know then: those previously unwanted scraps make some of the best fish stock a person could hope for, and from there, you can launch hundreds of recipes into a completely new flavor arena without spending all day at the stove trying to find the depth of flavor you're dreaming of.
A few days ago, I visited my local market in Hakaniemi, a neighborhood of Helsinki, for the specific reason that I wanted to buy a kilogram of the fish bones in order to make salmon stock. Today I want to share my method with you, because once you know how to do this, you have the beginnings of really delicious, savory, seafood dishes.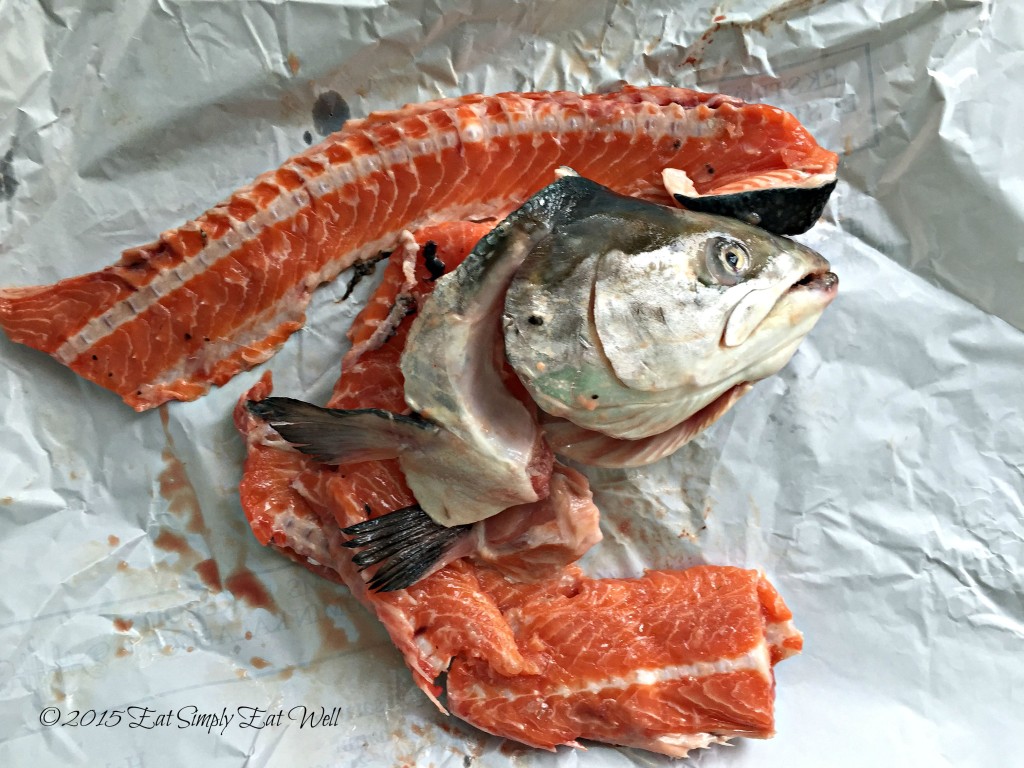 A few notes:
Fish bones aren't always for sale, but if you ask, most fish counters will be willing to sell or give them to you, since they are otherwise scrap that they have to get rid of at the end of the day. At Hakaniemi market hall, I paid €3 for one kilogram of fish bones.
You can freeze the bones and heads from fish you catch yourself, and make the stock later if you don't have time to make it immediately.
Most fish will work for this stock – if you have other fish carcasses on hand, feel free to use them instead, keeping the amount of bones around 1 kilogram/2.2 pounds for this recipe.
Include the head too – there is a lot of flavor in the head (and the cheeks, once cooked in the broth, are a delicious cook's treat). Just make sure to remove the gills before adding the head to the stock pot.
Rinse the fish parts to remove all leftover blood and viscera – it'll create scum on the top of your broth. Don't worry if there is a little left – it'll rise to the top of the broth during the early stages of cooking, and you can simply skim it off.
If you have used leeks recently in a recipe, save the leek tops and add them to this stock, or other stock recipes. They add a really nice flavor that complements the onion. Also, you can replace one onion with one whole leek, including the greens, if that is what you have on hand.
Stocks are a great way to use up vegetable scraps: when I'm peeling carrots I save the peel; when I cut up celery stalks I save the leaves; when I use the white part of the leek I save the greens – and pretty soon, you have all the ingredients you need for making a great stock. All of the above freeze well, so you can keep a ziplock bag in the freezer, and add to it until the day you want to make stock.
If you don't have whole peppercorns or whole allspice, you can sub in 1/2 teaspoon ground black pepper and 1/4 teaspoon ground allspice.
This fish stock freezes really well. I typically freeze it in labeled, 2 cup / half-liter portions so I can quickly add it to risottos, soups, or use as poaching liquid.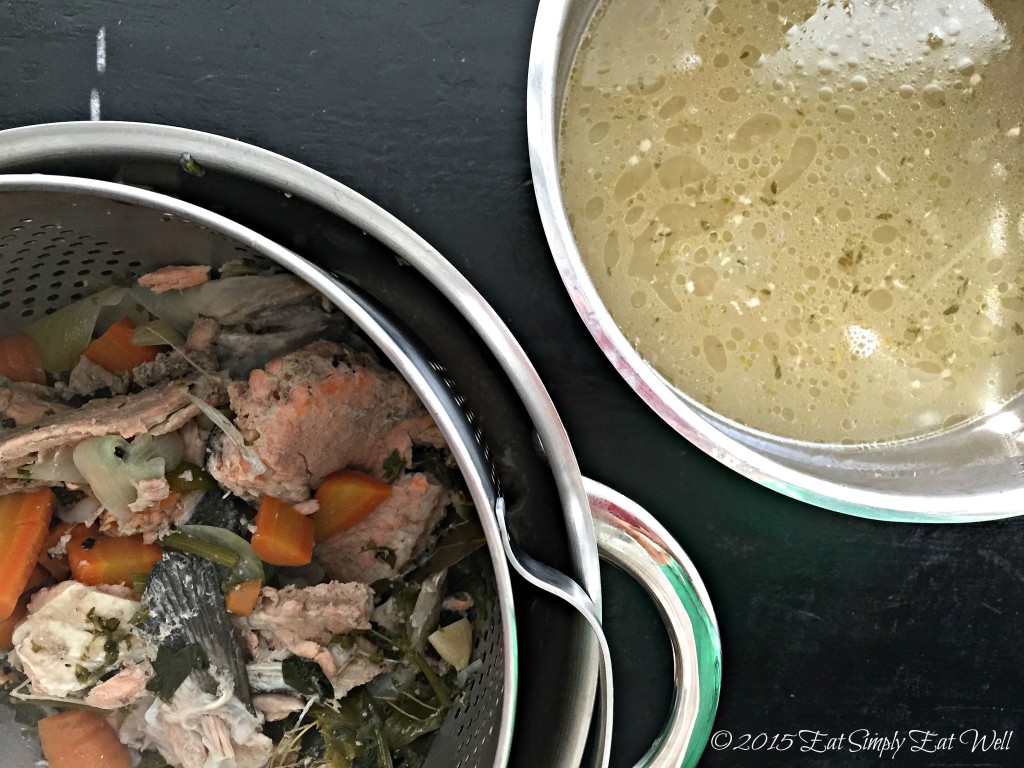 Salmon Stock
2.2 pounds / 1 kg salmon bones, including head (gills removed), rinsed
10 cups / 2.5 liters cold water
2 yellow onions, peeled and cut into 4-6 pieces
2 cloves garlic, peeled and halved
2 medium carrots, washed and cut into 6 pieces each
1 stalk celery, cut into pieces
2 bay leaves
8 sprigs fresh thyme or 1 teaspoon dried thyme
3 tablespoons fresh or frozen parsley
1/4 teaspoon fennel seeds
10 black peppercorns, crushed with a mortar and pestle or the back of a knife
5 whole allspice, crushed with a mortar and pestle or the back of a knife
Place all ingredients in a large, heavy-bottomed stockpot. Bring to a full boil over high heat; then reduce heat to medium so the stock continues to cook at a low, gentle boil. You want it to be just barely bubbling. With a spoon, remove an scum that has risen to the top of the stock and discard. Continue to cook, uncovered, for 45 minutes.
Add 1.5 teaspoons salt, and allow the mixture to boil for an additional 5 minutes.
Remove from heat. Place a large stainless steel colander over a large bowl, and pour the broth mixture through the colander in order to catch all of the solids. Discard the solids (some people like to save the carrots, and remove the fish still attached to the bones for another use; it's up to you). If you want a stock with no residue, strain the stock one more time through a fine mesh colander into another bowl.
You can use the stock immediately, refrigerate for up to 3 days, or freeze for up to 2 months.
Makes approximately 8 cups/2 liters.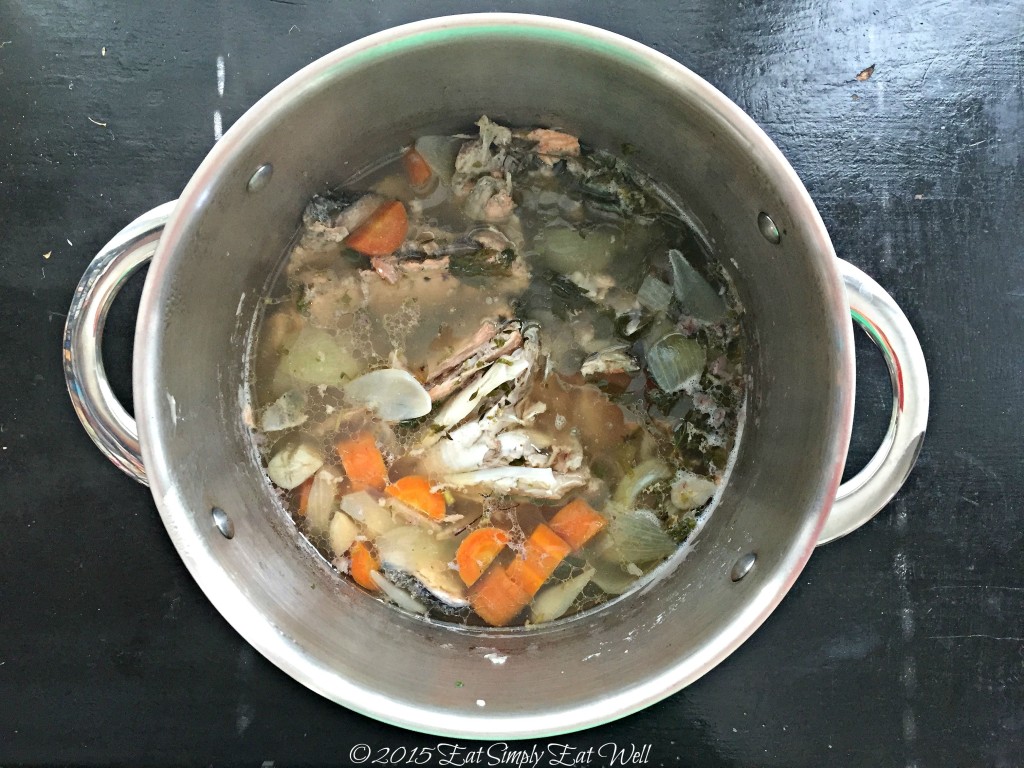 Did you like this post? Have you made salmon or other fish stock? Do you have any questions about the process? I'd love to hear from you in the comments below!