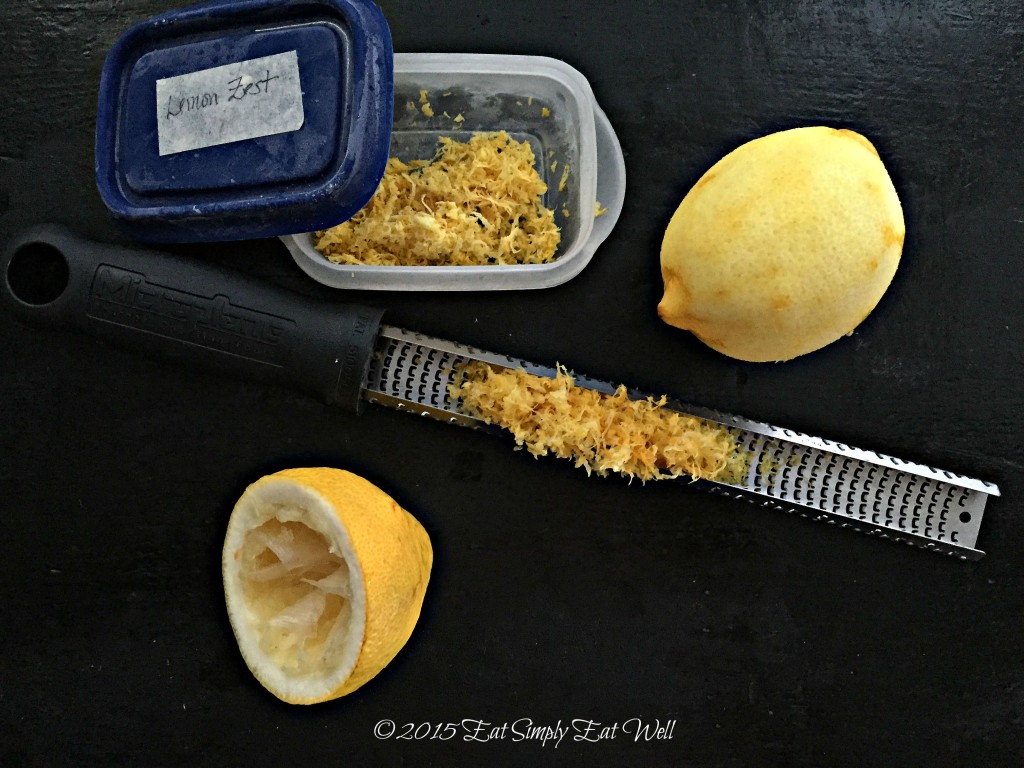 You know how it is: you're browsing through cookbooks, food magazines, or blogs, and you find a beautiful recipe you can't wait to try. You have nearly every ingredient except…lemon zest. Maybe lemons are something you don't normally keep in the house. Or maybe, as has happened so often with me, you've juiced the last of your lemons for dinner the night before and tossed the remains into the compost without a second thought. And now? That unused lemon peel is something you wish you had available. There's a way to make it happen.
Lemons are one of the most versatile ingredients in my kitchen, so I keep them on hand all of the time. High in Vitamin C and a good source of folate, they also add incredible flavor to nearly any type of food. Whenever a dish needs a little more zip or a little more flavor or the balance of acid, I cut off a wedge of lemon and squeeze a bit of juice over the top of whatever I'm making – even a simple egg is elevated with a drizzle of fresh lemon juice!
Lemon zest, I've discovered, is equally valuable as a taste-changer. This morning, I sprinkled a bit of zest over the zucchini I'd sautéed to go with my morning eggs: glorious! They went from being just OK, to tasting really, really great. I add lemon zest to pilaf. I toss lemon zest into Greek yogurt to use as a dip or sauce with fish, lamb, baked eggplant, add it to zucchini bread, toss it in muffins, add it to Raspberry Scones – you name it. 
This is one place where it pays to buy organic. Why? Because you want to be able to use the entire thing without being concerned about the pesticides that lurk on the skins of nonorganic lemons. Also, conventionally grown lemons are usually waxed before shipping in order to keep the skin from bruising. These are usually plant, insect or petroleum based waxes to which have been added either ethanol, milk caseins or soap for consistency – delicious, huh? Yeah – no. The bottom line is, you never know what's in there. If your lemon isn't organic, please don't use the zest.
Organic lemons are a much better option, but are also more expensive therefore you won't want to waste anything.
Here's the trick to getting the most value for your money: before cutting open a lemon to juice it, wash the whole lemon, dry it off, zest it with a Microplane, and freeze the zest in a little labeled container in the freezer for use whenever you need it. You can do the same thing with oranges and limes.
And just like that, you feel like a genius: you'll never be without lemon zest again.
One organic lemon provides:
1 tablespoon zest
3 tablespoons juice
How do you use your lemon zest and juice? Let us know in the comments below!