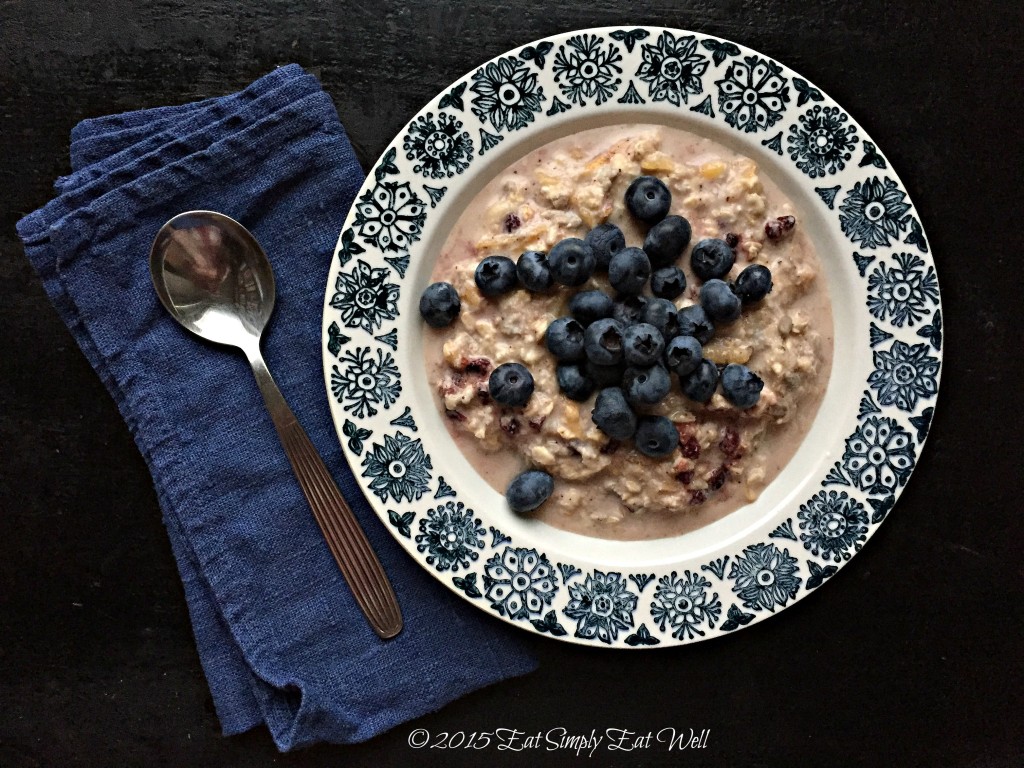 If you haven't tasted Bircher Muesli before, welcome to your new favorite breakfast.
Bircher Muesli is one more gift the Swiss have given to the world: specifically, physician Max Bircher-Benner, the physician who created the muesli around 1900 for his patients. The original recipe consisted of a whole apple, grated; one tablespoon of nuts, one tablespoon rolled oats soaked in 3 tablespoons of water for 12 hours; juice from one lemon half; and one tablespoon of either cream, honey, or sweetened condensed milk.  The dish was to be served first thing in the morning before any other food was consumed. In general, consumption of fresh fruit and vegetables was considered an important part of therapy at Bircher-Berner's hospital.  Source: Wikipedia/Muesli.
I first encountered Bircher Muesli when I was on a long work trip in Bielefeld, Germany, where I stayed at the Sofitel for more than 2 months. As anyone who has spent extended nights in hotels knows, the shine of the more indulgent offerings on the breakfast buffet: pastries, bacon, eggs – quickly wears off after a couple of days. I found myself looking for simplicity in simple oatmeal and fruit, and mostly ignored this giant bowl of what just looked liked soggy, cold oatmeal, with the label: "Bircher Muesli".
But after 2 weeks, running out of ideas for new options, I decided to try it and loved it! It became my staple breakfast for the rest of my stay. Back at home, I explored ways to make it, and recently, it's been back on in my morning breakfast bowl. Life has been extremely busy over the last few weeks and full of new and exciting things, making time in the morning more precious than ever. I am not one to skip breakfast, or any meal for that matter, and I like to start with something substantial and really healthy. The great part about Bircher Muesli is that you can prepare the whole thing the night before, place it in the refrigerator, and wake up to a ready-made, delicious, healthy breakfast.
The main components:
rolled grain: I use rolled oats, but you could use barley, rye, spelt or any dry cereal
nuts or seeds: favorites are sunflower seeds, pumpkin seeds or cashews – but get creative! Your favorite nut will work. Just chop them up if they are not small already
fresh fruit, grated: I nearly always use a banana, and then one other fruit in season. This morning I used pear; yesterday it was peach; in the winter it will be apple and/or orange
juice of 1/2 lemon – just as the doctor ordered
sweetener: 1 tablespoon maple syrup or honey
pinch of salt
plain yogurt, kefir, quark or buttermilk
your choice of milk: cow's, nut, seed, oat, rice…
Breakfast – the most important meal of the day
Once you get the hang of it, you'll find yourself making it over and over again – which means you'll never have to skip the most important meal of the day, ever again. You can even make it in a glass jar, secure the lid, and turn it into a a "breakfast-to-go". I like to add fresh fruit to mine: basically whatever fruit is in season at the moment, but you can certainly eat it straight out of the jar as-is for a super-simple and healthy option.
The overnight rest makes this breakfast even healthier!
Soaking of the oats, seeds and nuts is a great way to make them even healthier as the soaking in the acidic ingredient created by the addition of lemon juice (or yogurt, kefir, etc) deactivates anti-nutrients, while soaking in general neutralizes the phytic acid and enzyme inhibitors. This makes it easier for your body to digest these ingredients and allows it to make more efficient use of the beneficial micronutrients they contain. For a more complete explanation, read The Nourishing Gourmet's post on "Why Sprout".
A few notes:
If you have issues with gluten, use certified gluten-free oats.
If you can't or would rather not use dairy, feel free to use all non-dairy milk in this recipe.
Get fancy with your add-ins and make it your own! I like to use coconut flakes; the leftover pulp from making nut milk; dried cranberries, lingonberries, or other dried fruit; and orange juice for part of the liquid when oranges are in season.
For additional flavor fun and variation, try adding spices to your Bircher Muesli. I like to use cinnamon, ginger, nutmeg, cardamom, or some combination thereof. Start lightly – I try to use no more than 1/2 teaspoon total spice so as to not overwhelm the other flavors.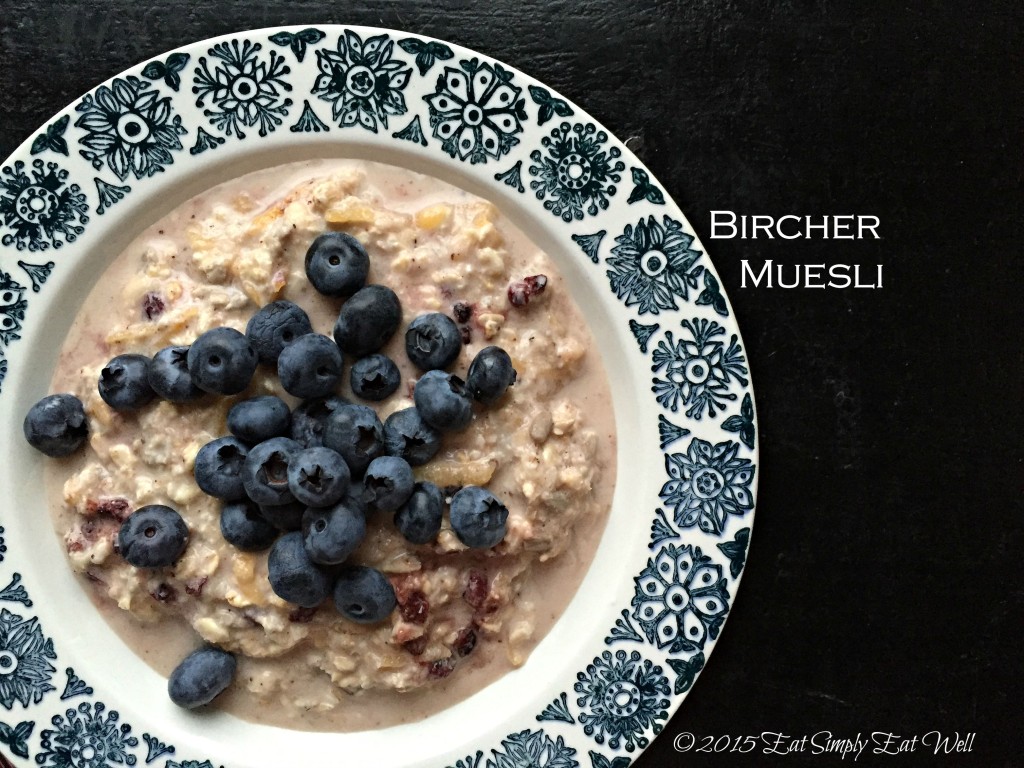 Here's this morning's version to get you started.
Bircher Muesli
1 cup/2.5 dl old fashioned rolled oatmeal flakes
2 tablespoons raw sunflower seeds
2 tablespoons raw pumpkin seeds
1 banana, grated
1 peach, (peeled if not organic) and grated (can sub in apple, pear, pineapple…)
2 tablespoons dried cranberries
2 tablespoons dried coconut flakes
1 tablespoon maple syrup
juice of 1/2 lemon
pinch of sea salt
1/4 teaspoon ground cinnamon
1/8 teaspoon ground cardamom
1 cup/2.5 dl plain yogurt (kefir is actually my favorite, but less available)
1 cup/2.5 dl milk of choice (cow, goat, nut, seed, oat, rice… My favorite is cashew or almond milk)
Place all of the ingredients in a 1 quart/1 liter bowl, pouring the liquids in last. Stir until well combined; secure a lid on top, and place into the refrigerator overnight.
In the morning, divide the mixture into two bowls and top with fresh fruit of your choice.
Serves 2.