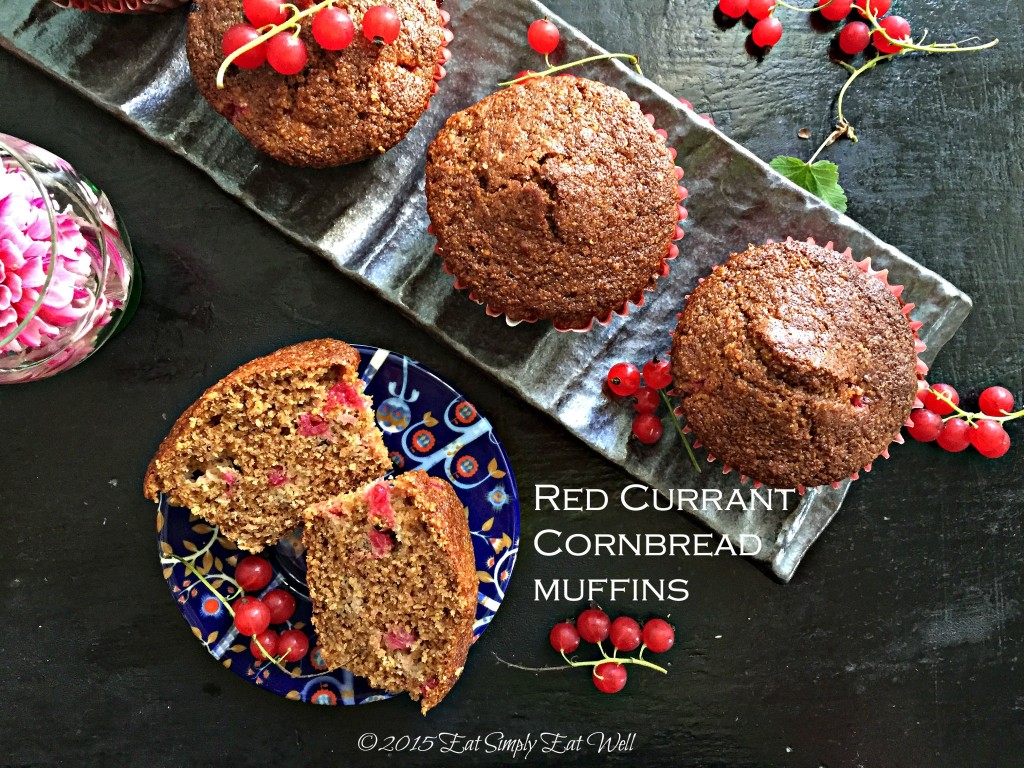 This time of year, mid-August, there are currants ripening all over Finland: red currants, white currants and black currants, each with its own unique flavor profile and vibrant color. Of these, red currants have been the most abundant. As I wander along the forest trails and through the swathes of old clear cut areas, hunting for mushrooms and picking wild berries, I see the ripe berries hanging, like clusters of brilliant rubies, all over the place.
Red currants can be challenging: even when ripe, they maintain a sharp, almost citrusy bite that is best enjoyed together with something creamy and/or sweet. While I love them enjoyed simply in a bowl with Greek yogurt and granola or honey, they also work beautifully when baked into a tart or cake, cooked into jelly, or added to a savory compote.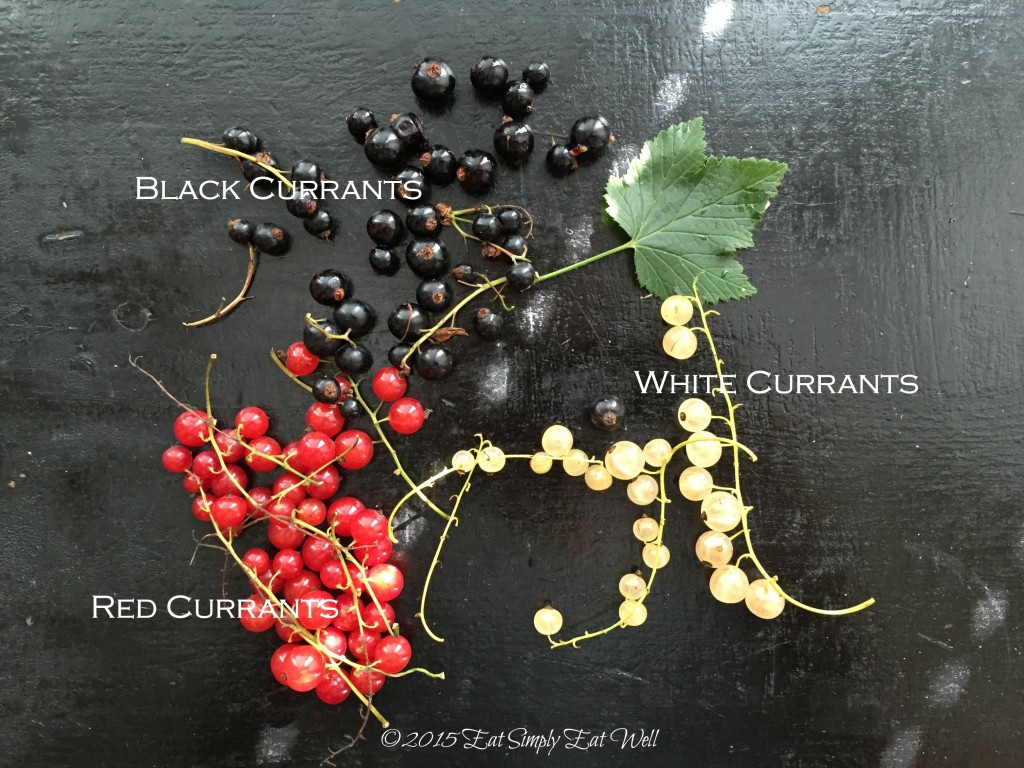 How to pick them
Red currants hang in long clusters, like mini grapes, attached by a slender stem to the long branches. While it's tempting to using your fingers to strip the berries from the branches, you're likely to squish a lot of them along the way. The best option is to bring along a pair of scissors and then snip the ripe, red clusters off into a waiting bucket or container. This also best if you want to use the berries decoratively: those glorious clusters of red are really beautiful. Once at home, you can either cook them up as is for jelly or juice, or, if you are using them as whole berries, carefully run your fingers down each cluster to release the berries from their stems. If I am picking them in large quantities, I often use a berry picker typically reserved for gathering wild bilberries, blueberries and lingonberries: it's a one liter container with long, stiff, metal tines that separate the berries from the stem and allow them to fall directly into the waiting container. Since there is no pressure on the actual berry during the picking process, the berries stay intact and still look good later.
Superfood! Nutrition-packed
A member of the Ribus family, red currants are a good source of nutrients. One 100g/1 cup serving contains:
56 calories, 14 grams of carbs, 1.5 grams of protein, 0.2 grams of fat
68% of your recommended daily intake of Vitamin C – which boosts immune function and helps with colllagen production. Collagen is responsible for the strength and composition of connective tissue and skin, so it's important to get plenty of this nutrient in your diet.
5 g of soluble fiber – an important component that helps you feel full, aids in digestion, and helps lower cholesterol and blood sugar
14% of your recommended daily value of Vitamin K – a fat-soluble vitamin that helps with blood clotting
6 %of your recommended daily value of Iron – important for oxygen transfer to the muscles and other areas of the body
powerful antioxidant carotenoid Lycopene, which has links to reduction in risk for heart disease and cancer risk, particulary prostate cancer
Pack these into the freezer and enjoy them all Winter long to chase away Winter ailments and add color and flavor to your diet.
Most commonly red currants are made into jelly and juice, but this summer I am also using them in these incredibly satisfying and texture-rich whole grain muffins. Flavored with just a bit of vanilla and lemon, and using a combination of cornmeal and whole wheat flour, you'll love these muffins if you are a fan of cornbread and bran muffins. They have a similar texture, and keep their flavor and moisture for several days. As an extra bonus, since most of the oil is replaced with unsweetened applesauce, you get an extra boost of fiber and nutrients along with a lower-fat snack. Win-win!
Note: if you don't have red currants, white currants, black currants, lingonberries, blueberries or blackberries would all work well with these muffins – any berry with a bit of firmness and a bit of tartness will really shine here.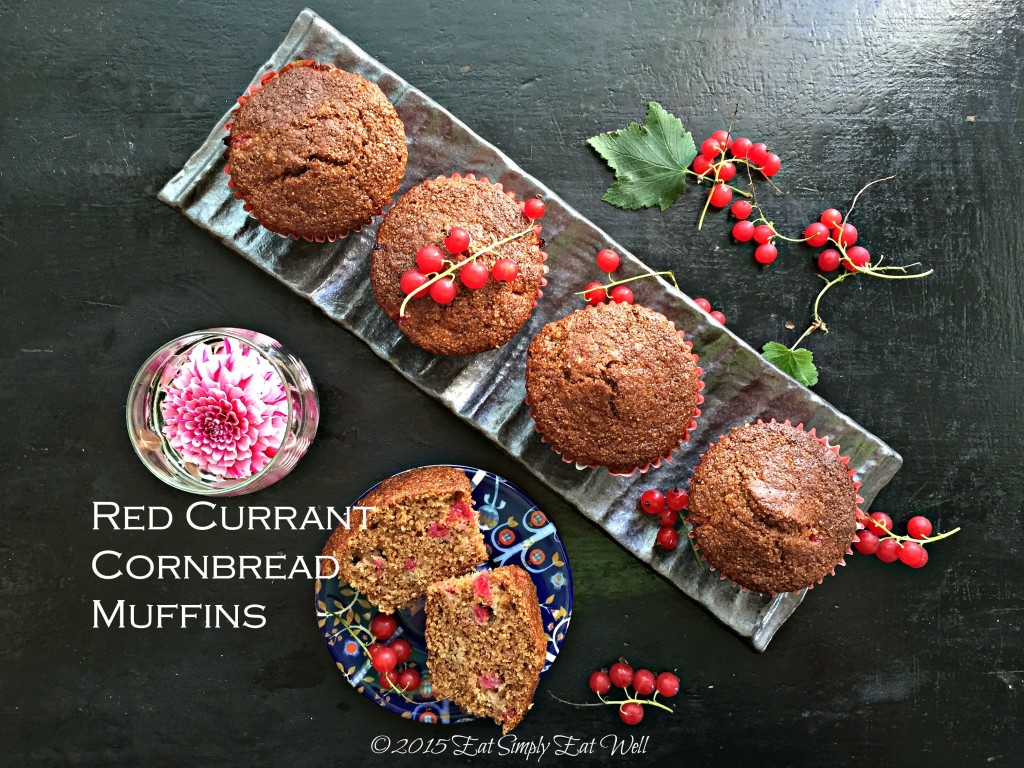 Red Currant Cornbread Muffins
2 eggs
1/4 cup/1 dl yogurt
zest of one lemon
2 tablespoons fresh lemon juice
3/4 cup/1.5 dl unsweetened applesauce
4 tablespoons real Maple syrup
1/4 cup/ 1/2 dl mild extra virgin olive oil
3/4 cup/ 1.5 dl cornmeal
1 1/2 cups/ 3 dl whole wheat flour
1/2 cup/ 1 dl coconut sugar, Indian sugar or brown sugar
1/4 teaspoon salt
1 1/2 teaspoons baking soda
1 cup/100g/ 2 dl fresh or frozen red currants, stems removed
Preheat oven to 175°C/350°F
Crack the eggs into a mixing bowl and stir with a whisk or spatula to break them up. Add the yogurt, lemon zest and juice, applesauce, Maple syrup and olive oil. Stir to combine. Add in all of the remaining ingredients and stir to thoroughly combine the wet ingredients with the dry ingredients. Allow the mixture to rest or 3-5 minutes to allow the baking soda to activate and bubble.
Line a 12-cup muffin tray with muffin cup liners and divide the mixture evenly between them. Place the tray into the hot oven and bake for 25 minutes or until golden brown and a toothpick inserted into the center of a muffin comes out clean.
Allow the muffins to cool in the pan for 5 minutes to firm up; then brew yourself a cup of coffee or tea and enjoy.
Makes 12 muffins.
Looking for other ideas for your Red Currants? Try these:
Did you like this post? What have you been doing with your Red Currants? Let us know in the comments below!